After more than 30 years of controversy, a statue commemorating the raising of the U.S. flag in 1846 — when California declared war on Mexico — seems destined to be removed.
Last week, San Jose's five-member Public Art Committee recommended that the Thomas Fallon Statue be removed and placed into city storage, according to the San Jose Spotlight. In June, the Arts Commission will vote on the Art Committee's recommendation; the City Council will take a final vote by September.
In February, San Jose Mayor Sam Liccardo called for the statue's removal following a public discussion.
"For the third time in three decades, debate over the Thomas Fallon Statue has reopened old wounds and deepened divides," Liccardo wrote on Medium. "I am calling for the commencement of the City's standard process to remove the Fallon Statue. At the conclusion of that public process — barring some startling and dramatic change in the facts — I'll support the removal of the statue. It's time to move on."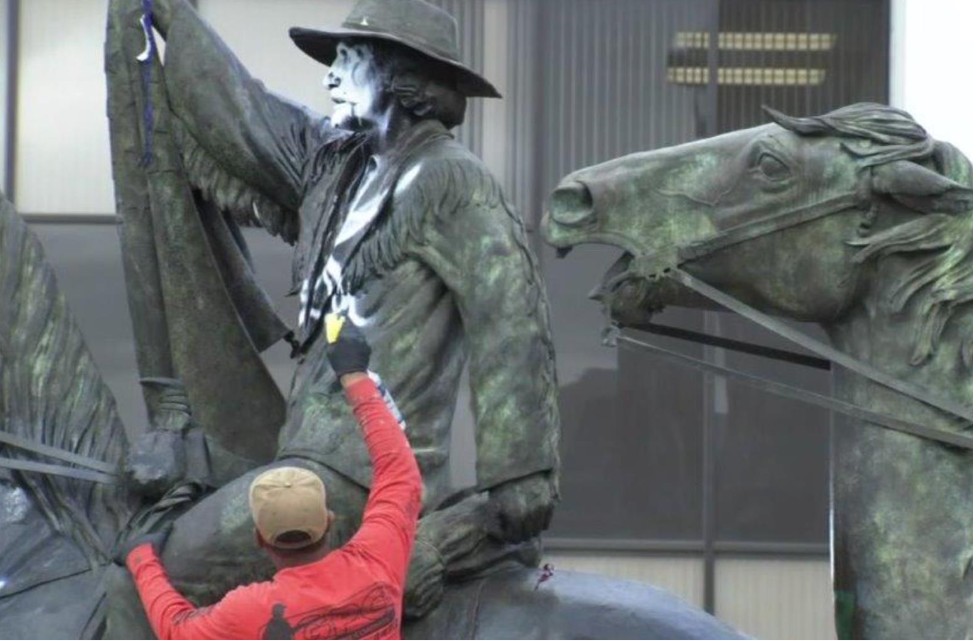 The Thomas Fallon statue became a magnet for vandalism in recent years. | Photo: Michael Ogilvie, San Jose Public Art Director.
The Thomas Fallon statue — which depicts the Irish-born, former mayor of San Jose on horseback raising the U.S. flag — was said to have caused "immediate backlash" when it was erected in downtown San Jose in 1988, according to KPIX. Residents have overwhelmingly opposed the statue ever since, according to the Spotlight, calling it offensive and oppressive. "What has become apparent is that for many in our community, this fight is about much more than Fallon," Liccardo wrote on Medium. "That is, for many, this isn't about Thomas Fallon's sins; it's about white America's sins. They perceive this statue as the celebration of a conquest that commenced decades of oppression of the vanquished and their progeny — primarily Mexican-Americans."
The debate over statues was rekindled last year in the wake of civil rights protests and a renewed conversation about historical effigies. In July 2020, protesters marched from Thomas Fallon's historic home in San Jose to the statue, which was spray-painted and set on fire.
"In a representative democracy, we must decide to erect or take down public statues through transparent, inclusive public processes, not on the whim of a few individuals," Liccardo said of the vandals.
The Spotlight said that the statue's value was estimated to be $6,000, and as much as twice that if the bronze were melted and repurposed. The estimated cost of removal, transportation, and related staff time is approximately $150,000, the Spotlight said, adding that it's unclear where the funding will come from.
But storing the statue on city property is free.