On Tuesday, the Santa Clara Valley Water District (or Valley Water) announced a nearly 10% water-rate hike for San Jose Municipal Water users. Set to take effect on July 1, Valley Water said the price increase — which was originally set for last year, but was delayed because of the pandemic — is in response to California's deepening drought, as well as an effort to fund water infrastructure projects, according to San Jose online.
The hikes come as Santa Clara County, the largest in the Bay Area, has asked residents to voluntarily cut water use by 25%, according to KPIX. Ratepayers can expect to pay $4.30 to $4.82 more per month starting this summer, representing a 9.1% increase.
"[Our] main priority remains providing Santa Clara County with a reliable supply of safe, clean water for public health and the economy, especially as we face extreme drought," Valley Water Board Chair Tony Estremera, who is one of seven board members, said in a statement. "The modest increase in water rates that was unanimously approved by my fellow Board Members and I will help pay for emergency water needed this year to meet demand and keep groundwater at normal levels. It will also allow our community to prepare for droughts and other natural disasters by bolstering our water conservation programs, expanding the use of recycled water and starting work on the Anderson Dam Seismic Retrofit Project, which will protect public safety and increase water storage capacity in the county."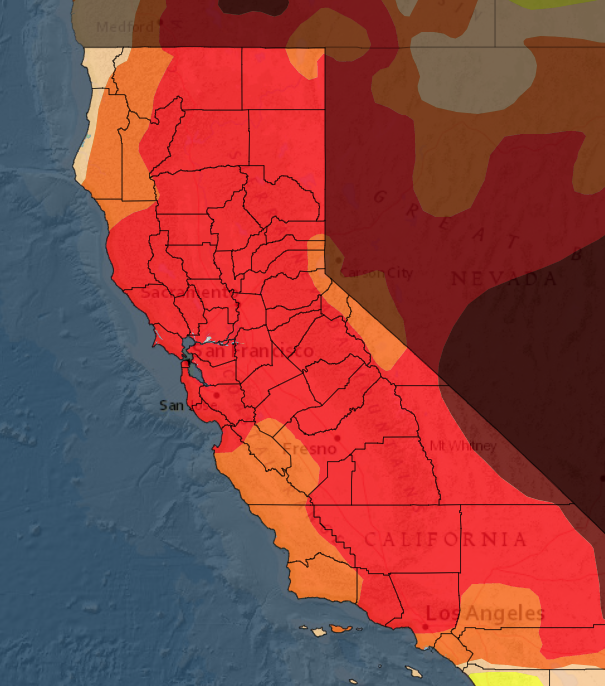 Santa Clara County, the Bay Area, and California at large is currently in the red, or a state of severe drought, as determined by the National Oceanic and Atmospheric Administration (NOAA). "Severe drought" is characterized by a longer fire season, with high-burn intensity and dry fuels. The Santa Clara Valley Water District said that only five out of the past 100 years have been drier than 2021. Source: www.drought.gov / NOAA
The rate increase is also expected to fund initial studies on the controversial $2.5 billion Pacheco Dam, which would be built east of Gilroy. KPIX reported that officials said the dam could potentially store as much water as all the current Santa Clara Valley reservoirs combined. "The Draft Environmental Impact Report... will allow us to decide whether to move forward with the [Pacheco] project at a later time based on all the facts," Estremera wrote in his statement. "The water bill impact of including the Pacheco project in the FY 22 budget is about .28 cents per month for the average household."
San Jose mayor Sam Liccardo is against the new dam, saying at a news conference that the project "would add no long-term drought supply to our community, it would provide no new water supply to our community; rather, would merely be a receptacle for water," KTVU reported. An April 14 Valley Water report said that rate hikes would drop to 8.5% a year if the Pacheco Pass project is not built, and determined that the new dam would not foster a significant new water supply because the area receives little rainfall, according to San Jose online. The dam could act as water storage, however — Santa Clara does not produce enough water for its residents, and must buy and import water from other districts, according to KTVU.
Valley Water said that nearly half of the water supply comes from outside the county.