Saturday's reopening of the Muni Metro subway stations is more of a welcome convenience than a cause for some big party. But it will also bring the return of the F-Market historic streetcars. And that was enough of a cause for celebration that the SFMTA busted out the big one Friday morning, the roofless, Christmas light-bedecked, wooden-seated rail vessel known as the Boat Tram, which returned to the rails for a renewed maiden voyage from Market Street to Pier 39.
A small assemblage of transit fans chanted "Boat! Boat! Boat!," while motorists honked their car horns, and the Boat Tram sounded off with its sorely missed, vintage toot-toot.
The ceremony was streamed over Instagram Live, to an online crowd of dozens, but has not been posted for on-demand viewing.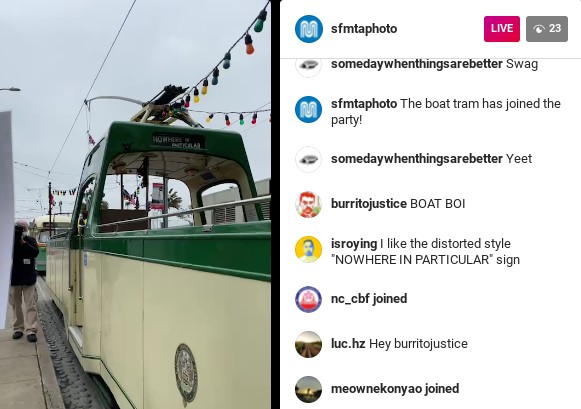 It was mostly just speechifying anyway, from Mayor Breed, SFMTA director Jeffrey Tumlin, and a few higher-ups from the Muni brass.
The Boat Tram does not run on a regular basis. This particular vessel is dusted off only for special events, like Muni Heritage Weekend, typically held in August or December.
Of course, the return of Muni Metro service likely means the return of Muni meltdowns. Mayor Breed acknowledged as much in her speech, saying, "Please enjoy it and be patient with us as we continue our path to recovery."
The Boat Tram seemed determined to follow that advice, as its destination sign read "Nowhere in Particular."

You can see a full list of the May 15 Muni service reopenings at SFMTA.com.