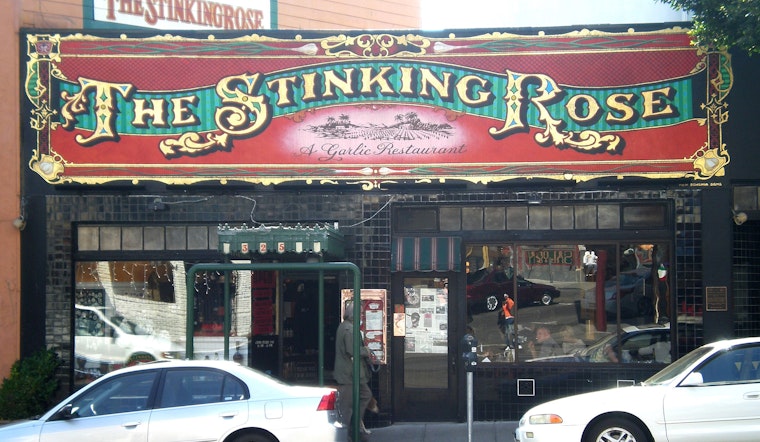 Published on June 14, 2021
The Stinking Rose (325 Columbus Ave.), which opened in 1991 in North Beach and maintains a loyal clientele of tourists and garlic-loving locals, has been closed throughout the pandemic. And now we learn that it won't reopen unless a new owner steps in and wants to keep the concept going, with the original owners deciding to retire.
Owners Jerry Dal Bozzo and Dante Serafini became prolific Bay Area restaurateurs, often buying old, well-worn restaurants, refurbishing them, and reintroducing them to a new generation of diners. But their partnership began with The Stinking Rose, a garlic-themed, red sauce Italian joint that quickly became a kind of landmark in SF's North Beach. Dal Bozzo grew up in the neighborhood, and he and Serafini would go on to open a second Stinking Rose location in Beverly Hills — that location is also closed and is also being offered for sale as a package deal with the SF spot. The partners don't own the buildings that either restaurant is housed in, but they're offering the business and concept to a buyer who will hopefully keep it going.
Dal Bozzo tells the Chronicle that he made the decision to retire, now that he's about to turn 81, saying "hopefully a fresh face will now come on" and revive The Stinking Rose, along with one of the pair's other restaurants, The Old Clam House in the Bayview. That restaurant, which dates back to 1861, hit the market last month for $2.75 million.
The Stinking Rose boasts murals and decor that include "2,635 bulbs of garlic, two onions and one leek" as well as scenes of San Francisco history from "a garlic bulb's view."
Dal Bozzo and Serafini may be retiring, but they haven't announced the sale of any of their other local restaurants besides these two (and the L.A. location of The Stinking Rose). They still own Calzone's in North Beach, The Franciscan and Frankie's Pier 43 at Fisherman's Wharf, The Dead Fish in Crockett, and Salito's Crab House and Prime Rib in Sausalito They did, however, recently sell The Crab House at Pier 39.
The Franciscan recently reopened, allaying some fears of a mass die-off of the Wharf's most iconic, old-school seafood spots.
"We kind of decided to buy iconic restaurants and reopen them," Dal Bozzo tells Chronicle, pointing especially to The Old Clam House, which he bought and restored with his wife back in 2011. "Then, after a while, we try to sell them and keep them going."
The partners say that they are considering several offers for The Stinking Rose, and they want to prioritize choosing a buyer who wants to keep the concept alive. But obviously there are no guarantees there.
Stay tuned.