This week, Hoodline's Bay Area Day Trips series visits Monterey County. The Monterey Bay is an incredibly rich habitat for all kinds of marine life, including whales and other marine mammals. Strolling its beaches, visitors can spot migrating whales off the coast and seals sunning themselves on rocks. The county is also home to a number of charming towns that make for fun exploring, delicious dining, and great shopping. It's within day-trip distance from much of the Bay Area, but the jaunt will be easiest for those in the South Bay. If you're coming from San Francisco or the East Bay, consider starting early and keep an eye on traffic for the best experience.
Go kayaking in wetlands or eat seafood on the beach in Moss Landing
Located on the coast at the mouth of one of California's largest wetland areas, Elkhorn Slough, Moss Landing offers incredible wildlife viewing, as well as a white-sand beach perfect for picnicking and hanging out. Keep an eye out for otters, seals and all kinds of birds, as well as whales off-shore. The Elkhorn Slough Reserve wetlands make a fantastic spot for kayaking, as well as hiking. If you want to visit the reserve, plan ahead, as it's closed on Mondays and Tuesdays. For the latest information and directions, see www.elkhornslough.org/esnerr/visitor-information/.

Video of a newborn sea otter in Elkhorn Slough Video: Elkhorn Slough Foundation
For lunch, enjoy fresh seafood at Phil's Fish Market (which is actually a beachfront restaurant) and snag one of their outside tables to feel like you're eating right on the beach. Be forewarned: You'll have to wait in line, and tables are first-come, first-served for people who've already placed their order. You currently have to stay in line and order food to receive a number for a table. Phil's Fish Market is located at 7600 Sandholdt Road, Moss Landing. The restaurant is open daily 10 a.m.–7 p.m. More information: philsfishmarket.com, (831) 633-2152
Visit the world-famous Monterey Bay Aquarium
Sea otters, sharks, penguins, drifting jellyfish and floating seaweed... With more than 200 exhibits and 80,000 sea animals and plants on display, the Monterey Bay Aquarium is a beautiful and fascinating way to explore the wonders of the ocean while keeping on dry land.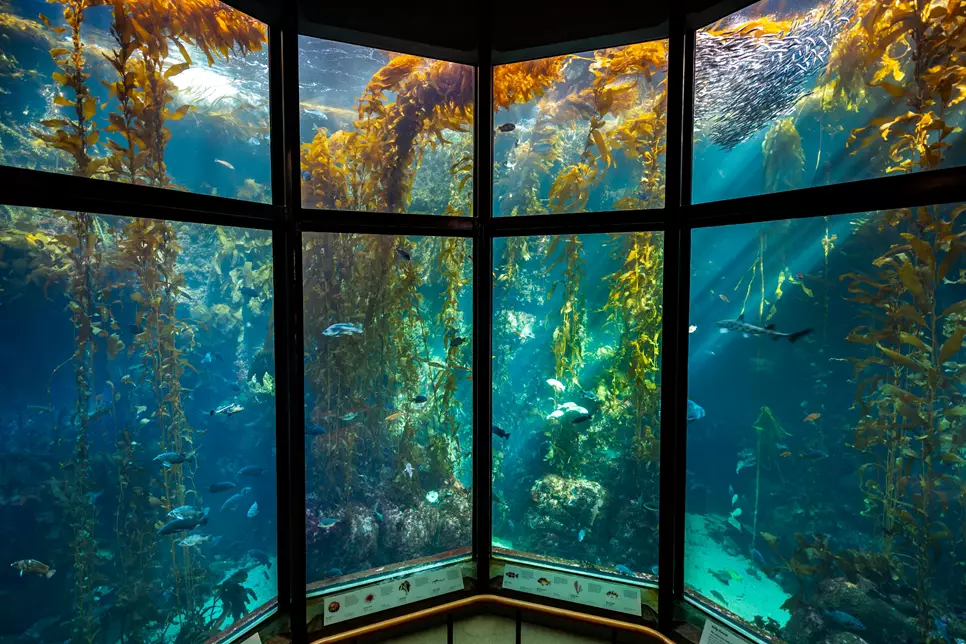 The kelp forest exhibit at the Monterey Bay Aquarium Photo: Montereybayaquarium.org
It may be too much to see it all in a single day (or lifetime?), but the aquarium makes a wonderful day visit, and you can refresh yourself at the cafe along the way. The exhibits are exquisite, and the site also includes outside observation areas, so it makes an all-in-one day trip. Don't try to plan much else for your day in Monterey if the aquarium is your target. Maybe just grab some dinner at one of the nearby restaurants before trekking back home. While the cafe is open, the restaurant is currently closed, as are some less COVID-friendly experiences like live shows and guided tours.
Note that you'll need to buy tickets online ahead of time, because they're not selling them in-person at this time, and some dates may sell out, so plan ahead. Tickets are $49.95 (ages 18–64) / $39.95 (ages 13–17 and 65+) / $34.95 (ages 5–12) / free for age 4 and under. The aquarium is located at 886 Cannery Row, Monterey. More information: www.montereybayaquarium.org, 831-648-4800
Bike the Monterey Bay waterfront
If you prefer the outdoors (or you can't get aquarium tickets), the Monterey Bay itself is like an open-air aquarium, and biking along the waterfront is a fantastic way to see a lot of it. The Monterey Bay Coastal Recreation Trail runs 18 miles along the waterfront, following the route of the old Southern Pacific Railway from Castroville in the north to Pacific Grove in the south. The stretch along the city of Monterey itself is a lovely, level ride that offers plenty to see and can be handled by riders of any age. You'll pass seals on protected beaches, parks and Monterey's historic downtown.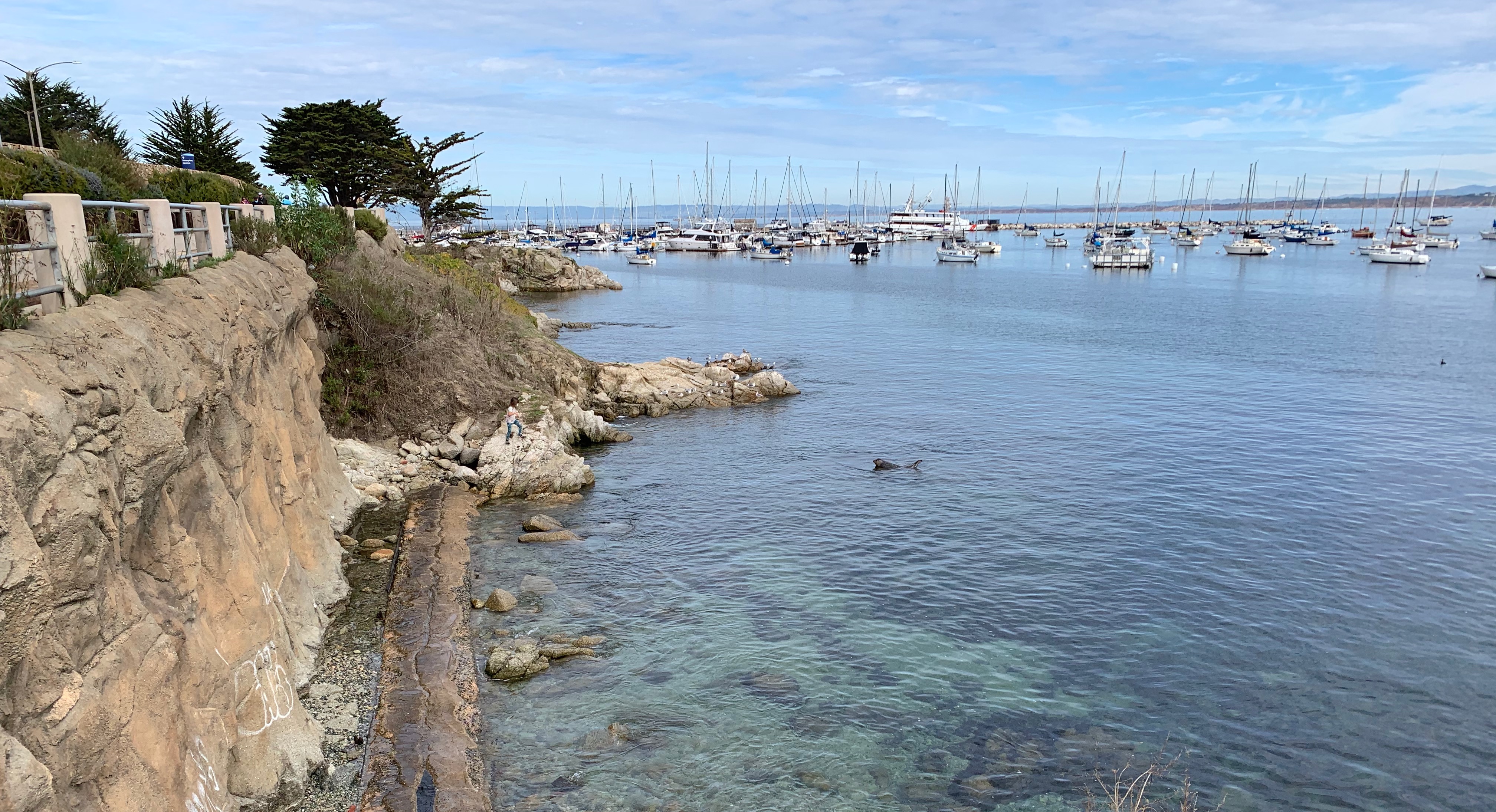 A seal suns itself off the Monterey waterfront bike trail. Photo: Laila Weir
Bike into Pacific Grove to find a more rugged coastline and chances to explore rocky beaches and tide pools. Get lunch from any one of the many eateries in downtown Monterey, stop off at the popular Fisherman's Wharf for a bite, or bike out to Lover's Point in Pacific Grove for a coffee and ice cream overlooking the water.
Cruise the 17-Mile Drive for scenic views
For those looking for something a little less physical, this gorgeous drive winds along an incredibly scenic stretch of coastline, with plenty of dramatic lookout points along the way. (Or if you're looking for something more physical, you can bike it! Be prepared for plenty of ups and downs. Bike south to Carmel for slightly less uphill, then check Google Maps for a shortcut back along more inland routes to the drive's starting point.)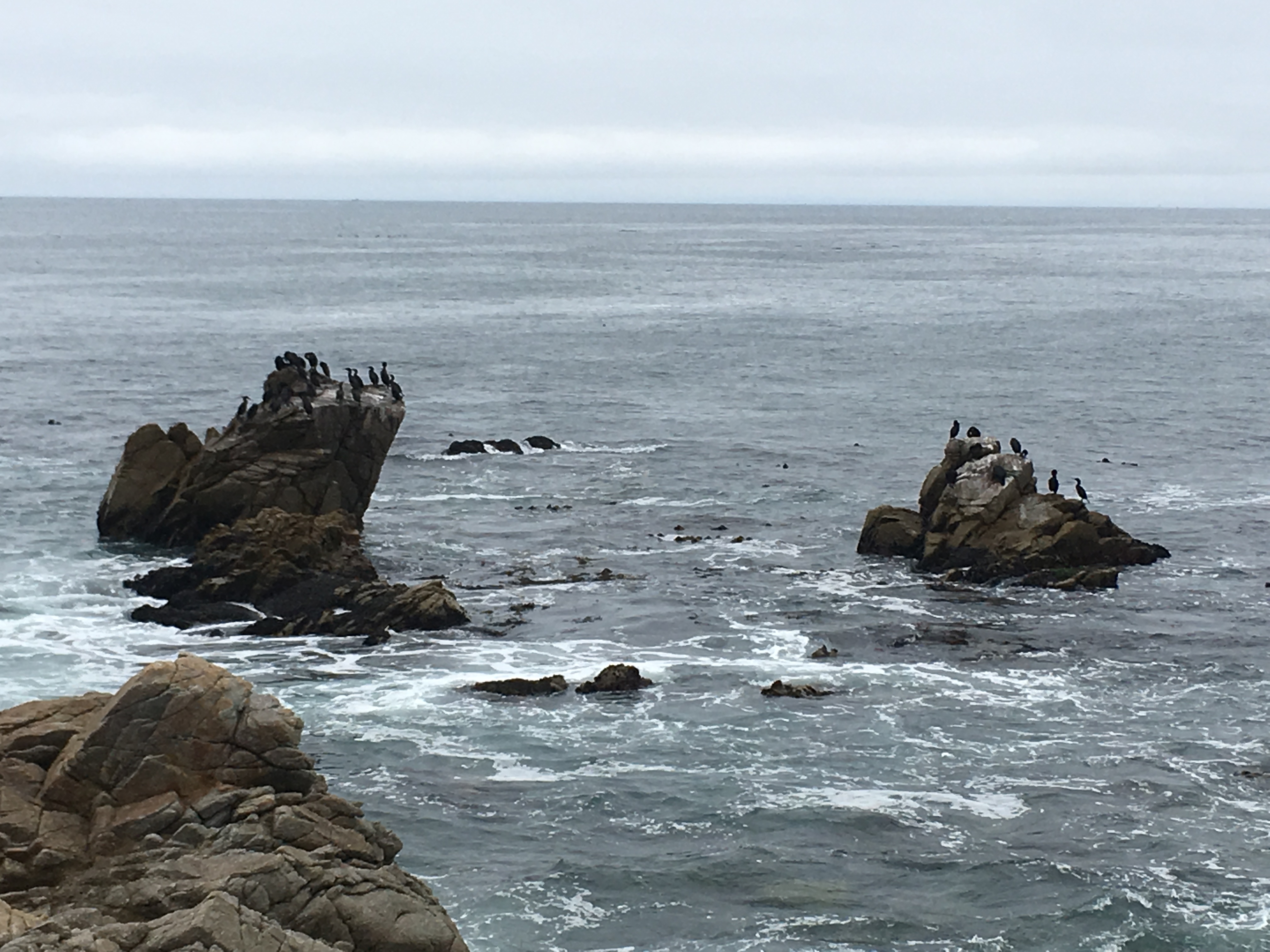 Birds perch on rocks along the 17-Mile Drive. Photo: Laila Weir
Admission to the 17-Mile Drive is $10.75 per vehicle. (This fee is reimbursed with a purchase of $35 or more at all Pebble Beach Resorts restaurants, excluding Pebble Beach Market.) More information: www.pebblebeach.com/17-mile-drive/
After your drive, enjoy a meal in Carmel-by-the-Sea, then relax on this old-timey resort town's wide sand beach before starting your trip home.
Explore tide pools and rocky coves at Asilomar State Beach
Asilomar State Beach is stunning strip of sandy beach and rocky coves where waves crash and recede to reveal teeming sea life, thanks to the fact that the area is within a protected marine reserve. Stroll the ¾-mile Asilomar Coast Trail and venture onto the rocks to see birds, marine mammals and tide pools. Dogs are permitted on the beach and trail, but must be on leash.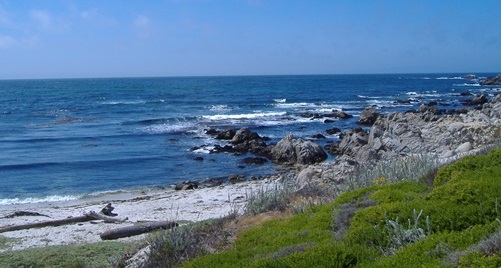 Asilomar State Beach Photo: CA Dept of Parks & Recreation
This state beach offers rugged fun for kids and adults of all ages. The coast trail is accessible and a beach wheelchair and beach walker are available upon request at the Registration Desk inside the Phoebe Hearst Social Hall. Bring snacks and plan ahead: There aren't bathrooms or picnic facilities in this natural area. Also note that because it's a preserve, all marine features (including shells and rocks) are protected, and no collecting or fishing is allowed.
Across the street from the beach, you'll find Asilomar Dunes Natural Preserve. Follow a ¼-mile boardwalk through 25 acres of restored sand dune ecosystem, with viewpoints providing panoramic views out over the Pacific.