Summer's on its way, the dangers of COVID in the Bay Area are thankfully receding, and we're dreaming of vacations. But if you're not quite ready to hit the airport (or if you're just looking for some weekend fun), never fear. Hoodline's Bay Area Day Trips series will give you lots of fodder for local fun this season. From little-known treasures to popular hot spots that may have dropped off your radar during the past year, we'll be rounding up curated lists of some of our favorite destinations within reach of San Francisco, San Jose and the rest of the Bay. This week, we're sharing a few worthwhile jaunts in Alameda County. Stay tuned for more in the weeks to come, including some farther afield!
Go bird-watching and explore bay wetlands in the Don Edwards San Francisco Bay National Wildlife Refuge
At the south end of the San Francisco Bay, 30,000 acres of waterfront and wetlands are preserved for migratory birds, endangered wildlife, and nature lovers in the Don Edwards National Wildlife Refuge. Miles of trails offer gorgeous hiking and biking for all ages, kayaking and canoeing are allowed in the Bay tributaries of the refuge, and fishing is permitted, too. (There's even hunting in the fall and winter.) Check out the East Bay portion of the refuge, along the uncrowded waterfront of Fremont and Newark, for off-the-beaten-track wildlife viewing and exploring.
The Alameda Creek Regional Trail is an under-recognized gem that juts way out into the Bay along the north side of Coyote Hills Regional Park in Fremont. Here, you can spot great egrets, herons, cormorants, northern pintails, American avocets, black-necked stilts, and many other birds and waterfowl. Or head over to the south side of Coyote Hills to hike the old duck hunting grounds of the Newark portion of the Don Edwards refuge. A series of cute bridges and boardwalks make for a fun waterfront stroll, or head out further from shore to see the salt ponds and vestiges of the old salt mines up close.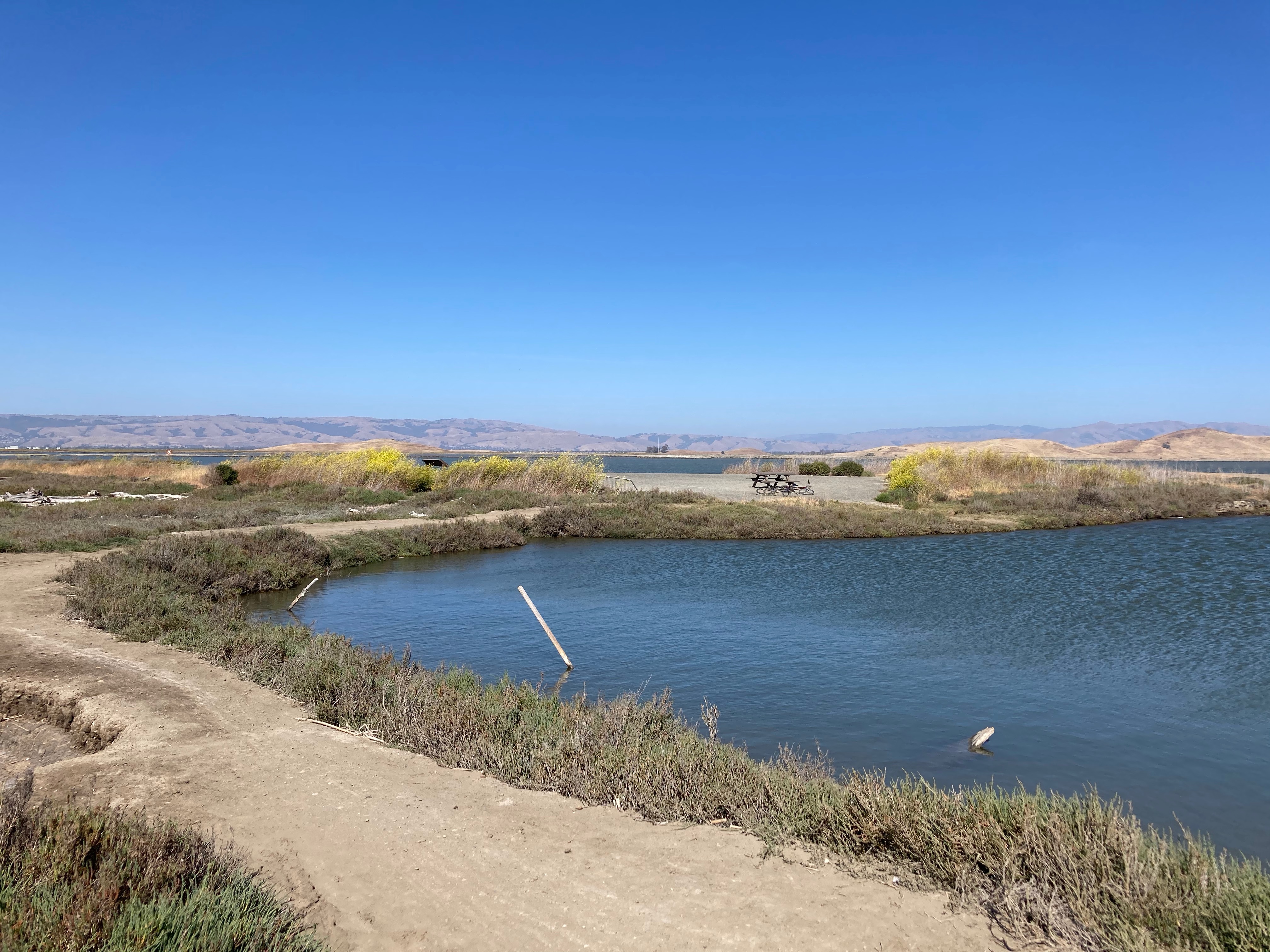 A lone picnic table sits at the end of the paved portion of the Alameda Creek Regional Trail. Photo: Laila Weir
Coyote Hills itself offers beautiful hiking, picknicking, and sweeping views, but it gets hot, so look for a cooler day or stick near the waterfront. If you're interested in learning more about the region's earlier inhabitants and their ways of living in tune with nature, call the Coyote Hills Visitor Center at (510) 544-3220 for information on Ohlone shellmound tours and Native American studies at the park.
If you're into fishing — or want to try it out — the quiet Dumbarton Pier isn't beautiful, but its views are. In the shadow of the Dumbarton Bridge, this pier feels a world away from the Silicon Valley-bound traffic whizzing overhead, like a forgotten remnant of a more tranquil life. You can fish off a pier without a license, so it's a good way for newbies to try the sport. Locals catch sharks, rays, crabs, and all kinds of fish on this pier. Be sure to check regulations for types and sizes of fish you can keep, and make sure you know how to clean and cook them. Otherwise, it's best to just catch and release (or just walk the pier and watch the action).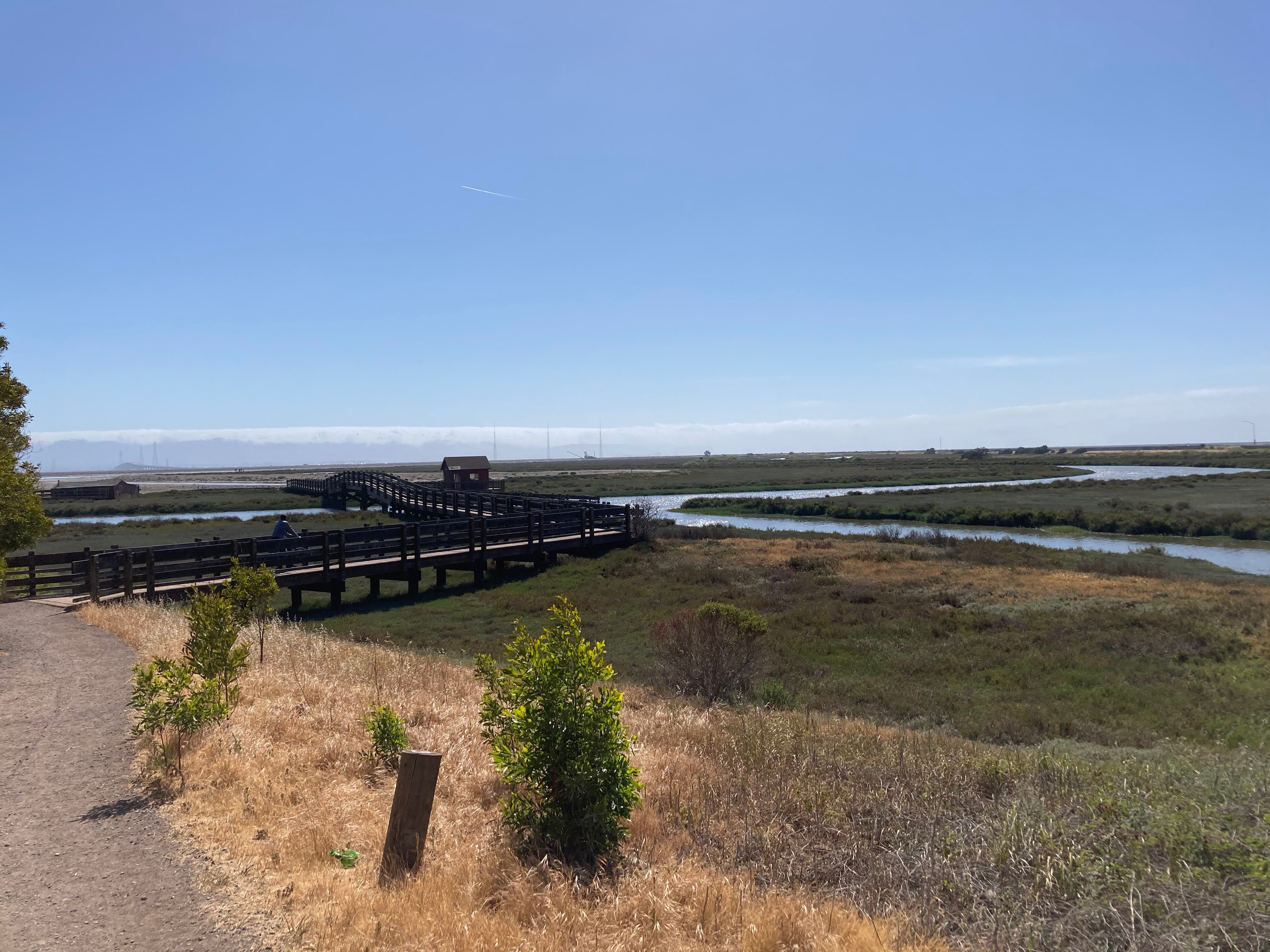 The Newark Slough trail in the Don Edwards San Francisco Bay National Wildlife Refuge Photo: Laila Weir
Fremont is known for great Middle Eastern and Asian cuisine, so consider ending your day with an Afghan feast or some Indian pizza. The wildly popular De Afghanan Kabob House serves authentic Afghan food in a charming setting. Bombay Pizza House is one of various casual options serving Indian-style and regular pizza, lassis, beer and more – plus it shows sports on several TVs around the dining room.
For more information and maps of the Don Edwards refuge trails: www.fws.gov/refuge/Don_Edwards_San_Francisco_Bay/
Explore local history at Ardenwood Historic Farm and Patterson House
Also in Fremont, the Ardenwood Historic Farm is a popular attraction where visitors can experience what a family farm was like at the end of the 1800s and early decades of the 1900s. The East Bay Regional Park District operates the once-private property as a fully functioning, turn-of-the-last-century farm. Young and old will enjoy exploring the extensive grounds, formal Victorian gardens, farmyard with sheep, pigs, turkeys, chickens, rabbits, goats and cows, and working blacksmith shop, among other attractions. Note that advanced reservations are currently required.
The beautiful Victorian farmhouse, preserved as a window into a home in the Victorian era, is not to be missed — look for a tour by costumed docents. The house was closed to tours during COVID, but it has just reopened for partial tours of the guest parlor and family parlor on Thursdays, Fridays, and Sundays from 11:30 a.m.-2:30 p.m. In ordinary summers, Ardenwood's Railroad Museum staff and docents dressed in period costumes would be operating train rides from the Arden Station, too, but the trains have also been on hiatus during the pandemic. However, the Railroad Museum recently announced its re-opening with displays of historic train cars on the 2nd and 4th Sundays of each month, from 11 a.m.-2:30 p.m.


Patterson House at Ardenwood Historic Farm Photo: Fremont Patterson House / Facebook
On weekends, eat at the Farmyard Cafe, where guests can order lunch, snacks, coffee, and various locally made treats and treasures.
Ardenwood Historic Farm is located at 34600 Ardenwood Blvd., Fremont. The farm is open from 10 a.m.-4 p.m. Tuesdays through Sundays. Advance registration fees: $2 / free under 4 years. Note: Dogs are not allowed at the farm. Be sure to check the website or contact the farm for updates regarding current restrictions and updates. For more information: www.ebparks.org/parks/ardenwood, (510) 544-2797
Try out water sports (or just swim in the bay) at Alameda's Crown Memorial State Beach
For those of us used to the Pacific beaches, the idea that you can swim in saltwater in Northern California can be a novel concept. But for transplants from warmer climes and natives alike whose teeth may chatter at the prospect of entering the ocean without a 4mm wetsuit, the island of Alameda, tucked into the Bay just off Oakland, is a revelation. Alameda's beaches and shallow waters offer surprisingly good swimming on a hot day. The 2.5-mile Crown Memorial State Beach, twice restored and shored up against erosion, has plentiful space for sunning and picnicking, though it can get crowded on hot weekends.
It's also a favorite spot for windsurfers and fans of other water sports — and a great place to try one of these sports for the first time. Boardsports California gives lessons in windsurfing, kiteboarding, kite surfing, stand-up paddleboarding, and more to adults and kids, plus they rent equipment.
For a dose of local history, the "Memory Lane" self-guided trail winds through time from the days of Native Californians through the Victorian era and military history. For nature lovers, the Elsie Roemer Bird Sanctuary is home to aquatic birds and other salt marsh creatures, while Crab Cove (a family favorite) is a marine reserve where all plant and animal life is protected. The Crab Cove Visitor Center also houses an aquarium featuring all kinds of SF Bay life.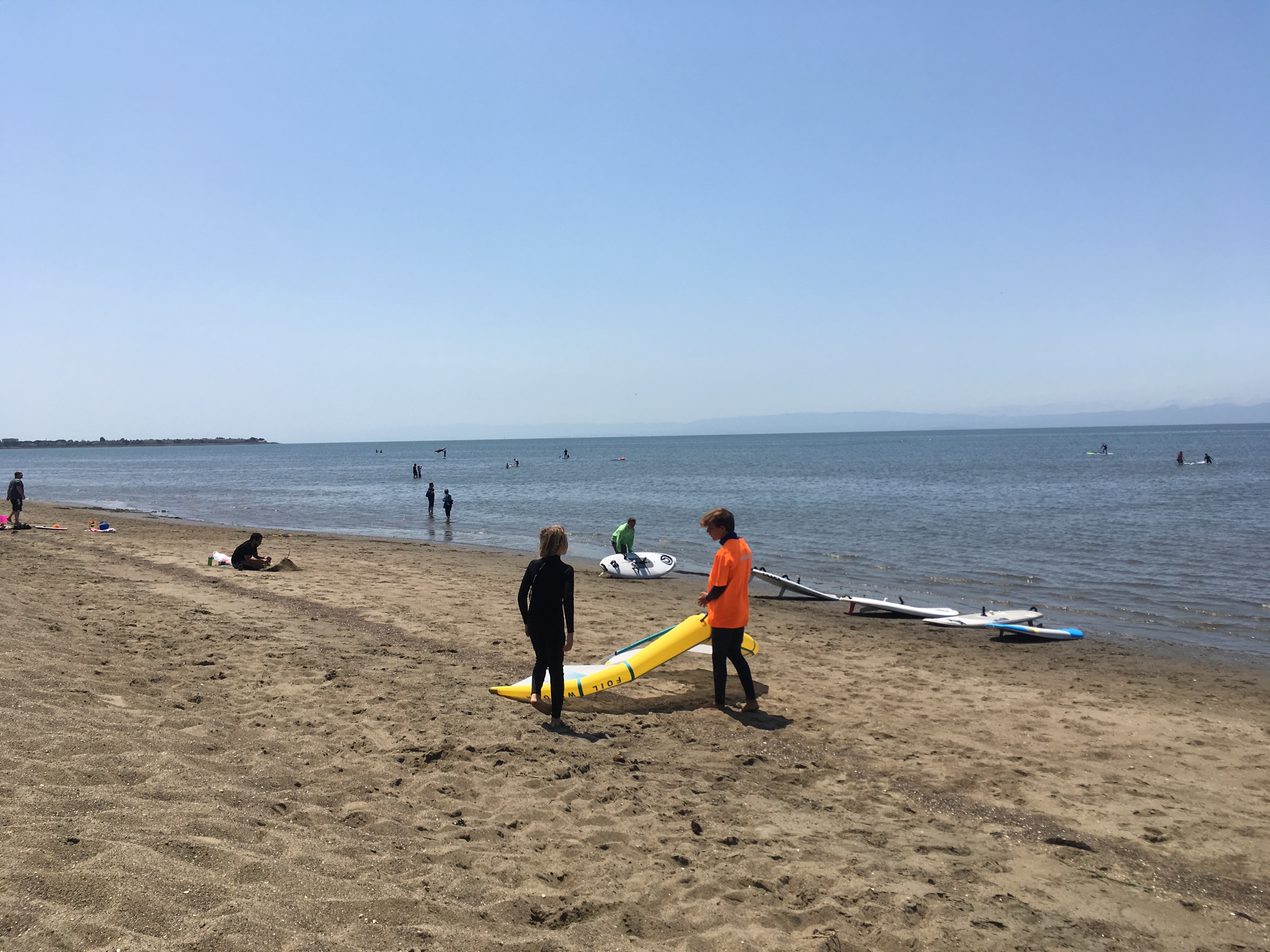 Boardsports California staff giving water sports lessons at the beach in Alameda. Photo: Laila Weir
At the end of the day, explore the cute downtown of this unpretentious island that until recently was home to a military base and military housing and grab dinner at one of the many local eateries.
For more information and directions to Crown Memorial State Beach: www.ebparks.org/parks/crown_beach/, (510) 544-3175 / Toll Free: 888-EBPARKS (888-327-2757), option 3, extension 4522
Head for the heat at East Bay Regional Park District swimming lakes
When the temperatures heat up in summer, we're not big fans of inland hiking, but the eastern parts of Alameda County can deliver perfect swimming conditions. If you're dreaming of suntanning and swimming, and the breezy bay beaches aren't quite hitting the spot, heading inland is the way to get your summertime fix. The East Bay Regional Park District operates a number of swimming lakes and chlorinated swim lagoons that are currently open with advanced reservations — so plan ahead!
Under current rules, everyone must be pre-registered to enter the swim area, including infants. Reservations are available two weeks in advance for any given date.
A maximum of six people can register on one transaction, and everyone on the same transaction must enter the swim area together. At this point, Cull Canyon Regional Recreation Area in Castro Valley ($4 / $2 age 1-15 and 62+ / free under 1 year), Del Valle Regional Park in Livermore (contact the park for fees), and Don Castro Regional Recreation Area in Hayward ($3 / $2 age 1-15 and 62 / free under 1 year; $5 parking fee) are all open.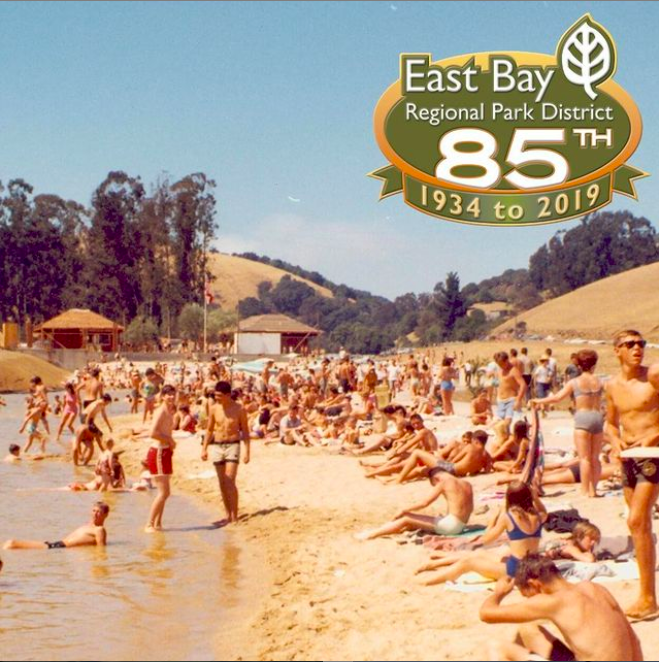 The Cull Canyon swimming lagoon in years past Photo: EBRPD / Instagram
Swim passes are for 11 a.m.–6 p.m., so pack a picnic, plenty of water, and sunscreen, and make a day out of it.
For more information and to reserve a swimming date: www.ebparks.org/activities/swimming/default.htm, (888) 327-2757, option 2
Bonus: Hit the water park (coming soon!)
If you're looking to splash out for some serious summer fun, Fremont's Aqua Adventure Waterpark is set to reopen June 15! Contact the park for details as the date approaches. The park is located at 40500 Paseo Padre Pkwy., Fremont. For information: goaquaadventure.com/, (510) 494-4426.
The Wave Waterpark at Emerald Glen Park in Dublin is supposed to open up soon, too, so keep an eye on their site for updates or call the park: www.thedublinwave.com/101/Waterpark, (925) 574-4800