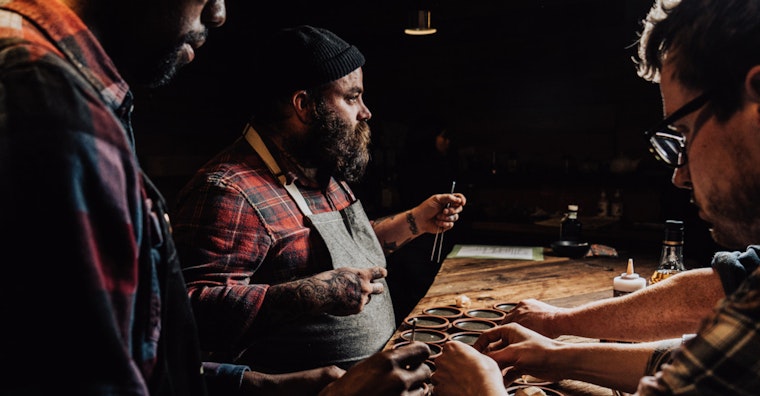 Published on June 09, 2021
A much-delayed restaurant with a celebratory, communal tasting-menu concept centered around live-fire cooking of meat and fish, is finally taking shape and aiming for a fall opening at 2875 18th Street (at Florida). It's called Osito, and its chef is Seth Stowaway, who previously worked as executive chef of the Bar Agricole Group and sous chef at Mister Jiu's. (Bar Agricole is still planning to reopen in new digs at 1550 Mission, by the way, but the group has dwindled back to one restaurant following the closures of Trou Normand and Obispo.)
Stowaway has been hosting pop-ups to test menu ideas for Osito since 2019, and had been planning a 2020 opening for the restaurant. Now, he's raising money to fund the final stretch of construction work at the space by selling tickets for the first dinners at Osito beginning October 15, 2021. As the Chronicle reports, the restaurant concept has shifted somewhat in the last year and a half, and the prix fixe has gone up from $200 to $295, but live fire is still the theme.
The biggest change is that the restaurant will not follow in Lazy Bear's footsteps and seat everyone each night around the same communal table — Lazy Bear has also broken the space up into multiple tables since its pandemic reopening.
"Maybe it's because everyone is so pent up for human interaction that everyone ends up talking to each other," Stowaway says to the Chronicle, explaining that everyone at seven separate tables will still be served all at once, and will likely interact. "That communal celebratory thing we really wanted to do, I feel like we're still able to do it [with separate tables]."
Osito will feature seasonal, themed menus that will top out around 23 dishes that come in 10 separate waves. Some ideas that Stowaway has been playing with at pop-ups that are likely to repeat are themed on the Pacific Ocean in wintertime, and "Springtime in Yolo County."
For the former, dishes have included a grilled oyster topped with caramelized cream and caviar; smoked mackerel; scallop mousse with crab leg and lobster broth; and Dungeness crab three ways. He also describes smoking a whole ocean trout on a vertical plank, and serving it whole stuffed with Meyer lemon beurre blanc and trout roe.
Osito is moving into a ground-floor space at The Madelon, a newly constructed, brick-faced, luxury apartment complex with an industrial feel fitting with the area — situated along 18th between Bryant and Florida.
Per the Chronicle, the design is being done by Studio Terpeluk, who previously designed Lihiliho Yacht Club, and the space will be filled with reclaimed redwood and sugar pine, reinforcing the idea of Northern California terroir and campfire cooking.
And the team includes three people who previously worked at Bar Agricole or Trou Normand: chef de cuisine Bethany Hunt, beverage director Paige Oransky, and general manager Jesse Quiros. Also, former Tartine and Craftsman & Wolves baker Gabrielle Pabonan will be serving as head baker.
Until they get to open, Stowaway and his crew are catering private events at a couple of unique venue. Contact them at [email protected] for availability.