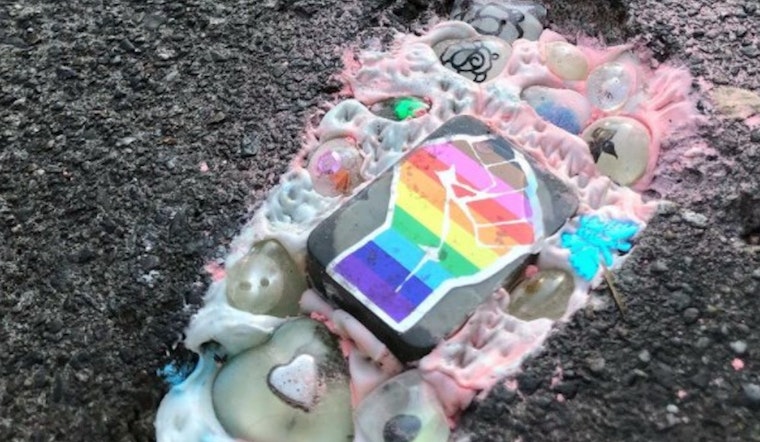 Published on June 10, 2021
Artist Rik Lee Leipold is celebrating their first museum show, and will host an artist talk and live resin casting of a pothole outside of the Tenderloin Museum on Saturday, June 12, 2021.
The show, Trolls & Potholes, is already on exhibit inside the museum, and most of Leipold's work exists in sidewalks throughout the neighborhood. Over the past five years, Leipold has been installing found and collected objects encased in resin in sidewalk potholes, most recently through their Resin In Pavement project.
The Tenderloin Museum exhibit features a steel-cut map and a collection of take-away postcards that highlight the location of specific potholes, small epoxy blocks with impressions from Tenderloin sidewalks, and several larger epoxy headstones that commemorate lost businesses and illustrate neighborhood issues.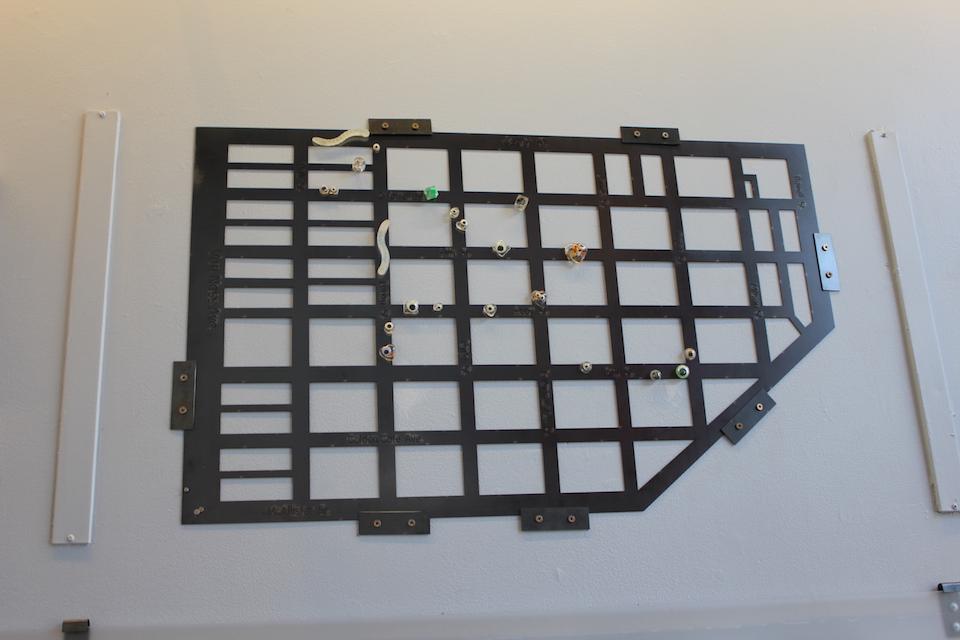 Artist Rik Lee Leipold created the steel map that illustrates their pothole installations throughout the Tenderloin.
"The potholes document my found objects," Leipold said. "These [epoxy] pieces are more representative of the street." The epoxy pieces are molded with sidewalk impressions, and several have been formed into headstones to commemorate closed neighborhood businesses, such as The Gangway, which was the city's oldest and longest-running LGBTQ bar before it closed in early 2018, and Deco Lounge — which was in the space now occuped by Emperor Norton's Boozeland.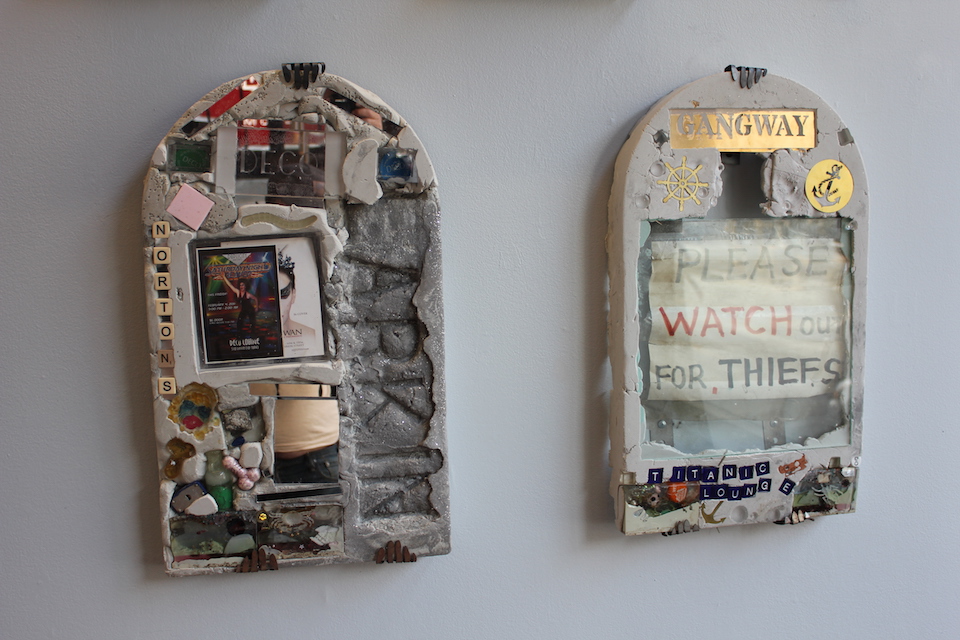 "Headstones" for Deco Lounge and the Gangway include ephemera from the bars' operating days
Other headstones represent the stark issues the neighborhood faces today.
"One, for instance, is a headstone with a bunch of syringes in it," Leipold said. It is intended to highlight the ongoing drug dealing crisis in the neighborhood and the dangers Tenderloin residents face related to it.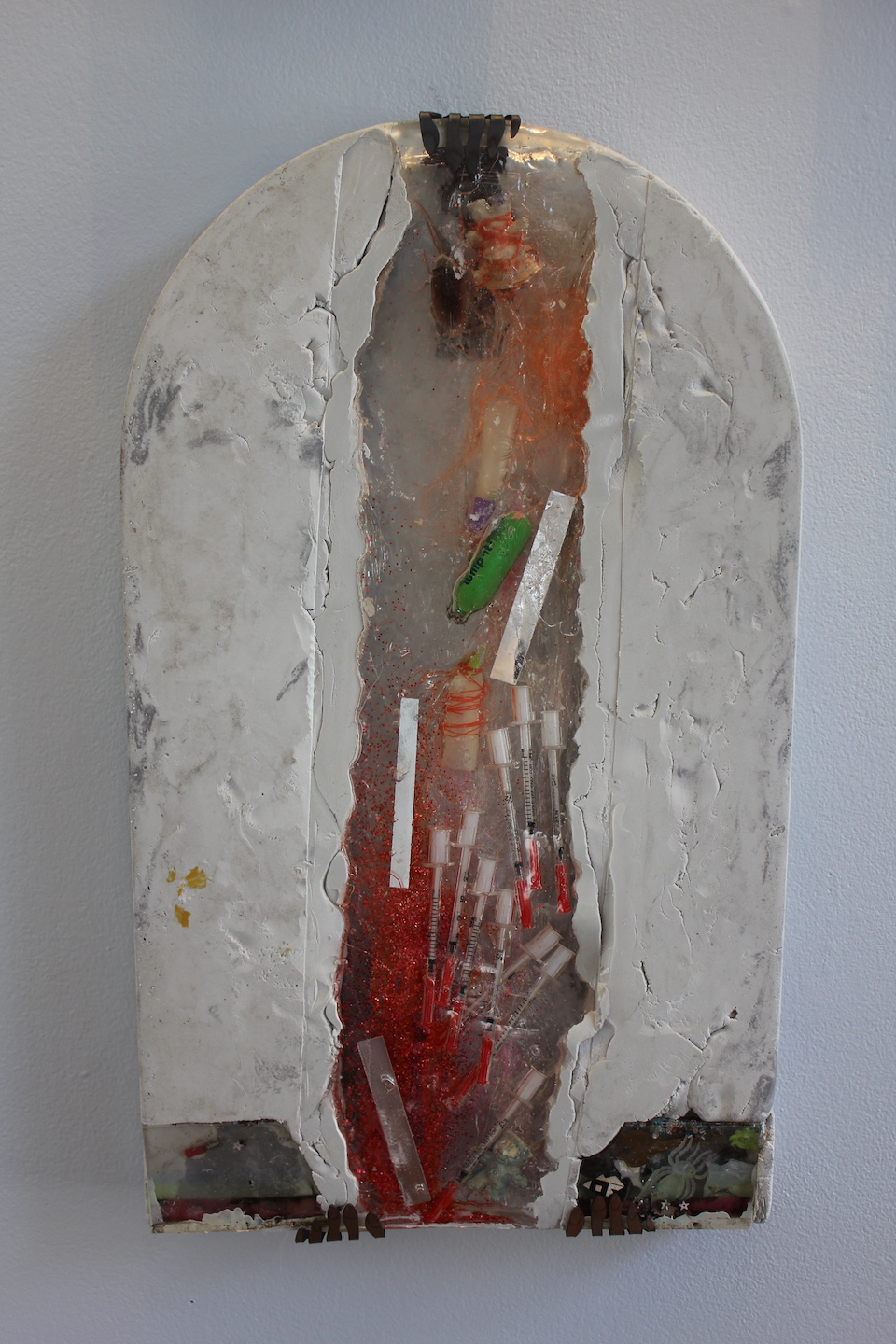 Epoxy headstone with syringes, by Rik Lee Leipold, on display at the Tenderloin Museum.
Leipold started making the epoxy pieces during 2020, when they, like all of us, were forced to transition to largely working at home. They've also been working on identifying strategies to make the sidewalk resin installations last longer. Sidewalk repairs often result in a full loss of the resin pothole pieces. Leipold told us they've started working in metal lately, at a location in Oakland, which led to the idea of creating a steel-cut map of the Tenderloin for the museum installation. They're also installing metal pieces in some of the potholes now, and included several hand cut-metal pieces in the epoxy blocks and headstones currently on display at the museum.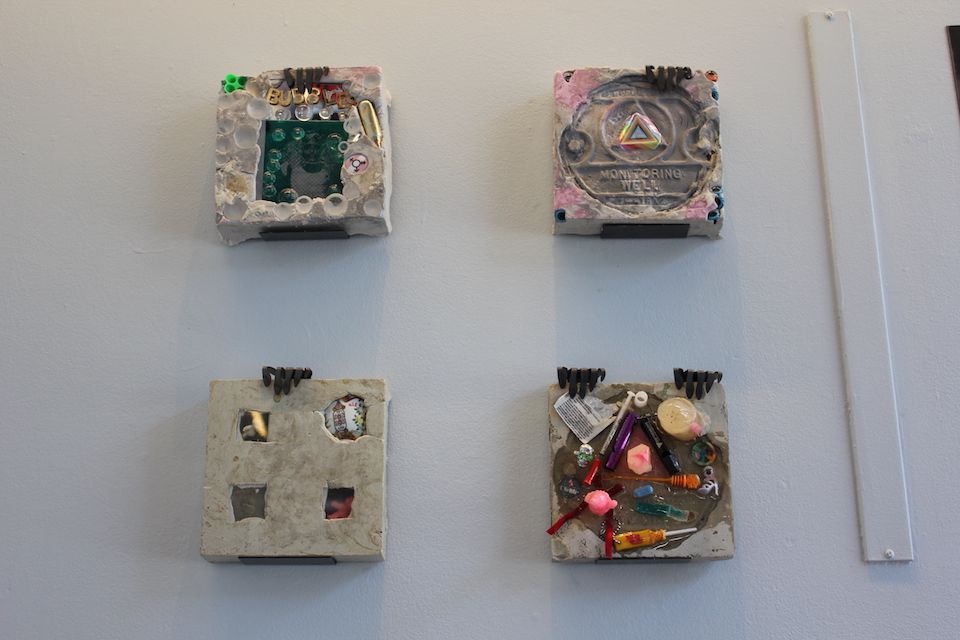 The epoxy blocks in Trolls & Potholes include found items and metal work crafted by Leipold
Leipold has recently been partnering with other neighborhood artists, including graphic novelist and City College fashion instructor Diego Gómez, whose holographic Pride stickers are featured in many of the potholes installed through their Resin In Pavement project. Tenderloin artist Kelsey Kolberg also contributed many of the Deco Lounge ephemera, such as the original drink tokens, that are included in the epoxy headstone, Leipold said.
On June 12, starting at 2:30 p.m., Leipold will host an artist talk outside of the Tenderloin Museum, and attendees will be able to watch a live pothole resin installation. Leipold expects to fill a pothole outside of the museum. Registration for the event is donation-based, but required to maintain a small group size. After visiting the museum, you can use the postcards from Trolls & Potholes to find all of Leipold's installations throughout the neighborhood.
Also on Saturday, Larkin Street will be closed to vehicle traffic for the Tenderloin's first outdoor arts fair, Vacation SF will host a vintage "flea market," and Fleet Wood will be hosting its first in-person art show in its store at 839 Larkin St. since the pandemic.
If you miss Saturday's artist talk and resin casting, you can still see Trolls & Potholes at the Tenderloin Museum through July 3.