A snorkeler who was bitten by a shark off the San Mateo County coast on Saturday has shared his story.
Nemanja Spasojevic of San Francisco, 38, was snorkeling and diving for crabs off the coast from Gray Whale Cove State Beach (aka Devil's Slide), between Pacifica and Montara, when a great white shark bit him once in the leg about 9 a.m. on Saturday, June 26.
Spasojevic wrote a description of the encounter on social media that SFGate reported in detail. According to the outlet, Spasojevic compared the pain he felt when the shark bit him to a "mosquito bite," saying that it felt "more like [a] curiosity bite" than a true attack. Nonetheless, the single bite left him with 10 lacerations on his leg.
"My view of it was just a curious bite as gentle as it can get from such a powerful predator. Their teeth are razor sharp and cut through the skin with ease. In addition to being thankful to all responders, I'm very grateful to the shark as well that it was gentle and did not strike again" Spasojevic wrote, adding that the "ocean is their home and we are just visitors."
After he felt the pain in his leg, Spasojevic wrote that he saw the face of a shark that he described as gray and about six feet in length. "At that point I just started kicking with my back turned towards rocks frantically," he wrote. "Hoping if it strikes again it will hit the fins. I reached white water area where water was bashing on the rocks."
Spasojevic was able to swim back to shore without trouble, but on shore found that his wetsuit leg was filling with blood. "I did think it's minor, but I could feel that the wet suit was ripped and cold water was coming in," he wrote. "At this point I was out and walking on the sand, the leg of the wet suit was bulged/filled with blood. ... I was aware that it may not be just a small bite, and I might need to drive to the emergency."

Watch video of a different person swim right by a shark, unharmed
Source: Carlos Gauna, TheMalibuArtist / YouTube
Spasojevic tied his rubber dive belt around the wounded leg as an improvised tourniquet, then walked towards stairs to exit the beach when he spotted a fisherman and called for help. "When he noticed me I just dropped on the sand to position my body head downwards, as the beach was sloped, to help keep blood in the brain and slow blood loss," he wrote.
The fisherman reportedly reinforced the tourniquet and called 911. Paramedics were on the scene by 9:15 a.m., according to the San Mateo County Sheriff's Office. Spasojevic was transported to Zuckerberg San Francisco General Hospital, stabilized and released. The beach was closed for 48 hours, per California State Parks protocol.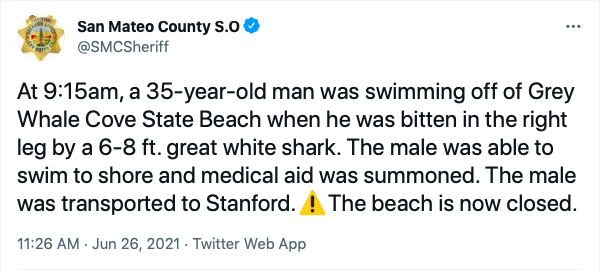 Shark attacks are relatively rare, as sharks do not ordinarily eat people and for some reason don't view people as food, with the general consensus being that when great whites do occasionally bite people it's a case of mistaken identity or curiousity to find out if they taste like prey such as seals or sea lions. Nevertheless, a great white shark killed a surfer in Santa Cruz county in May of 2020, as SFGate reported at the time. The outlet reports that there was another deadly shark attack in the area in 2012.
A population of around 300 white sharks lives off our coast, according to researchers at Oregon State. And new video evidence shows that sharks may be around a whole lot more than people think – meaning, somewhat counter-intuitively, that the rate of shark attacks on humans may actually be much lower than previously believed.
Southern California photographer Carlos Gauna has been documenting shark activity at beaches in the Los Angeles area using drones, and has shot incredible video of young sharks swimming around and under people surfing, paddling and swimming, most of whom never even notice they're there. The sharks generally ignore the people and go about their business.

Video shows people harassing sharks, shark swimming near children
Source: Carlos Gauna, TheMalibuArtist / YouTube
"Despite the fact that people are out there thrashing around and their arms are hanging off boards and legs are hanging off boards, sharks just ignore it," Chris Lowe, director of the Shark Lab at Cal State Long Beach, said to CBS News of the footage.
Lowe emphasized to CBS News that sharks don't view people as food, saying "we're not close to being on the menu," though scientists don't really know why that's the case. However, he said that the danger can be greater in areas where adult sharks are feeding on seals. On the East Coast, "we have adults that are there to feed on seals, and those seals are sharing the beach with people. So that's a very different situation," Lowe told the outlet. "Even in Northern California … I'd be a lot more hesitant about getting in the water."