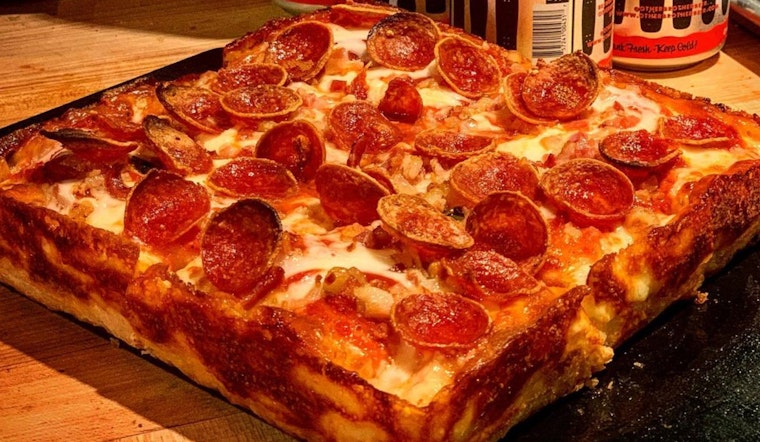 Published on June 23, 2021
As businesses in Mid-Market and SoMa slowly come back to life, the Namu Gaji/Namu Stonepot/Sunset Squares team of Dennis Lee, David Lee, and Daniel Lee are opening up SSP Beer Hall (59 9th Street) — the newly named beer hall, pizzeria, pop-up venue, and NFT gallery that they announced earlier this year. Also, there's a Sunset Squares Slice Shop opening on Divisadero, in the former Namu Stonepot space.
SSP Beer Hall opens today, June 23, serving Sunset Squares sourdough pizzas (don't call them Detroit-style, but they are square), Namu Stonepot items, and food from Filipino pop-up Uncle Tito. To go with all that is a selection of beer on tap and in cans and bottles, focused on IPAs and sours — with a couple of interesting picks on draft including Harmonic Brewing's "Electric Apricot" Sour, and HenHouse's "Juiced" Gose with hibiscus and lime.
As Dennis Lee tells Eater, he and his brothers decided to pivot from the original plan to reopen Namu Gaji in this large space, which was built out in fine-dining form by the previous team at the Perennial. After doing takeout throughout the pandemic and seeing the trends move toward comfort food, they figured a beer hall would be an easier bet.
"I think that everyone is a little bit traumatized, and also looking for less challenging kinds of experiences," Lee says.
On the menu are original pizza creations like the Mapo Tofu pizza, Clam Chowder pizza, and Pork Belly Kimchi pizza — with options to have the thick-crust, three-day-fermented sourdough pies, or thin-crust Chicago-pub style, or a classic 20-inch round, though not all pizzas come in either crust option. There are also basic topping options like pepperoni or mushroom, and there's a Keto Cheese pizza made with a crust that's just egg and cheese with a dash of King Arthur Keto flour. (Pre-order is required for some of the specialty pies.)
In addition to the full Namu Stonepot menu, there's also a short menu of Namu Stonepot Street Food hot dogs, like the Sisig Dog and the Pork and Kimchee Dog.
With three different menus and multiple chefs in the kitchen, the former Perennial's kitchen didn't suffice, so the food-prep operation has taken over what was formerly the main dining room of the restaurant as well. Seating for the beer hall, therefore, is limited to a long communal table in the former bar/cafe area, as well as bar and counter seating. So, the Lees are clearly banking on the idea that to-go and delivery will continue to represent a good-sized percentage of their business.
In this seating area, seven digital screens have been added which will be used to display digital art — i.e. NFTs (non-fungible tokens) that are available for purchase. If you need a primer on NFTs, look here.
As seen in their Instagram Story, there was a friends-and-family event at SSP Beer Hall on Tuesday, ahead of today's public debut — and the hours for the place are Wednesday to Friday, 4:30 to 10 p.m., and Saturday and Sunday from 11:30 a.m. to 10 p.m.
Also, not quite open yet but clearly doing some previews according to social media is the first Sunset Squares Slice Shop (553 Divisadero). The Lees had said earlier that there were plans to open multiple slice shops around the city, and the first will be in this spot recently vacated by Namu Stonepot. An official opening date for the shop has not been announced, but it seems soon. Namu Stonepot is still operating out of the former Namu Gaji space at 18th and Dolores.