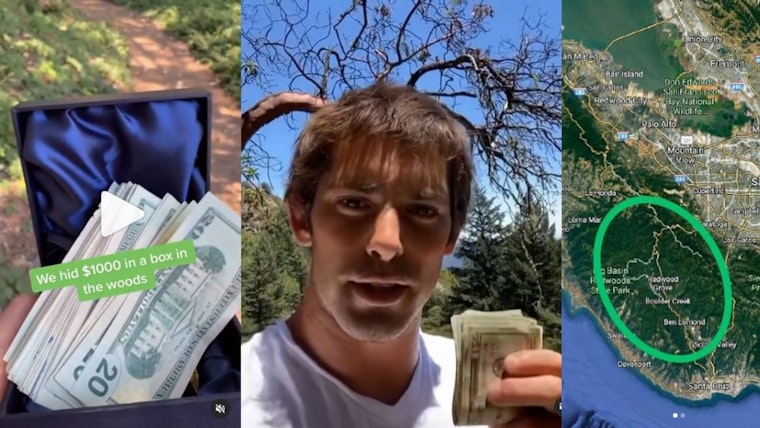 Published on June 30, 2021
If you like to hike in the mountains and you enjoy finding free money then you may want to head to Santa Cruz County. There's a treasure hunt now underway and the prize is $1000 dollars in cash — cash that is hidden somewhere, geocache-style, in a box.
The hunt popped up on Instagram from an account called @theofficialtreasurehunt. The organizers claim they will be posting clues to give treasure-seekers a better idea of where the money may be. According to ABC7, the first clue is set to come out on July 1st. There is also a map posted on the Instagram account which circles a large chunk of the Santa Cruz mountains but it doesn't really give you much insight into where to start looking.
"You'll get clues leading you in the general area where the box is hidden. So you can get closer and closer. Follow for weekly updates. It's publicly accessible, it's easy to access and it's not in any dangerous spot. Anybody can find it," co-organizer Brendan Ruh told ABC7.
It appears the stunt may have been thought-up by Ruh's CBD company 'Santa Cruz Medicinals' who recently posted this caption from @santacruzmedicinals on Instagram:
"We launched @theofficialtreasurehunt to have some fun and get people outside! Joe and I were talking and we thought it would be so fun to start a Treasure Hunt! We hid $1000 in a box in the woods in the Bay Area/Santa Cruz. Anyone can find it. We will be posting clues @theofficialtreasurehunt Enjoy! Random I know but show some love! Find the treasure if you're local! Get out and explore our public parks and land!"
Many people are wondering if the treasure hunt is just a publicity stunt, but so far nothing is being promoted except trying to get people to get outside and enjoy nature.
Co-organizer Joe Rattay told ABC7, "We were just thinking what's a great way to get people together and bring people to the outdoors, our favorite place. Brendan and I always love a good treasure hunt. What gets you more excited than actually going out in the woods with a purpose to find something cool."
If you do try to find the $1000 dollar treasure remember that the organizers said it is in an accessible area so there is no reason to get extreme and possibly get hurt. Also, on top of the Instagram account, you can also play along here: www.theofficialtreasurehunt.com
Good luck!