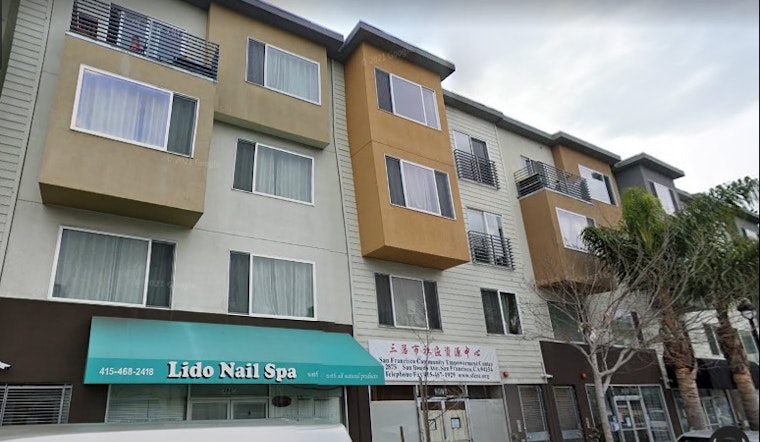 Published on July 19, 2021
The Mohammed Nuru-Public Works scandal has given the FBI, the local media, and the San Francisco City Attorney all manner of additional sub-scandals to follow up upon, the latest of which affects a five-year-old apartment complex in the Portola District. That complex at San Bruno Avenue and Woolsey Streets is permitted to house 10 units, but a Mission Local report in June found the place bursting with nearly 30 units and safety violations galore.
The Chronicle now reports that the building's developer has been fined $1.2 million for jacking the place up with illegal units. And there is a connection to the Nuru scandal; after check fraud charges hit the former Department of Building Inspection (DBI) commission president, the DBI audited a number of inspectors, found an unreported $180,000 loan from a developer to inspector Bernard Curran, and then found Curran had signed off on the illegal apartment building — a building whose listed engineer granted the $180,000 loan. This may not be "pay to play, and they let you break the law," but it sure has that appearance.
"The owners of these properties tried to cheat their way to more profit. That's always a bad idea. They got caught," City Attorney Dennis Herrera said in a statement to the Chronicle. "Now they must bring these buildings into compliance with the law — including fire safety and affordable housing requirements — and pay an appropriately steep price for their misconduct. We're going to ensure that the playing field is level, and that breaking the law doesn't pay."
The laundry list of violations would be funny, were it not so deadly for the building's primarily Latinx tenants. "The developers failed to include the below-market rate unit required by city law; kitchens and bathrooms were added without permits; and the building lacked the required second exit for tenants in case of a fire," as the Chronicle explains. "Instead of the high-quality facade pictured in the architect's renderings, the building had small vinyl windows, cheap siding, and stucco that is already cracking."
The district's supervisor, Hillary Ronen, has scheduled hearings and told the Chronicle, "The owners need to be held accountable in a meaningful way." She said the building has posed issues and problems for years.
A neighborhood architect put it more bluntly to the Chronicle. "I saw it go up and I thought, 'This turd is not what we were promised,'" he said.