Before there were food trucks, there were lunch wagons, a late 1800s dining trend that would evolve into what we now call late-night diners. One of these remains at Polk Gulch's Grubstake Diner, though the lunch wagon-era railcar component is now just built into the facade of the building that has operated as a restaurant since 1919.
It's been six years since the building's new owners (Jimmy Consos and former Mayes Oyster House partner Nick Pigott) proposed a demolition and replacement with a seven-story condo project that would rebuild the restaurant and put 28 residential units up top. That project was downsized the following year, but upsized again this year under a state density bonus. And the new version won Planning Commission approval Thursday, for an 83-foot tall, eight-story mixed-use building with 21 housing units.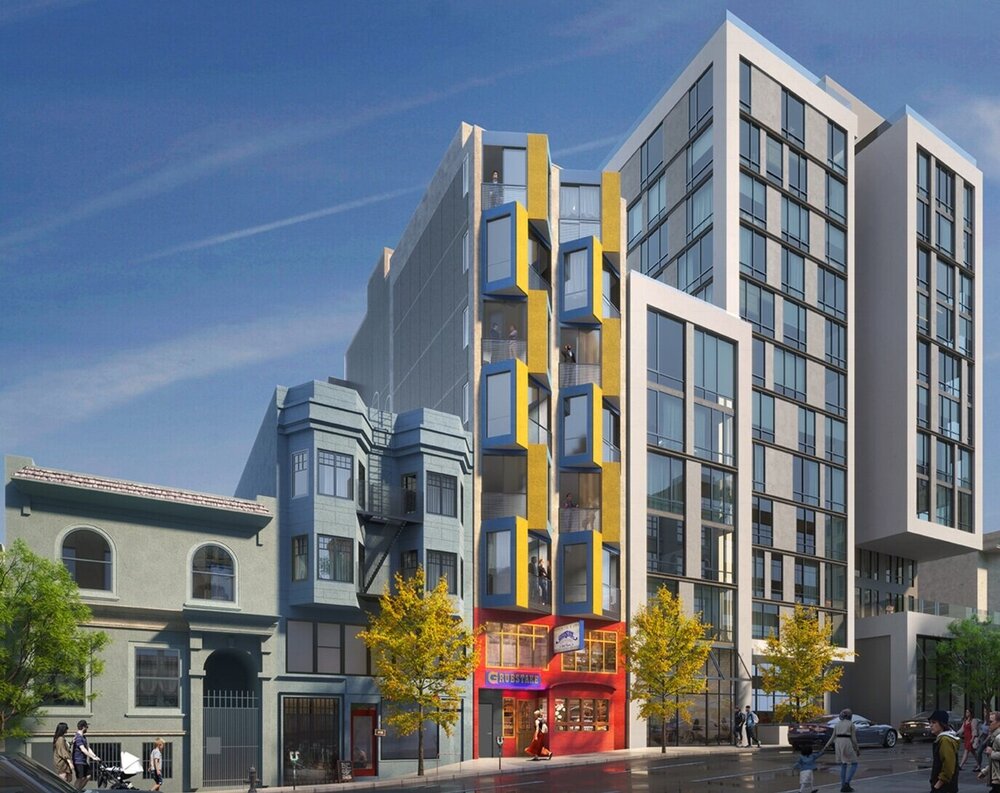 The rendering above from design firm Kerman Morris shows what the new 1525 Pine Street development would look like when complete, with the "Grubstake 2.0" in the ground floor. And the Grubstake Diner component brought an unexpected voice into the Planning Commission meeting.
"This is Juanita MORE!, Empress of the Imperial Council of San Francisco," the notable drag queen and emerging Tenderloin restaurant figure said during public comment on the matter. "I am also a 30-year [District 3] resident and a 30-year customer of the Grubstake. I approve of this current buildout. I spoke with the owners, I've seen the plans. I'm very happy with it. When the Austin went up, I found that to be the eyesore. There are pieces of the Grubstake that I believe will be installed into the new building which makes me very happy. It's been a longtime part of the LGBTQ+ community."
When MORE! refers to the Austin, she means a neighboring condominium complex whose residents are none too happy that the new building will wipe out their sunlight.

"Why would you ruin the livability of 20 units in the Austin lightwell for six units in the new building?," commenter Patricia Rose noted, referring to the affected units.

The blocked sunlight was the main reason for Planning Commission opposition, even though the project is putting in artificial light to compensate for the neighbors' lost sunlight. "Fifty percent reduction in light does have an adverse impact on health," said commissioner Kathrin Moore (no relation to Juanita MORE!). "While it is a well-designed building, it is still not designed in context."

Yet Moore and commissioner Sue Diamond were the only opposition to the project in the commission's 4-2 vote granting approval.

Everyone who spoke up was in favor of the Grubstake Diner getting a full rebuild and restoration. The restaurant does have a significant historical connection the the LGBTQ+ community from a time when Polk Gulch was the city's epicenter of gay culture. But the addition of more bigger, taller, market-rate housing may elicit some who remember that era to say, "There goes the gayborhood."