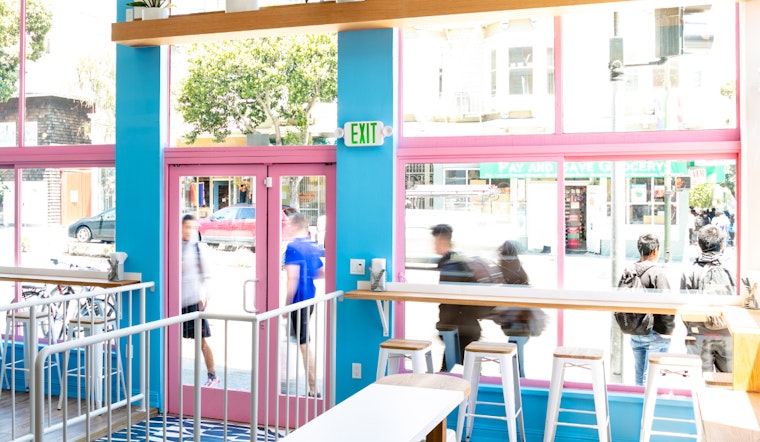 Published on July 14, 2021
We finally have news of a taker for the prominent corner space that was briefly home to AL's Deli (598 Guerrero St.), and previously the home of Yuzuki Japanese Eatery for eight years, and it's the team behind Michelin-starred Divisadero sushi spot Ju-Ni. So it will be a return to Japanese food in the space across from Tartine Bakery, and partner Tan Truong tells Eater that he and Chef Geoffrey Lee have been contemplating a casual spot like this for a while.
It's called The Handroll Project, and the focus is obviously on hand rolls (also known as temaki sushi).
"This is something we've actually been thinking about doing for a long time," Truong tells Eater. "Before we opened Ju-Ni we were actually thinking about opening a hand roll place in [the Fulton Street] spot."
The pair posted a liquor license transfer application on Instagram Tuesday, by way of a teaser, and many industry folk expressed immediate excitement.
View this post on Instagram
Ju-Ni specializes in more refined and seasonal, omakase-style nigiri sushi, which is now being served via a full-service sushi-bar parklet off Divisadero. The Handroll Project will be a more easygoing affair, serving up handrolled cones of seaweed with fresh fish and rice. Truong explains to Eater that the intent is to keep things affordable, with customers able to buy one or two hand rolls a la carte, and either eat them at the counter or take them to nearby Dolores Park.
They're aiming to get The Handroll Project open by mid- to late October.
View this post on Instagram
In other news at the other end of the Mission District, The Jelly Donut at 24th and South Van Ness has finally reopened after a near two-year closure brought on by the city's seismic retrofit mandate. The beloved shop closed in August 2019, and the pandemic delayed the project so that the doughnuts only began frying again in late June.
As Mission Local reports, the Nhul family has owned and operated the shop since the 1980s, and it's now the job of siblings Kannyka and Victor, with Kannyka always manning the counter and cash register. Regulars may remember that, a few years back, Kannyka was known to not always have her wits about her while on the job, and she admits now that she was drinking a lot — doing shots of Hennessy just to start the day — and was in a dark place in her life. She's now 44 months sober, she says, and she's happy to be back greeting customers and chatting again "like the barbershop." With some customers, she says, she knows their "whole life story," and they know hers — she grew up in the shop, going to elementary, middle, and high school in the neighborhood while her dad was still running things.
During the pandemic, she says, her brother Victor went to work at another relative's doughnut shop in Union City — their large Cambodian family collectively owns 10 them — and she was home caring for her ailing mother.
But you can now get doughnuts again between 5:30 a.m. and 10 p.m., seven days a week.
The Jelly Donut, a Mission District family business of 30+ years, finally reopened last month! Siblings Kannyka and Victor Nhul share with @miss_elenius their experiences growing up and into their roles at shop, as well as within the community.https://t.co/J44CJdqH7R

— Mission Local (@MLNow) July 14, 2021