By
Matt
- Published on July 26, 2021.
After a five-day-long soft opening, the AAPI-owned bakeshop officially opened this past Sunday on Larkin Street, debuting its collection of beautiful, Instagrammable desserts.
The Tenderloin has no shortage of cafes — but Sweet Glory (721 Larkin Street) manages to transcend the competition. After hosting a few small pop-ups earlier this year, as well as soft-launching in mid-July, this artisanal dessert cafe/tea room/coffeeshop celebrated its grand opening Sunday afternoon with a ribbon-cutting and eager eaters in line to stock up on an assortment of made-to-order toasts, petite scones, and artfully layered cakes.
Our visit to the APPI businesses, which is also women-led and LGBTQI+-owned, proved not only welcomingly pleasant but incredibly memorable.
View this post on Instagram
Located on Larkin between Ellis and O'Farrell, Sweet Glory's storefront is clinically minimalistic. A small collection of bistro tables saddle the large street-facing windows, affording passersby a glimpse into the bright white interior. One small a-frame sits outside, beckoning customers entering the space to follow their Instagram handle (@sweetglorySF). And once inside, patrons are greeted by two long glass displays, showcasing the bakeshop's pre-sliced layered cake, hefty toasts, and other purchasable morsels. For those in need of an energy boost, coffee and espresso drinks — made from Ritual Coffee-roasted beans — can be ordered at the Square register; lemonades, jasmine and green teas, and other hot and cold drinks round out the cafe's current beverage menu.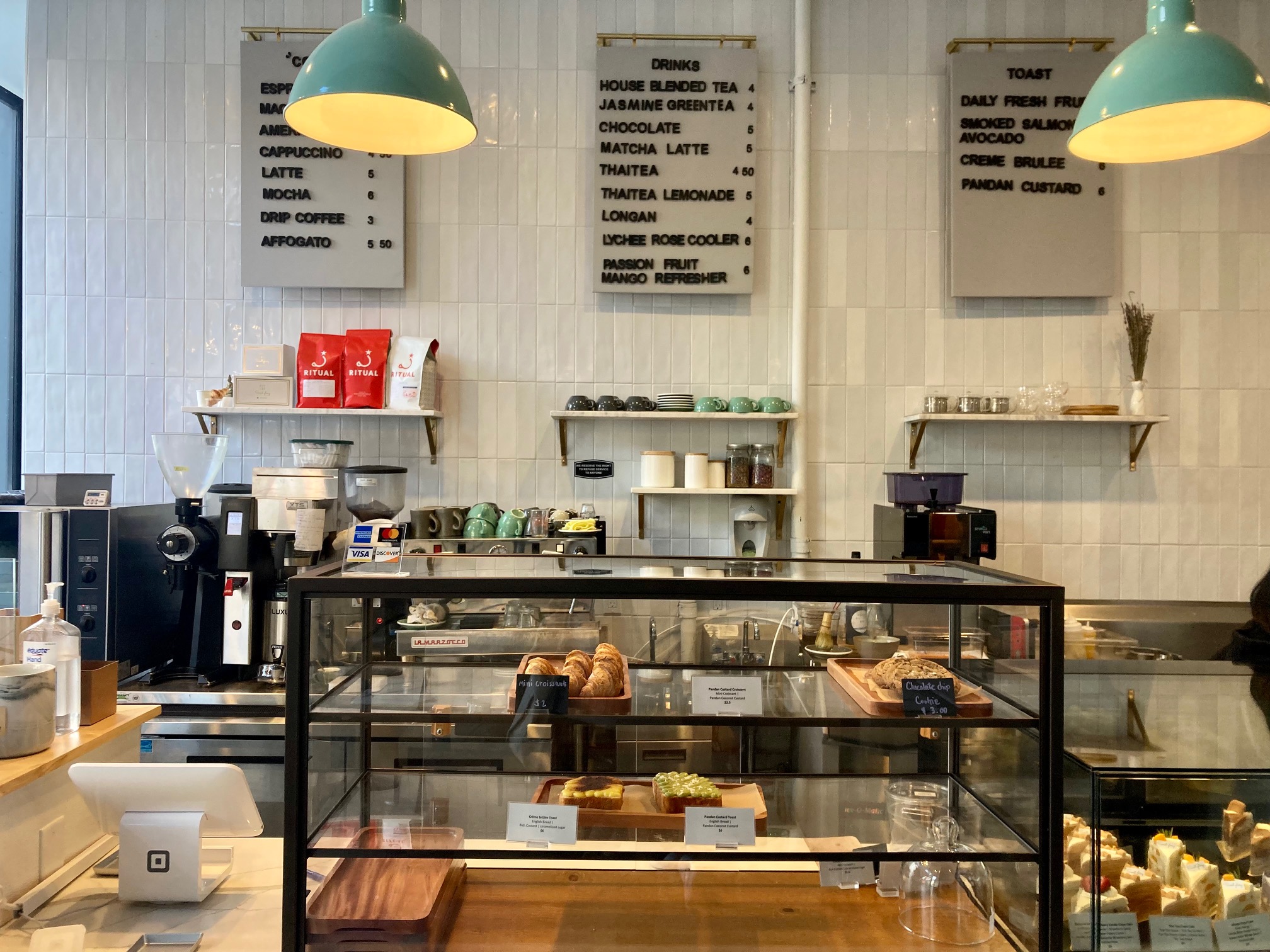 Photo: Courtesy of Photo: Hoodline/Matt Charnock
After combing through the array of available desserts, we settled on a Millennial staple hand food: dressed-up slices of thick toast. The verdant green pandan custard and sunshine-yellow crème brûlée options piqued our interests. We ordered both; it was a cheat day.
To our delighted surprise, each toast is made to order and not simply taken from the display and warmed up. We noticed that all the slices of freshly made bread are placed inside a Balmuda toaster oven — a nearly $400 appliance that uses both steam and precise temperature control to ensure a firm, yet tender toast. Once properly browned, viscous pandan was artfully lacquered from edge to edge, finished with a bit of shaved coconut. The crème brûlée toast was given similar treatment, even being torched just moments before it was placed in our to-go box.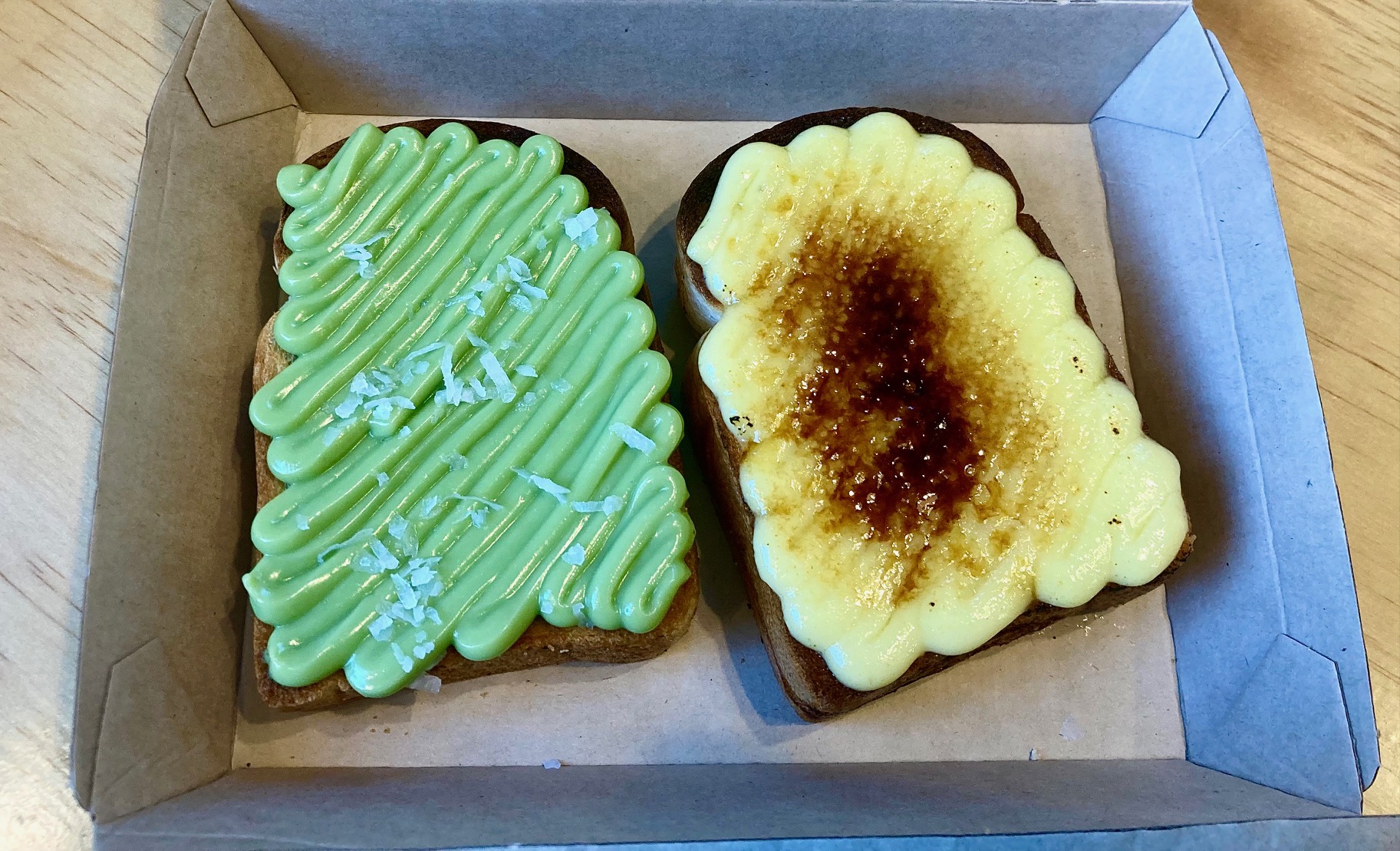 Photo: Courtesy of Photo: Hoodline/Matt Charnock
The pandan custard toast was the first devoured — our front teeth cutting through the soft-green custard and brown exterior to reveal a perfectly tender inner crumb. It was little surprise that the crème brûlée iteration offered a near mirror experience, sans the expected shattering of the burnished sugar coating that sat atop the sweet custard. Both toasts were eaten at a rate that left us wishing we would've ingested them slower, if for no other reason than to extend those episodes of caloric pleasure.
But that's what repeat visits are for. And we, absolutely, see one in our near future.
// Sweet Glory, located at 721 Larkin Street, is open daily from 9 a.m. to 6 p.m.; check out the dessert cafe's Instagram account (@sweetglorysf) for updates, menu offerings, and when the company's website launches.