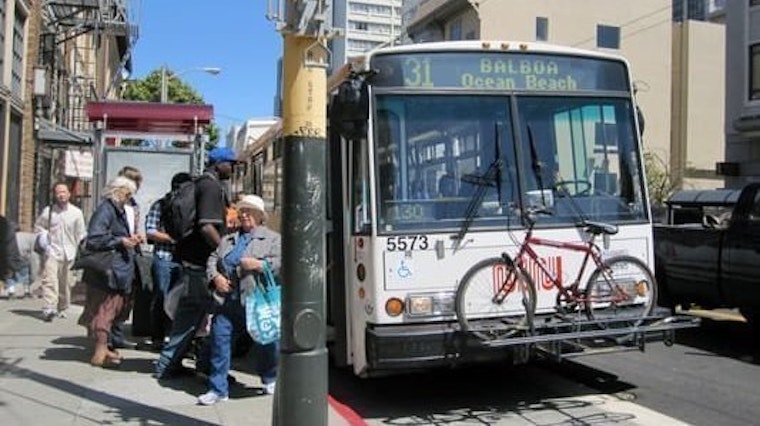 Published on July 15, 2021
For a fairly obscure and not well-traveled bus line, the suspended 31-Balboa line has become a cause célèbre among transit advocates in recent weeks. An early July rally for its reinstatement drew Supervisor Dean Preston and SFMTA director Jeffrey Tumlin, and the route has a Change.org petition with more than 1,000 signatures demanding its reinstatement.
Thanks to more successful hiring + training, and fewer retirements than expected, we have just enough staff to add M and 31 to Aug 14 service expansionhttps://t.co/DR7h7OQgzu

— Jeffrey Tumlin 🏳️‍🌈 (@jeffreytumlin) July 15, 2021
The pressure appears to have worked. The SF Examiner reports that the 31-Balboa will return August 14, albeit on a limited route. On top of that, the M-Ocean View will return as a light rail car instead of its current bus incarnation that day and will get it's currently abridged, full pre-pandemic route.
The SFMTA had already announced plans to add more lines on August 14, so these two additions are bonuses. "The addition of the 31-Balboa and return of the M-Ocean View to rail service was made possible following improved clarity on our staffing levels this fall," the SFMTA said in their announcement. "We had previously forecast that due to an abnormally low level of retirements during the pandemic, we would see a spike at the start of the fiscal year (July 1) when many staff tend to announce their retirements. However, we are now confident there will be adequate staffing to deliver this additional service."

The modified 31-Balboa route will still cover much of its east-west route across the city, from around Fifth and Market Streets out to Cabrillo and La Playa Streets. The M-Ocean View will return to its regular street car route.

The Examiner adds that Supervisors Connie Chan and Dean Preston introduced a resolution Tuesday calling for full restoration of Muni service by the end of 2021. That would not be binding, but it likely to get SFMTA to commit to more route and service return dates.