Just seven weeks after California's June 15 "reopening" allowed fully vaccinated people to no longer wear masks indoors, the highly contagious Delta variant is making us all mask back up. In a Monday noon announcement, the SF Department of Public Health issued a new order requiring masks in all indoor settings, even for those who are fully vaccinated. The order takes effect Tuesday at 12:01 a.m.
San Francisco, along with seven other Bay Area counties, is requiring masks indoors in public places regardless of vaccination status, starting Tues, 8/3. Read more here: https://t.co/nCyHOTzadh😷#MaskUpSF

— SFDPH (@SF_DPH) August 2, 2021
The order covers all of San Francisco, and the other Bay Area counties adopting the same mask mandate are Alameda, Contra Costa, Marin, San Mateo, Santa Clara, and Sonoma counties, as well as the City of Berkeley.
"COVID-19 vaccines are highly effective in protecting people against severe illness and hospitalizations, and the vaccine continues to be our best way to protect ourselves, our families and our communities," SF's San Francisco Acting Health Officer Dr. Naveena Bobba said in the announcement. "Indoor masking is a temporary measure that will help us deal with the Delta variant, which is causing a sharp increase in cases, and we know increases in hospitalizations and deaths will follow. When we all wear face coverings indoors, we are protecting our fellow residents and helping our healthcare workers."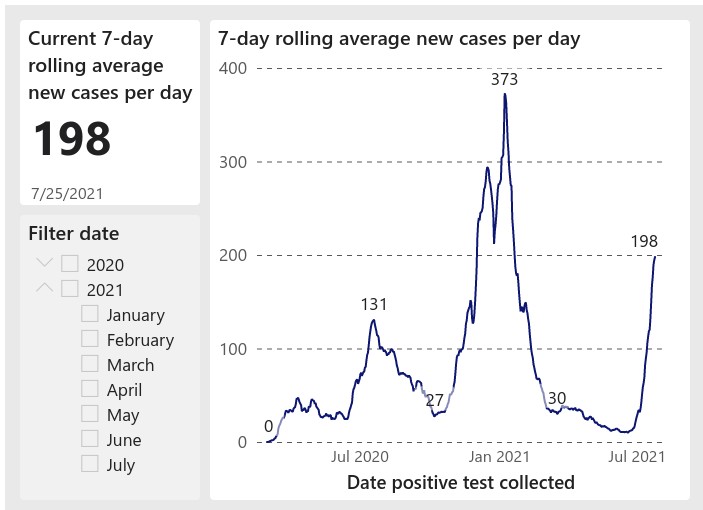 As seen above, San Francisco's seven-day average of new cases has increased almost twentyfold since the reopening, and is now nearly 200 a day. According to the Chronicle, "The Bay Area has been averaging more than 1,400 cases a day over the past several days, surpassing the peak of last year's summer surge," though the paper adds that "COVID deaths in the Bay Area, however, at about five a day, are well below last summer's peak of 20 a day."
In addition to the indoor mask requirement in public spaces, the order also "strongly encourages individuals to wear masks when they are in crowded outdoor spaces (parades, fairs and outdoor concerts, sports exhibitions, etc.), or while taking part in indoor gatherings at private homes with members of other households."
In reaction, the Golden Gate Restaurant Association issued a statement saying, "We will continue to work closely with the city and the San Francisco Department of Public Health to communicate guidelines that focus on a safe and healthy environment for our employees, guests and community. We are also supportive of continued health guidance measures, including an indoor vaccination requirement, should health officials deem it necessary to stop spread."
The group stressed that these latest concerns make it all the more vital that Mayor London Breed recently signed legislation making the city's Shared Spaces program permanent, allowing more businesses to do business outdoors.
Public health officials maintain that increased vaccination is the best way to end these repeat restrictions. If you have not yet received the COVID-19 vaccine, here's where you can get vaccinated for free in San Francisco.