With California less than a month away from its "full-reopening" on June 15, and after the Centers for Disease Control rescinded its mask mandate last week, it's still not clear what a mostly vaccinated, maskless, post-pandemic Bay Area will look like. What rules will the state, counties, and individual businesses choose to adopt? How will customers, who have spent the last year social distancing and covering their faces, feel about entering crowded places?
The CDC's announcement last week might have caused more confusion than clarity, as the public health agency was careful to defer to regional authorities, saying, "Fully vaccinated people no longer need to wear a mask or physically distance in any setting, except where required by federal, state, local, tribal, or territorial laws, rules, and regulations, including local business and workplace guidance." On Friday, Governor Gavin Newsom said that California is considering whether to adopt the new federal guidelines, while local Bay Area counties said they're waiting for more guidance from the state, according to KPIX, who added that many San Francisco businesses are taking a "wait and see approach."
Despite a "full reopening," it seems clear that mask will still be required, to some degree, at the state level, as businesses welcome larger-capacity crowds into their establishments. In their Blueprint for a Safer Economy, the California Department of Public Health said that on June 15, "all industries across the state can return to usual operations with common-sense risk reduction measures such as masking and vaccinations." The State will retire the Blueprint on June 15, according to the San Francisco Chronicle.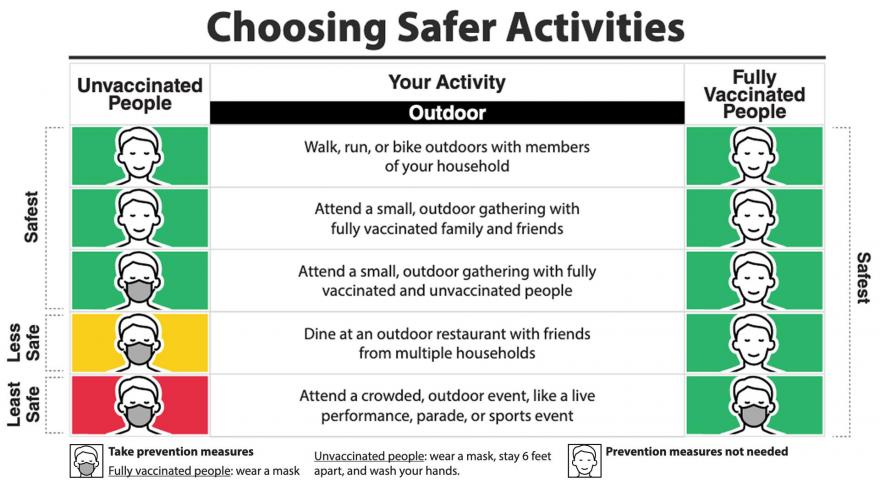 As the COVID-19 pandemic begins to abate, it will take time to digest the evolving rules. Even fully vaccinated people can expect to wear masks, in some settings, for the foreseeable future. SOURCE: Centers for Disease Control
Exactly what constitutes "common sense" is likely to vary from business to business. It seems that an intangible sense of public trust that only fully vaccinated are shedding their masks in public places will be required for a truly robust reopening.
In Santa Clara County, a spokesperson for the county's public health department said officials are also waiting for instructions from the state before officially easing the local mask mandate. Several local business owners have said they will craft their own rules with a sense of caution, and in deference to employee and customer comfort. The San Jose spotlight reported one incident where a customer entered a San Jose bar maskless, claiming that he was fully vaccinated; the manager kicked the customer out, saying that the business reserved the right to set its own rules.
At a budget meeting on Friday, Governor Newsom admitted that he was unsure what would happen if businesses want to require masks, according to the Associated Press. Newsom added that he was not clear on how federal guidelines would affect schools, since younger children aren't yet able to be vaccinated. "There's a whole host of complexities that we all have to work through," Newsom was quoted as saying by the AP.