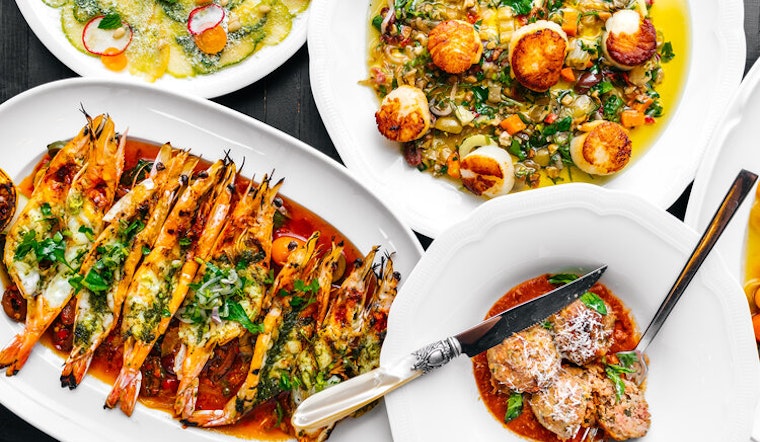 Published on September 14, 2021
It's a very COVID-19 story.
Oakland couple, restaurateurs and Bay Grape wine shop owners Stevie Stacionis and Josiah Baldivino, opened Mama in 2019 as an affordable prix-fixe restaurant in homage to Stacionis's Italian grandmother. Then the pandemic arrived, shuttering the nascent eatery and forcing the original "Mama Maria" herself to pass her final days isolated in hospice care. And now, the eatery is reborn, the homage of its rebirth more poignant than its original inception — with changes that map the new landscape for restaurants and their patrons.
"It's been a mother-F-ing ride, people," wrote the couple in an announcement on the Mama restaurant website about their reopening that invited patrons into a "social contract" to keep Mama and restaurants like it open. "The first nine months of Mama were stressful, to say the least. Then March hit, and the world went totally upside down ... Meanwhile, Mama herself was dying. Alone. In hospice care and prevented from seeing visitors. WTF. There was this nagging, relentless, very prideful heartstring tug that said, 'You cannot close the restaurant.'"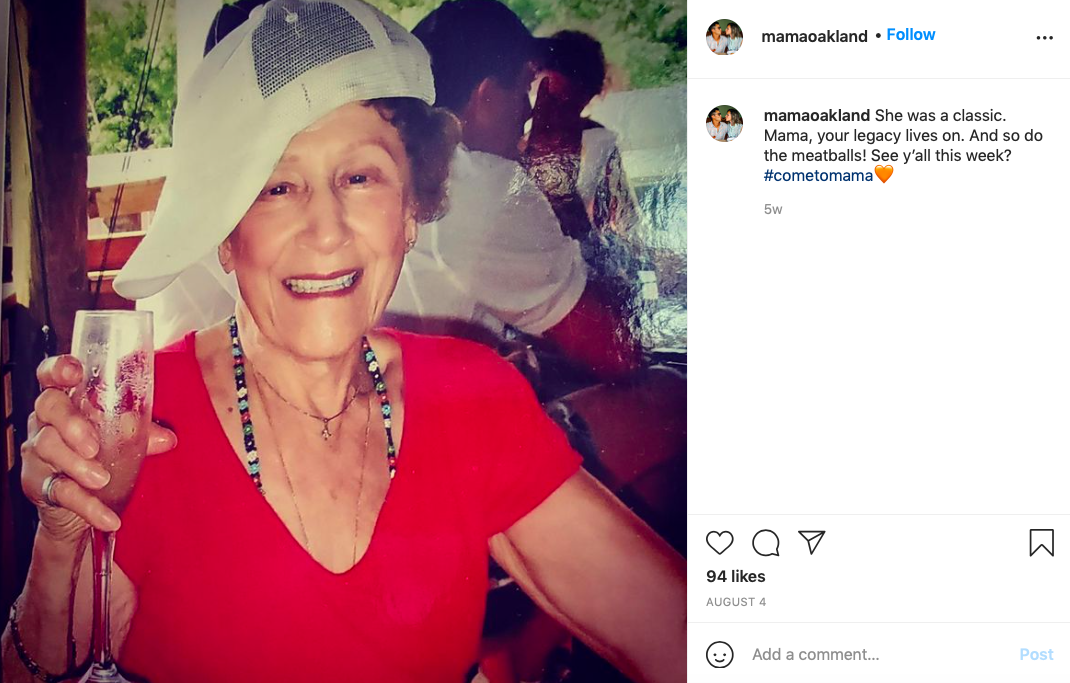 Source: Mama Oakland / Instagram
And so the couple partnered with the local Hi Neighbor Hospitality Group (Trestle) to reopen this summer, garnering coverage in Eater San Francisco and a recent positive review in the San Francisco Chronicle that's spurred new visitors to the spot.
The original concept, providing that Bay Area unicorn that's common in Europe yet so elusive here — a high-value set menu at an affordable price (now $34.95) – remains the same. For example, a recent menu offered yellow peach gazpacho or panzanella, followed by Mama's signature sugo and spinach lasagna or linguini carbonara, plus ricotta cheesecake or chocolate tart.
But the whole experience involves some key modifications to bring eating out into line with the new normal.
The operators have taken the bold step of capping the time diners can stay at the table, as well as focusing on reservations to control the flow of customers — measures meant to make it feasible to keep operating in the days of limited capacity and social distancing.
"[B]ecause with limited capacities due to COVID, we've got to get the guests behind you into a safe space, too," write the couple. "We know this is brave (maybe even audacious), but the time to shake sh*t up is now. The world is a different place now than it was 14 months ago; if we do not respond, or if we foolishly do not do what it might take for us to survive, then we deserve to go out of business."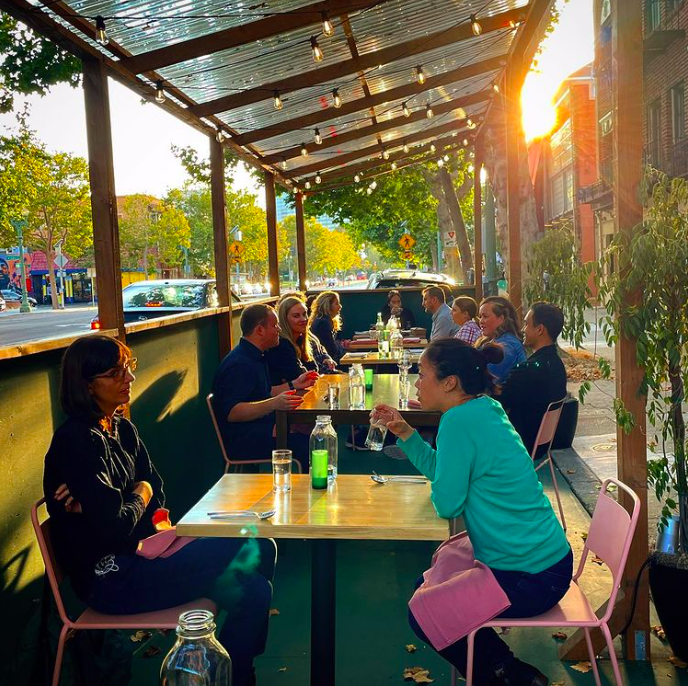 Outdoor dining is one of Mama's many COVID adaptations. Photo: Mama Oakland / Instagram
The restaurant has also added an outdoor eating area and is using QR codes to offer touchless menus that guests bring up on their smartphones, Eater San Francisco reports. Proof of COVID vaccination with photo ID for eligible guests is required for those eating inside since late August.
And Mama's owners have added a 20-percent service charge to bills — to get away from the "yucky history of tipping" and move towards their goal of taking "better care of our entire staff by providing full benefits, vacation, and professional development resources" after the rough ride hospitality workers have had since COVID.
Towards the same end, the restaurant's menu price has gone up ever so slightly, from $29.95 when it opened. But, hey, that's nothing compared to the price of toilet paper in the spring of 2020. And it will get you a three-course menu, complemented by some simple add-ons, an optional protein-course for an additional fee (new since reopening) and a list of wines selected to pair with the current menu and that "simply make us happy."
All inspired by the hospitality of the original Mama Maria herself, as the couple writes: "Not only was [reopening] about the legacy of Mama Oakland, it was about Mama herself — about what Mama Maria taught us about hospitality, about welcoming people and making them feel safe and loved.
We'll raise a glass of carefully selected, affordably priced wine to that.
Mama is located at 388 Grand Ave., Oakland. The restaurant is open Wed., Thurs. and Sun., 5-9 p.m., and Fri. and Sat., 5-10 p.m. (closed Mon. and Tues.). For more information, current menu and reservations, visit mama-oakland.com.