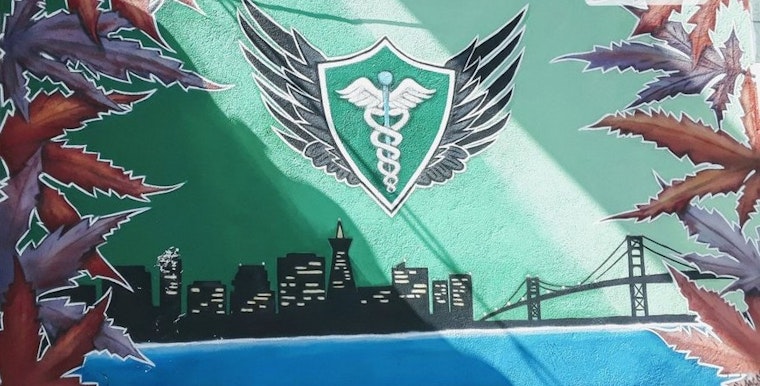 Published on September 22, 2021
At Tuesday night's Board of Supervisors meeting, the supervisors unanimously approved an eviction moratorium amendment — potentially affecting tens of thousands of renters — with no discussion, a quick roll-call vote, and the bang of a gavel. But just before that, they spent nearly two-and-a-half hours debating a cannabis dispensary that had already been approved by City Hall.
ReLeaf Herbal Cooperative was just the third San Francisco legal medical marijuana dispensary when it opened at Ninth and Mission Streets in 2008. But they were on the wrong end of a no-fault eviction in 2019, and have sought a replacement location since. This past June, the SF Planning Commission approved their move to a new location much further down Mission Street, just a few hundred feet from the Daly City border.
That decision was appealed to the Board of Supervisors, as a neighboring church argued the new location violated laws around proximity to schools, and created too large a cluster of pot shops in the neighborhood. The board did not agree, and rejected the appeal in an 8-3 vote.
"I am grateful to be able to continue my story as Latina legacy cannabis operator in the neighborhood where I grew up," owner Heidi Hanley told Hoodline after the vote. "A heartfelt thank you to the board of supervisors who recognized me for my merits."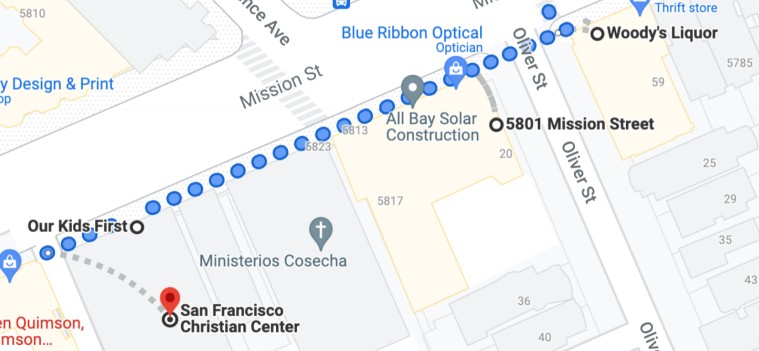 The church in question is the San Francisco Christian Center, which argued it also qualifies as a school, and is just 300 feet from the proposed Releaf location (5801 Mission in the above graphic). They point out this violates a city ordinance that dispensaries cannot be within 600 feet of a school.
"San Francisco Christian Center holds Our Kids First, an afterschool program that is a district provider for San Francisco Unified, with signed contracts," said the church's liaison Delia Fitzpatrick. "We should be considered an entity under the direction of the school district."
But the Planning Department responded that "The Planning Code's definition of School does not include facilities such as parks, preschools, or after-school programs."
A number of public commenters complained the new dispensary would create a cluster of dispensaries in Crocker-Amazon, with three on a seven-block stretch of Mission Street.
Yet that is far from the largest cluster in the city. "The nearest dispensary is 3,143 feet from our location, whereas the city only requires us to be 600 feet away," said Releaf co-owner Edward Brown.
Other concerns were just Reefer Madness hysteria. One commenter carped, "I'm sick and tired of cannabis. It ruins lives. It makes people violent, and it's going to cause a lot of homosexual behavior," before the meeting operator quickly cut off his call.
The board ultimately upheld the Planning Commission approval and rejected the appeal, with the only No votes coming from supervisors Connie Chan and Gordon Mar, and that district's supervisor Ahsha Safai.
"When I ran for office, I heard from all different segments of the community," Safai said before the vote. "The broad spectrum of my community asked for no additional dispensaries to come to our neighborhood."
ReLeaf Herbal Cooperative is one of the few surviving dispensaries that predates the existence of licensed dispensaries, and their 16-year ride has been a rollercoaster.
There were no dispensary regulations when Releaf opened in 2005, a relatively early era of medical marijuana. When structured cannabis dispensary rules passed in 2007, the shop had to move from its original location at 21st and Folsom Streets, as the new laws rendered that location non-compliant.
They were, though, the third legal and licensed SF dispensary upon reopening at Ninth and Mission Streets in 2008. The shop was burglarized to the tune of $600,000 back in 2017, and suffered the eviction in 2019. But thanks to some early 2020 legislation from supervisor Matt Haney, they're the only cannabis dispensary that was allowed to transfer their retail cannabis permit to a new address.
Now Releaf will be the first new dispensary in Safai's District 11 since recreational marijuana arrived in 2018. Safai had managed to pass a moratorium on new medical cannabis dispensaries in the district in 2017. But that moratorium went up in smoke when the recreational rules went into effect, as the laws no longer recognized the distinction of a "medical cannabis dispensary."
"This is a historic victory for a pioneer minority woman legacy cannabis operator who has touched the lives of so many San Francisco residents and visitors," Brown told Hoodline.
There's still some red tape and construction ahead for Releaf's new location, but they hope to open in early 2022.