The 2021 Michelin Guide for California is out, and it includes nine new additions in the Bay Area — including three restaurants in the South Bay.
Portuguese eatery Adega in San Jose is back on the list of restaurants to earn a coveted Michelin star, after having previously held a star in 2016. Selby's in Atherton, the farm-to-table American spot from the Spruce/Village Pub team, also earned a star for the first time this year, as did Sushi Shin of Redwood City.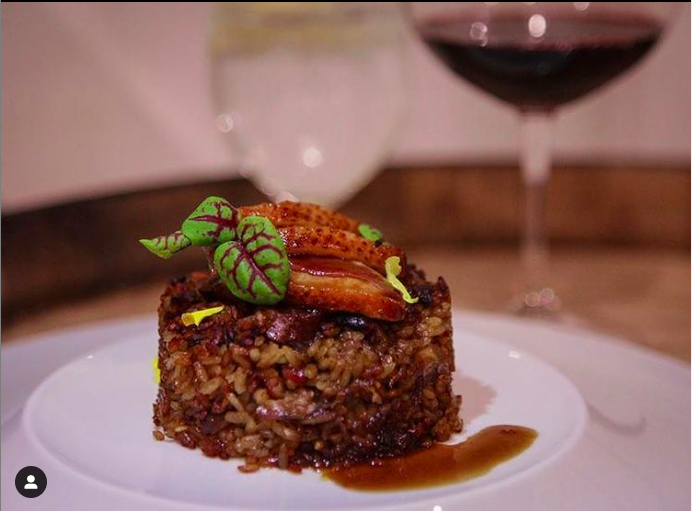 Duck rice Photo: Adega / Instagram

There were also 18 Bay Area additions to Michelin's Bib Gourmand list, with a full 11 of them located in the East and South Bay. The list, while less prestigious than receiving one (or more) stars, recognizes more affordable eateries where you can get a quality meal at a great value.
Two Northern California eateries (Birdsong in San Francisco and Harbor House in Mendocino County) also moved up the ranks to earn two stars this year.
Below you'll find our rundown of the latest Bay Area spots where you can sample cuisine that's earned recognition from the revered (if perhaps mildly disorganized this year, as SFist reports) French dining guide. Then scroll down for the list of new additions to the Bib Gourmand list, plus a full list of all the Michelin-starred eateries in the area. (Visit the Michelin site for more details on each and to see the new additions for all of California.)

Chef Jason Zhan of Sushi Shin Photo: Sushi Shin / Facebook
Adega (One Star — San Jose)
Chefs Jessica Carreira and David Costa were recognized for their seafood-heavy Portuguese cooking, which the guide called "home-style punched up with a contemporary edge ethos." The guide particularly called out the signature dish of butter-poached Arctic char with with watercress crust, sauce vin jaune, and mushrooms, as well as the seven-course tasting menu.
1614 Alum Rock Ave., San Jose
Selby's (One Star — Atherton)
This eatery made the list for the first time for its American cuisine that draws on produce from the group's organic farm. The guide recognized the restaurant for elevating "familiar steakhouse fare" and for its "old-world charm" and "throwback glamor."
3001 El Camino Real, Atherton
Sushi Shin (One Star — Redwood City)
The guide recognizes Chef Jason Zhan as "charming, engaging, and a bona fide tome of information on product sourcing, aging, and marinating." It calls out specialties like sea water eel braised in a delicate dashi and topped with a sweet-tart plum sauce, and nigiri of medium fatty tuna or Golden "horse mackerel" topped with ginger and scallion.
312 Arguello St., Redwood City
Avery (One Star — San Francisco)
Avery makes the list for the "contemporary/creative" cuisine of chef/owner Rodney Wages, who the guide observes, "marches to the beat of his own drums." The guide also highlights the eatery's "lovingly curated champagne and sake list."
1552 Fillmore St., San Francisco
O' by Claude Le Tohic (One Star — San Francisco)
ONE65's O' is called out for Chef Claude Le Tohic's "outstanding" 10-course prix-fixe menu that brings together "classic French techniques with pristine Californian ingredients."
165 O'Farrell St., San Francisco
The Shota (One Star — San Francisco)
Japanese counter eatery The Shota offers "a breathtaking experience" in the Financial District with local produce plus ingredients imported from Japan. Not to mention "effortless, unobtrusive, and engaging" service, according to the guide.
115 Sansome St., San Francisco
Marlena (One Star — San Francisco)
The guide recognizes this "pretty-as-a-picture location" in a classic Victorian and husband-and-wife team David Fisher and Serena Chow Fisher for "deftly marrying simplicity with sophistication" in their contemporary California cuisine.
300 Precita Ave., San Francisco
Niku Steakhouse (One Star — San Francisco)
This "ultraluxe" Design District steakhouse and its kitchen helmed by under Executive Chef Dustin Falcon earn a star for their "pristine cuts of top shelf Japanese beef" and "hearty American cuts" with "mouthwatering char."
61 Division St., San Francisco
Barndiva (One Star — Healdsburg)
Chef Jordan Rosas and Barndiva catapult to Michelin recognition after being ignored by the guide since 2005, as reported by the San Francisco Chronicle. The guide praises its Californian fare for "finesse" and "creativity," as well as its focus on local produce and sustainability. Foodies trying to eat their way through the full list will appreciate that Barndiva also offers a slightly more affordable option among new Michelin honorees.
231 Center St., Healdsburg
New Bay Area additions to the two-star list:
Birdsong (Two Stars — San Francisco)
Previously one-starred restaurant Birdsong was bumped up to two stars in the latest guide in recognition of Chef Christopher Bleidorn's contemporary American live-fire cooking.
1085 Mission St., San Francisco
Harbor House (Two Stars — Elk)
Up the coast in Mendocino County, Harbor House (also noteworthy for its historic oceanfront property) went from one to two stars for the "creative" California cuisine of Chef Matthew Kammerer and his devotion "hyper-local and foraged ingredients."
5600 CA-1, Elk
New Bay Area additions to the Bib Gourmand list:
Dumpling Home (San Francisco)
FOB Kitchen (Oakland)
Horn Barbecue (Oakland)
Los Carnalitos (Hayward)
iTalico (Palo Alto)
FolkTable (Sonoma)
Khom Loi (Sebastopol)
Valley (Sonoma)
New Dumpling (El Cerrito)
Range Life (Livermore)
Routier (San Francisco)
Spinning Bones (Alameda)
Tacos Oscar (Oakland)
Taqueria El Paisa (Oakland)
Tony's Seafood (Marin)
Top Hatters (San Leandro)
Um.ma (San Francisco)
ASA South (Los Gatos)
Below is the full list of Bay Area restaurants to receive stars in this year's guide:
Three stars
Atelier Crenn, San Francisco
Benu, San Francisco
The French Laundry, Yountville
Manresa, Los Gatos
Quince, San Francisco
SingleThread, Healdsburg
Two stars
Acquerello, San Francisco
Birdsong, San Francisco (NEW)
Californios, San Francisco
Campton Place, San Francisco
Coi, San Francisco
Commis, Oakland
Harbor House Inn, Elk (Mendocino County) (NEW)
Lazy Bear, San Francisco
Saison, San Francisco
One star
Adega, San Jose (NEW)
AL's Place, San Francisco
Angler, San Francisco
Auberge du Soleil, Rutherford
Aubergine, Carmel-by-the-Sea (Monterey County)
Avery, San Francisco (NEW)
Bar Crenn, San Francisco
Barndiva, Healdsburg (NEW)
Chez TJ, Mountain View
Gary Danko, San Francisco
Ju-Ni, San Francisco
Kenzo, Napa
Kin Khao, San Francisco
The Kitchen, Sacramento
La Toque, Napa
Madcap, San Anselmo
Madera, Menlo Park
Marlena, San Francisco (NEW)
Mister Jiu's, San Francisco
Mourad, San Francisco
Niku Steakhouse, San Francisco (NEW)
O' by Claude Le Tohic, San Francisco (NEW)
Omakase, San Francisco
Plumed Horse, Saratoga
The Progress, San Francisco
Protégé, Palo Alto
Rasa, Burlingame
Selby's, Atherton (NEW)
The Shota, San Francisco (NEW)
Sons & Daughters, San Francisco
Sorrel, San Francisco
SPQR, San Francisco
Spruce, San Francisco
State Bird Provisions, San Francisco
Sushi Shin, Redwood City (NEW)
Sushi Yoshizumi, San Mateo
The Village Pub, Woodside
Waku, San Francisco
Wakuriya, San Mateo