Dear San Francisco: A High-Flying Love Story, opened Tuesday night at Club Fugazi (678 Green Street), marking a new life for the venue that for 45 years was home to Beach Blanket Babylon. The new show was announced last year, and back in June we learned that it would take the form of a revue of sorts, featuring acrobatics, choreography, spoken word, video projections, shadow play, and original music.
The show is framed as a love letter to the city, and indeed, it features many moments, tableaus, and spoken pieces that are celebrations of the city's history, or representative of its quirks and charms. But, largely, this is a show that takes the loose framework of the city's identity — with its historic earthquakes, fire, free love, poetry, drugs, tolerance and tech — and uses these as backdrops for some at-times jaw-dropping stumps and kinetic dance sequences that blend aerial work, juggling, pole work, and acrobatics of multiple kinds. Think Cirque du Soleil, but with more words and less makeup, done in an intimate setting, with some heavy dashes of San Francisco pizzazz.
The opening number, themed around the 1906 earthquake and fire and featuring an original song by composer Colin Gagne, is surprisingly moving — with the entire ensemble moving both in tandem and in every direction, symbolizing a collective that has survived disaster and come out the other side.
The show is the creation of two women with San Francisco in their blood, who have spent the last two decades building a circus troupe and a performance style of their own with Montreal's acclaimed group The 7 Fingers. Gypsy Snider, who was born into SF's legendary Pickle Family Circus, is co-artistic director of The 7 Fingers and co-creator of Dear San Francisco, while Shana Carroll is the daughter of longtime Chronicle columnist Jon Carroll, and she is also a co-artistic director and co-creator. Both are credited as directors of the show.
The troupe performing the show includes two San Franciscans — acrobats Devin Henderson and Natasha Patterson, both who are Bay Area natives and veterans of the local cricus scene. But the rest of the cast is an international mix of talent, hailing from China, Australia, Canada, and elsewhere in the U.S.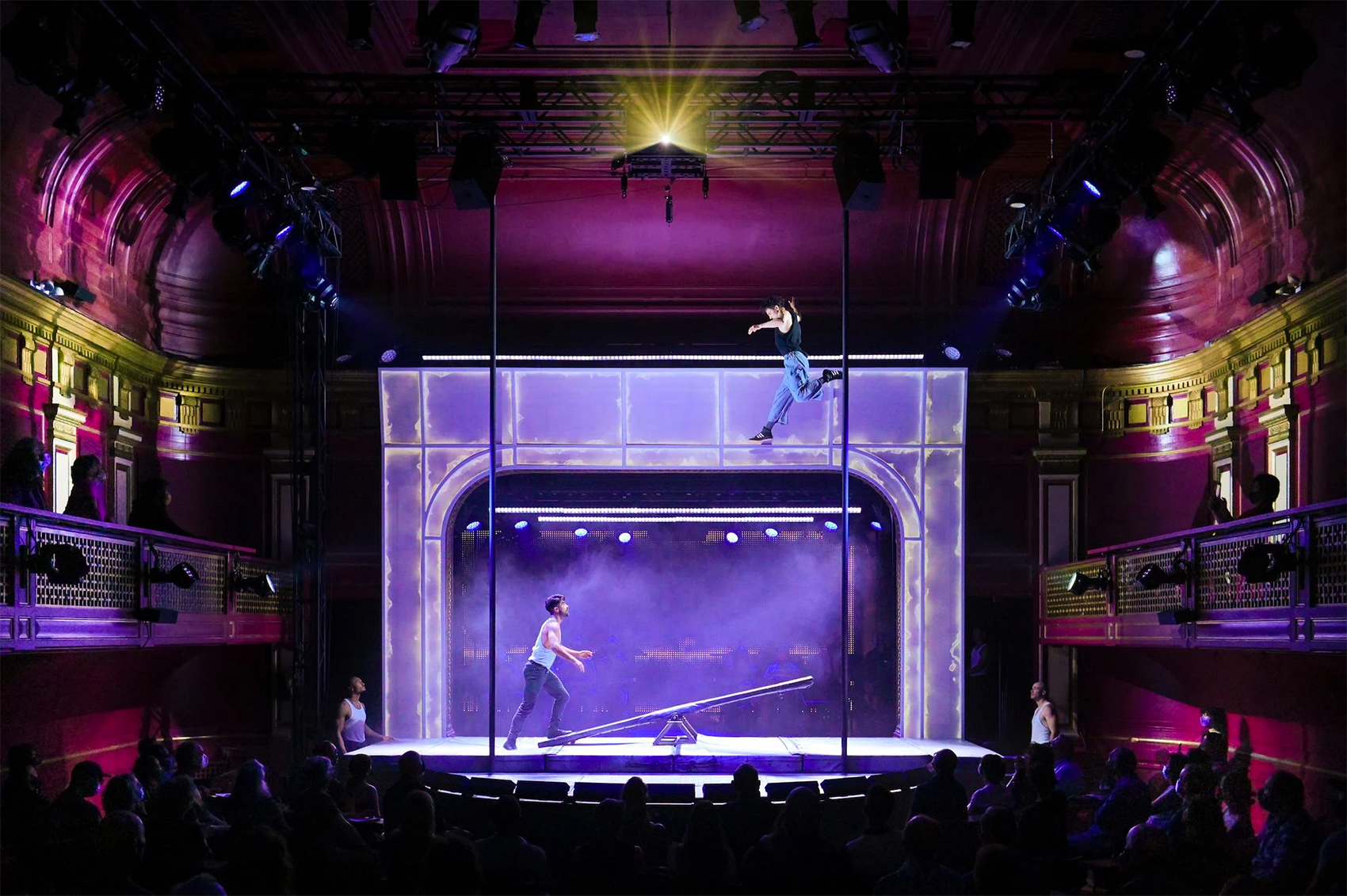 Ruben Ingwersen (left) and Jérémi Levesque. | Photo credit: Kevin Berne
Among the stunning talents are Melvin Diggs, who came to the 7 Fingers via Circus Flora in St. Louis and Cirque du Soleil. An astonishing acrobat and graceful performer, Diggs performs some incredible aerial stunts while also giving some impressive muscle assists to his stage-mates. Australian Ruben Ingwersen and Canadian Jeremi Levesque do a death-defying teeterboard number in the middle of the show, themed vaguely around an earthquake. And Junru Wang's hand-balancing talents are saved for the penultimate act in the show — and the directors have created a poignant vignette to go with her talents as well.

Junru Wang | Photo: Kevin Berne
The kinetic pace and overall thrust of Dear San Francisco are infectious, and after a brisk 90 minutes it's hard not to want more. But the show is a stunner, and likely to appeal to a broad audience in the vein of Stomp and the Cirque du Soleil franchise, while also playing the role of cultural cheerleader and odist for the city by the Bay. Over time, the team intends to let the show evolve and change, in much the way Beach Blanket Babylon did, allowing for repeat viewings over the years.
A brief foray satirizing SF's recent tech boom falls a bit flat — though it's not without its laughs — and a sequence celebrating the poetry of the Beat Generation in North Beach, featuring brief lines from Lawrence Ferlinghetti, Diane Di Prima, Allen Ginsberg, Jack Kerouac, and the recently deceased Jack Hirschman, among others, is earnest but perhaps could do without the beatnik berets.
Whatever you expect out of this show, you're likely to be surprised and delighted, and to leave feeling a bit out of breath, like the seemingly tireless performers themselves.
Bear in mind that food and drink service has not yet started — and it will likely only be available before and after each performance — cups and plates don't really work in a room where the performers are often everywhere at once, and riding a unicycle across the bar in front of you.
'Dear San Francisco: A High-Flying Love Story' is running indefinitely at Club Fugazi. Tickets are available here, starting at $39.