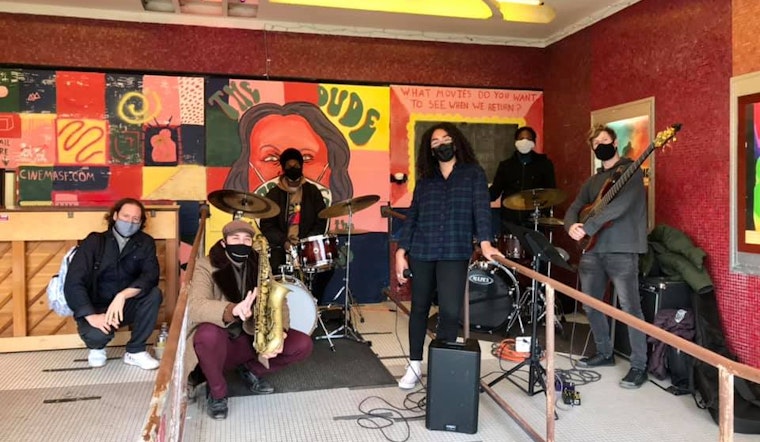 Published on October 26, 2021
It's back to normal for SF's complaining neighbors! We're a little over a year into a San Francisco pandemic-era experiment called Just Add Music (JAM) Permits, which in the words of the permit, allows businesses with outdoor parklets to play "outdoor amplified sound and permissible outdoor entertainment." It's essentially a permit to allow live music, or any amplified music or entertainment, at an establishment's parklet, in hopes of drumming up revenue for small businesses. As a bonus, the entertainment keeps the customers outdoors to avoid COVID-19 transmission.


View this post on Instagram
But the Chronicle reports that neighbors are complaining like crazy over the amplified music and performances. Their story focuses on the Señor Sisig and Vegan Mob food truck meetup at Valencia and 18th Streets, as seen in the Instagram post above. That's been drawing crowds for months, but has recently had its hours clipped over complaints. The complaints are also disportionately lodged at parklets with music in North Beach and the Marina, with residential complaints filed often using racially loaded language like "thuggy."
"North Beach wine bar Bodega SF, acclaimed Mission vegetarian restaurant Al's Place, Bayview restaurant Cafe Envy and SoMa community space Kapwa Gardens have all seen their businesses impacted by neighbor complaints," according to the Chronicle. "Kapwa Gardens has received over 40 noise complaints since it opened in April, the majority of which have been filed by one neighbor."
The JAM Permits are granted by the SF Entertainment Commission, and as seen in the above, there are now nearly 400 such permits awarded across the city. Complaints are also submitted to the Entertainment Commission, and the complaining party is kept anonymous.
"Noise complaints have increased by about 30% every month since the JAM permit program began," the Chronicle notes. "But the number of businesses playing music outside has gone up by about the same amount."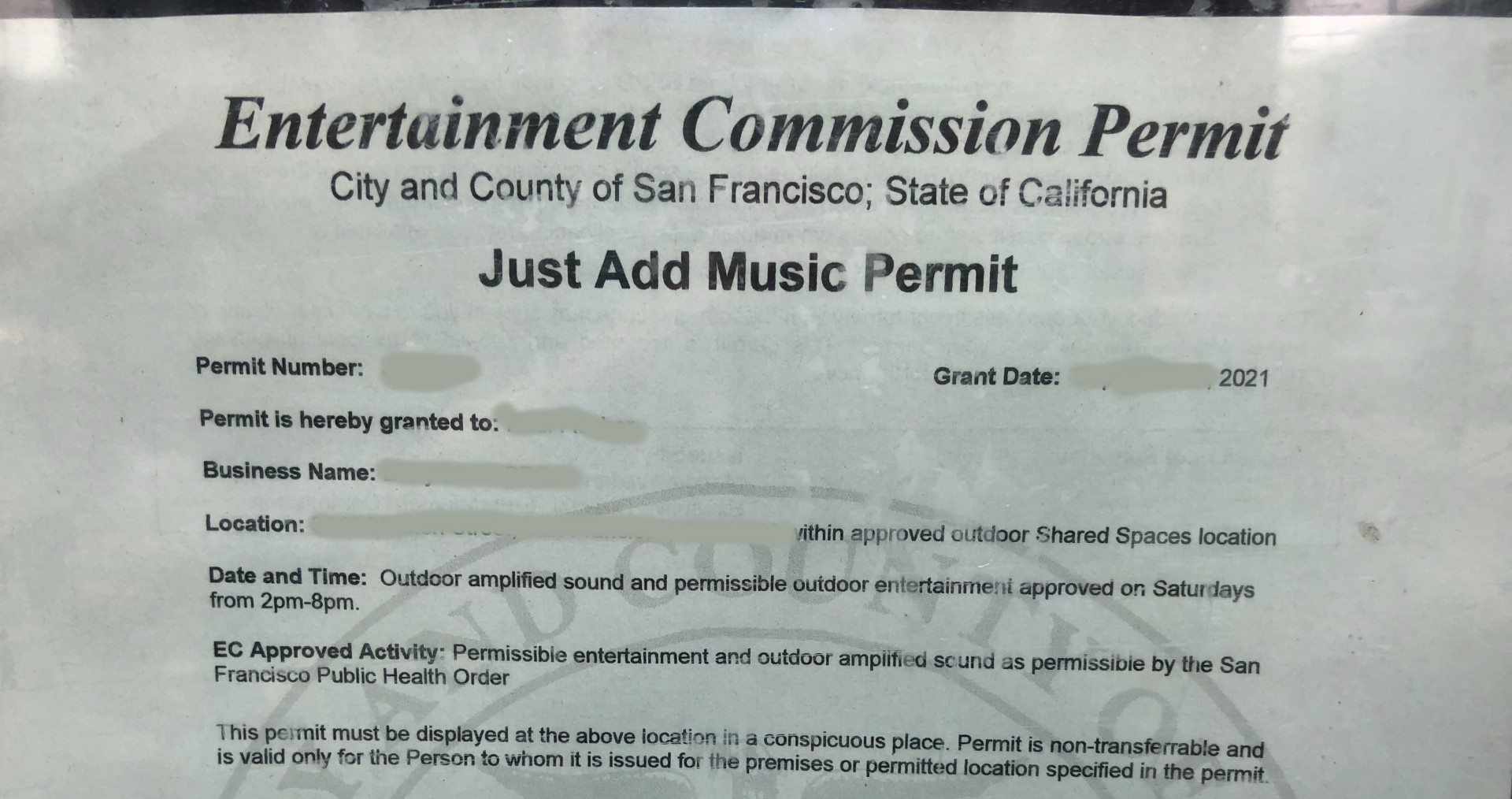 Above we see an example of a JAM Permit, which is required to be posted. It allows for "amplified sound," which could be live music, but also sports broadcasts, or simply background music for the customers' enjoyment. And each permit only allows the amplified sound at certain time frames, which the Entertainment Commission can revise based on any complaints.
The JAM Permit program is set to expire at the end of this year. But Mayor Breed has introduced legislation to make the program permanent, saying in a statement, "As our City recovers, we need to do everything we can to support our small businesses and local entertainers, including making our Shared Spaces program permanent."
It is inevitable, as people are going out more and outdoor facilities are available to them, that outdoor congregations will generate noise complaints. But there seems to be an unfortunate side effect of certain types of businesses, and customer bases, generating more complaints than others. And we're not sure how Mayor Breed can legislate around that.