Published on November 12, 2021
A new retro-diner-inspired brunch spot, Hilda & Jesse (701 Union St. at Powell) has just opened in North Beach, in the space formerly occupied by North Beach Gyros. It's a collaboration between co-chefs Kristina Liedags Compton and Rachel Sillcocks, both experienced SF chefs who say that breakfast has always been their favorite meal of the day. The tagline: Breakfast without boundaries. (And Hilda and Jesse are their grandmothers' names.)
Sillcocks and Compton met while working at Range (RIP), where Sillcocks would ultimately become executive chef. Sillcocks also headed the kitchen at Piccino for a time, and Compton worked in fine-dining kitchens at Atelier Crenn, Avery, and Mosu.
They launched Hilda & Jesse as a pop-up back in 2019 with hopes of ultimately finding a brick-and-mortar location. During the pandemic, they sold "pancakes without boundaries" kits at Bi-Rite — a stack of extra-puffed buttermilk pancakes topped with signature, griled-fruit syrups — and this dish appears on the menu now, featuring grilled cranberry maple syrup.
And at one pop-up at Nightbird, the pair showed off what elevated, fine-dining brunch might look like — taking classic dishes like hominy porridge and steak and eggs and turning them into refined stars.
As Tablehopper reports, you can also now find these things on the Hilda & Jesse menu, with the steak and eggs featuring dry-aged ribeye from Cream Co., with soft-scrambled eggs filled with herbs, matsutake mushroom, and a tomatillo-mustard jus. Also, there's an "avocado toast" in quotes — as the Chronicle reports, that actually tempura sweet potato topped with avocado and sour cream-and-onion dip, as well as grated horseradish and trout roe.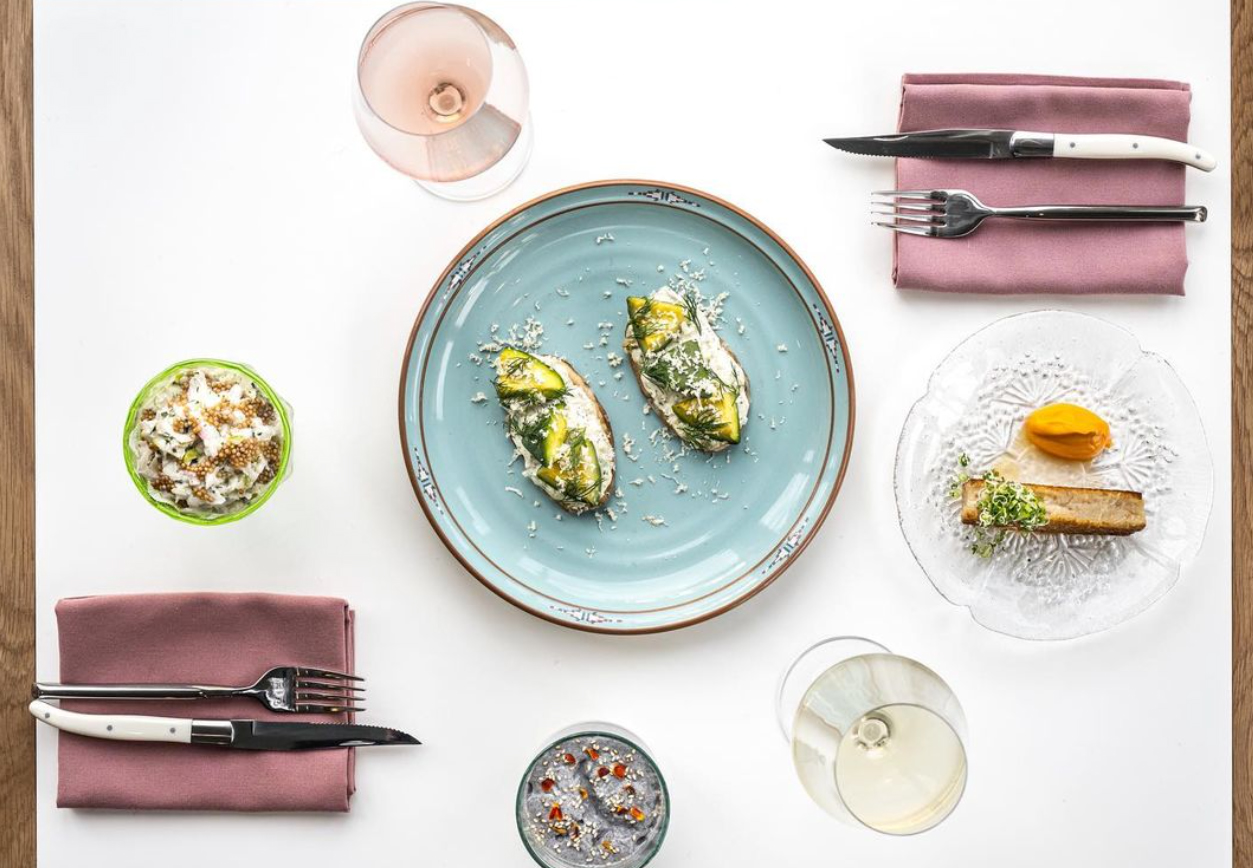 Photo: Out of Phase
There's an option to do a brunch tasting menu, with the whole table participating. For $45, a current sample menu offering includes a celery root cake, hominy porridge with Root Down Farms chicken and fermented black bean, and a whipped cream of wheat "meringue" dish they're just calling "Manna." You can also add any of the a la carte dishes, like the steak and eggs or pancakes, to the prix fixe.
The a la carte menu, meanwhile, is available on Fridays, and for walk-ins on the weekends. And they're going to be open on Monday nights from 5:30 to 9:30 doing breakfast for dinner.
Regular hours will be Friday to Sunday 9 a.m. to 2 p.m., along with the Monday evening hours. And for Thanksgiving week, they're also going to be open Tuesday night doing a special pre-Thanksgiving menu.