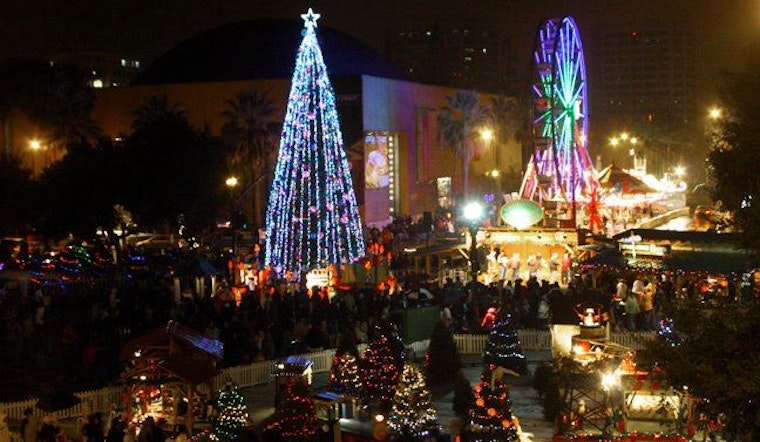 Published on November 24, 2021
We are already seeing many pre-pandemic holiday traditions return this year and San Jose's annual Christmas in the Park event is one of the activities giving visitors a small taste of normalcy. This year, there are two locations. One for drivers who want to stay away from the crowds, and one for walkers who want to experience the tradition the way it was before the pandemic. According to NBC Bay Area, masks won't be required for either experience you choose. Last year, the event was closed off to pedestrians making it drive-thru only for the first time in its more than 40-year history.
If you're looking to do the walk-through event, the tree lighting is Friday at Plaza de Cesar Chavez Park in downtown San Jose. This year, the centerpiece will be a 65-foot Christmas tree that doubles as a tunnel that "you can go inside of during a light show that will go off on the 50-minute mark of every hour," reports NBC Bay Area. Organizers have also built a special new outdoor area for Santa to keep him socially distanced from the kids. "It's a new outdoor setting, something we've never done before," Christmas In the Park executive director Jason Minsky told NBC Bay Area.
Christmas in the Park organizers are expecting to see crowds close to pre-pandemic levels at Cesar Chavez Park. There will be hand sanitizing areas all over the park, along with signs urging social distancing mixed in with the over 40 musical and animated exhibits. Organizers describe the experiences as a "winter wonderland of lights, songs, and local entertainment while strolling through an enchanted forest of trees decorated by San José schools, community groups, and businesses."
Christmas in the Park is also bringing back its drive-thru Christmas experience near Raging Waters at Lake Cunningham Park, which will feature more than 200,000 lights. This year, organizers are calling it "Blinky's Illuminated Holiday" where you will "follow Blinky the reindeer through the musical journey of his imagination," according to the website where you buy tickets. The drive-thru event starts on Friday and runs until January 9th but beware of the price. The minimum you will pay is $30 per car.