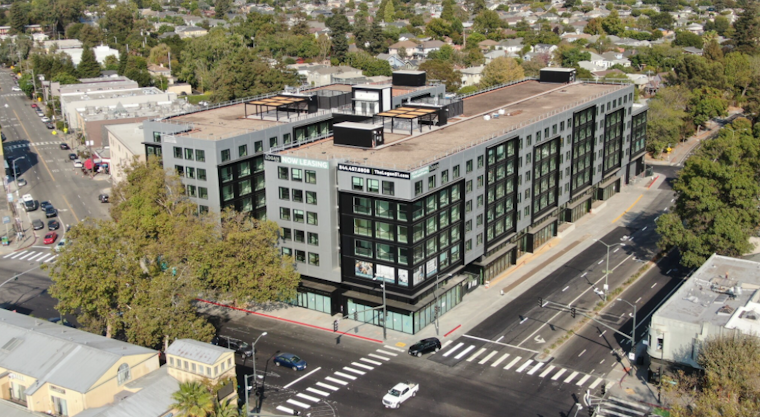 Published on November 18, 2021
After years of waiting, Oakland's Temescal neighborhood is finally about to get its own grocery store. A 31,000-square-foot Whole Foods that is scheduled to open to shoppers on December 8th at 5110 Telegraph Avenue near the intersection of 51st Street. According to a Whole Foods release, "the store's design evokes the natural beauty of the nearby Temescal canyon, featuring warm, natural colors. The new location's assortment emphasizes local products from Northern California."
Whole Foods says the Temescal store will be filled with local offerings from recognizable Bay Area brands, including fresh oysters from Bodega Bay Oyster Co., fresh burrata from Belfiore Cheese in Berkeley, pies from Oakland's Pietisserie, hearth bread and pastries from Firebrand in Oakland, and selections of beer from Temescal Brewing. It will also offer all the things that Whole Foods loyalists have come to love like the hot and cold food bars, pizza options, made-to-order sandwiches, a local charcuterie selection, and grab-and-go sushi.
Whole Foods first announced that it was opening a store in Temescal back in February of 2017, but the company had said it would be one of its so-called "Whole Foods 365" stores, which feature more affordable products. The company stopped opening those types of stores two years ago.
This Whole Foods sits on the ground floor of a new six-story building. Berkeleyside previously reported that the building would be home to 204 apartment units above 34,000 square feet of ground-floor retail space. 28,000 square feet of that lower-level space had been set aside for Whole Foods and there's no word yet if any other retailers will be moving in.
The apartment building is called The Logan and recently started leasing its units. It features a one-acre urban farm on the roof that is run by Top Leaf Farms, which ran an urban farm on the site before the building was there.
Starting December 8th, the new Temescal store will be open daily from 8 a.m. to 9 p.m. As a way to give back to the Temescal community, Whole Foods is promoting a free hiking and bicycling program called the Bay Area Trails Challenge that runs until the end of the year.