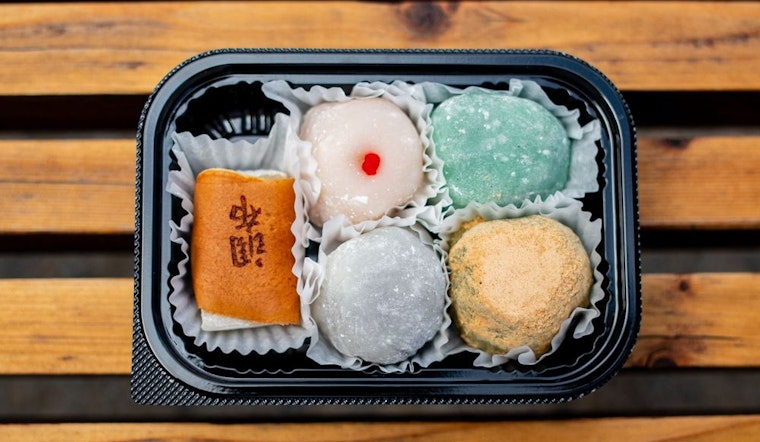 Published on December 31, 2021
Japantown's oldest business also perhaps has the most interesting history of any Japantown business. According to a KQED profile from this past May, Benkyodo Company at Buchanan and Sutter Streets opened shortly after the 1906 earthquake, originally nearby on Geary Street. Its first owner, Suyeichi Okamura, would be sent to a Japanese internment camp in 1942, asking his neighbors to run the ship for him, never knowing if he would return.
But Suyeichi Okamura and his wife did return three years later, with Benkyodo Company still selling its hand-made mochi. Okamura would later hand the business to his family, and his grandsons Bobby and Ricky Okamura still run the shop, producing 350 pounds of mochi (1,000 pieces) in a daily regimen that begins at 5 a.m. each day.
But those days are numbered. KPIX reports that Benkyodo Company will be closing permanently in January. The Okamura grandsons, now both in their 70s, respectively, do "hope someone will buy and take over the business," according to KPIX, but the pair are otherwise retiring.
"My grandfather and father would be proud that we were able to continue for this long," Bobby Okamura told KPIX. "Thank you to all our customers for being so loyal all these years. We tried our best and did our best."
This is not a "failed" business, the two are retiring and going out in style to enjoy their autumn years. And their family's mochi has been a Japantown staple for more than a century, surely a notable accomplishment.
"Mochi is very important to the community," Japantown tour guide Alice Kawahatsu of Edible Excursions told KQED. "It plays an essential role in several holidays, especially New Year's. And it's the perfect gift when visiting someone's home."
You may have missed your chance to get Benkyodo Company mochi for New Year's, but you haven't missed your last chance to get those sweet handmade rice cakes. According to the mochi shop's website, "We will reopen with our normal operating hours on Tues., Jan 11 for walk-ins only." They won't accept phone or email orders, but they will sell you that historically tasty authentic Japantown mochi one more time.