It's yet another of the peripheral scourges of the pandemic: Catalytic converter thefts have been rampant during COVID times, and San Jose has been no exception. In response to the thefts and escalating violence associated with them, the San Jose Police Department conducted a six-month investigation leading to arrests and the closure of several businesses.
San Jose police have arrested 15 suspects and shut down three businesses suspected of knowingly buying stolen catalytic converters, the department said Monday. The arrests came after detectives said they found illegal weapons, over $50,000 in cash, and more than one thousand catalytic converters they believe were stolen from vehicles throughout the Bay Area.
Police said that thefts of catalytic converters in the area have led to shootings and at least one killing. "Many of these thefts have become increasingly brazen and suspects are often armed with guns," the San Jose Police Department said in a statement. "Suspects have shot victims and witnesses who have interrupted the thefts and in San José a catalytic converter theft has been linked to at least one homicide."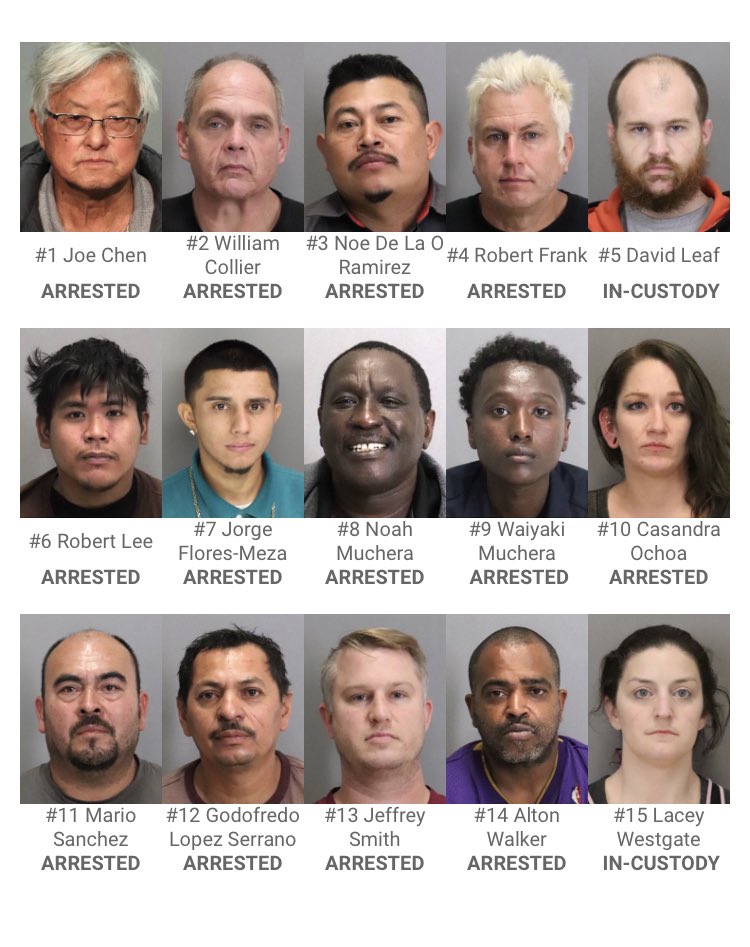 Photos showing the suspects accused of participating in the crime ring Photo: SJPD
Through thousands of hours of surveillance and the serving of multiple search warrants, officers also found armor-piercing ammunition, four handguns, and an illegal assault rifle, various tools and evidence of identity theft, according to the department.
As part of the investigation, detectives trained patrol officers on catalytic converter theft methods and trends, helping them identify additional suspects, police said. The department also collaborated with other agencies and law enforcement in surrounding areas.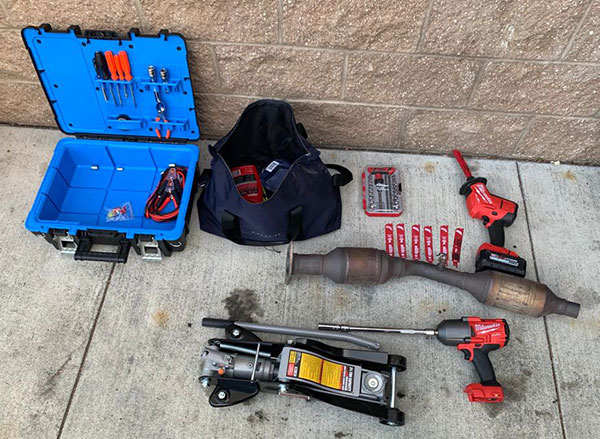 Police found catalytic converters and tools, among other evidence. Photo: SJPD
A catalytic converter is a device that controls the exhaust emission of vehicles, reducing the toxic gases and pollutants they release, generally located on the underside of the vehicle. Police said that catalytic converters contain precious metals that can be extracted and sold, attracting thieves. Thieves then sell stolen catalytic converters on the black market to illegal fencing operations.
Police said that a typical theft involves lifting a parked car with a jack and cutting out the converter with a cordless saw, taking just minutes but causing thousands of dollars' worth of damage to victims' vehicles.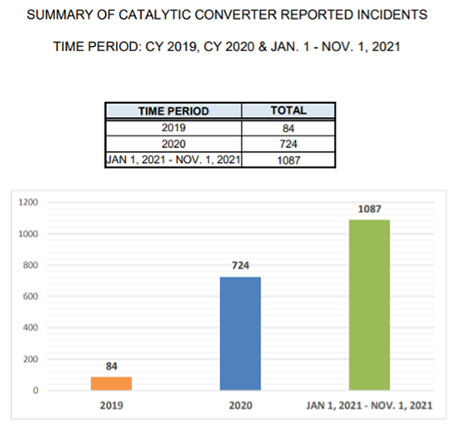 Graph of the rise in catalytic converter thefts Source: SJPD
Catalytic converter thefts in the city of San Jose skyrocketed from 84 reported incidents in 2019 to 724 in 2020 and 1,087 between Jan. 1 and Nov. 1 of this year, according to the San Jose police.
The investigation, named Operation Cat Scratch Thiever, targeted both catalytic converter thieves and the underground market that has fueled the thefts — police said "the objective was to charge suspects at all levels of the enterprise and to disrupt the crime trend."
The 15 people arrested have been charged with crimes ranging from grand theft to receiving stolen property and from assault with a deadly weapon to possession of illegal weapons, according to the department's statement. Detectives also shut down three businesses that they said "appeared to cater to thieves," which they accused of buying cut catalytic converters with no questions asked. The businesses are being referred to the San Jose City Attorney's Office.