We've heard of BART delays, but 12 years is ridiculous. But that's the assessment of the Federal Transit Administration (FTA), as the Bay Area News Group has unearthed internal government documents through a Public Records Act, and found the FTA says that BART to San Jose will not be finished until 2034.
The FTA gets some degree of oversight of the San Jose BART extension, and have every right to snoop into it, because they are putting $2.3 billion into this. And money is a big issue. The Santa Clara Valley Transportation Authority (VTA) says the project will cost $6.9 million, but the FTA says it is likely cost as much as $9.1 billion.
And the two agencies are sniping now that it's gone public that they don't see eye to eye on the projected cost or timeline on a project that means so much to San Jose. But VTA BART Program Chief Takis Salpeas is already hedging his bets on the opening date, which the VTA had predicted as 2030. "Sometime before 2032," Salpeas told the Bay Area News Group. "Maybe I have to go out another year or so."
A huge point of contention here is the underground boring necessary to complete the BART tunnels into the center of San Jose. The VTA is determined to use a "single bore" method instead of the more conventional "twin-bore" method that most underground projects use. The VTA says their preferred single-bore method will mean only a mere 25 months of construction snarling the streets of San Jose. The feds say that going to be more like 50 months, based on similar projects they've seen done in Miami and Seattle.
Yes, 50 months would mean more than four years of a construction project.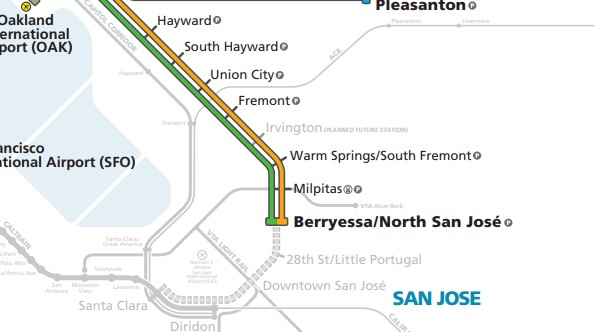 Image: BART.gov
It's important to note this is not "just" BART to San Jose, there are a total of four stops being added, including a Diridon stop, and a final stop in Santa Clara. That would be outstanding convenience for travelers to San Jose International Airport, and fans attending events at Levi's Stadium.
But it's a convenience we're going to have to wait for, and wait for a long, long time.