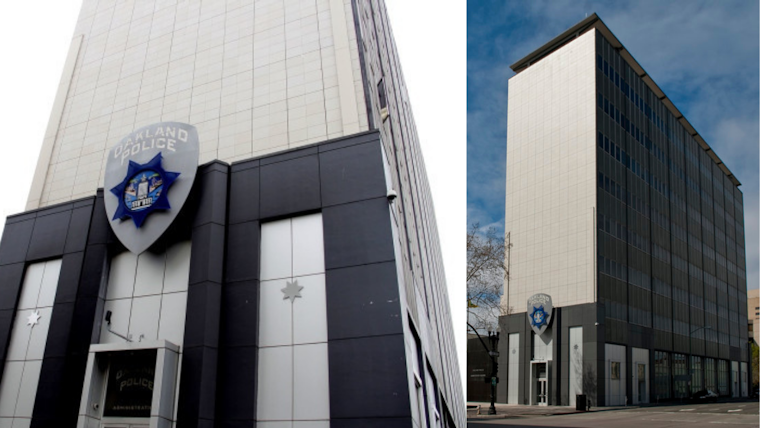 Published on February 16, 2022
The City of Oakland is taking the next step in a plan to turn its old police headquarters building into a new, mixed-use development that will feature at least 600-apartment units. In an 8-0 vote this week, the city council decided to allow developers to submit plans to replace the 267,000-square-foot building that butts up to Interstate 880 at the corner of Broadway Avenue and 7th Street near the south end of downtown. The 60-year old building is not up to code and making the costly repairs to make it useable and safe apparently aren't feasible.
The resolution was being pushed by Councilmember Carroll Fife and Vice Mayor Rebecca Kaplan. They believe adding housing to the 1.4-acre site would help bring new life to the area.
"Broadway is our major corridor in Oakland, and the existing use of this site together with the freeway has meant we're really underutilizing this really important parcel," Kaplan told the San Francisco Business Times.
The development would also provide much-needed affordable housing to Oakland, with one-third of the units expected to be earmarked for low-income residents. "We are in deep need of affordable housing and I am eager to explore all the available options," Fife told the SF Business Times. Ground-floor retail and commercial spaces would also be built into the new development and would help spur pedestrian activity between downtown, Old Oakland, and Jack London Square.
The services inside the current location at 455 Seventh Street would presumably be moved into a brand new building or complex of buildings several miles east. The SF Business Times reports that a separate resolution "directs Oakland to work with the African American Sports and Entertainment Group to plan for the development of a multi-departmental public services center at the 130-acre Oakland Coliseum site."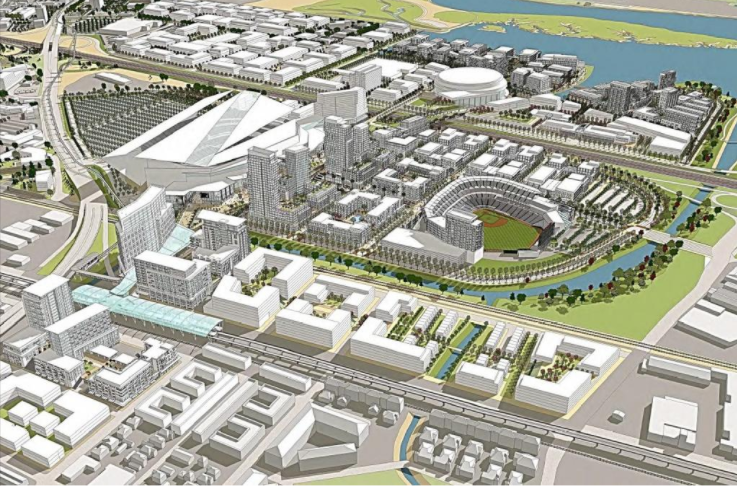 Rendering Credit: AASEG
Hoodline reported in December that the Oakland City Council signed an exclusive negotiating agreement with AASEG to develop the Coliseum area. Preliminary plans call for the construction of a new sports venue that would be the centerpiece to several new housing developments which will feature a large percentage of affordable apartment units. There would also be shops, restaurants, entertainment venues, a career center, and schools. One of AASEG's biggest goals of the Coliseum development plan is to create more than 30,000 new jobs.
Timelines for the redevelopment of OPD headquarters on 7th Street remain unclear. Officials will now begin the process of taking submissions from developers, and it's not yet clear how long that process may take.