Police in Los Gatos have warned hikers to take safety precautions after two reports of a man with a knife threatening people hiking in the popular Saint Joseph's Hill Open Space Preserve.
The Los Gatos-Monte Sereno Police Department put out a community safety alert urging people to hike in pairs, tell someone where they're going, keep earbud volume low enough to hear what's going on around them, avoid trails when it's dark and stay alert.
According to the alert, the department is seeking a suspect in an assault that happened Sunday on the preserve's Manzanita Trail. Police are seeking a suspect described as a Latino man, about 5 feet 5 inches tall and 150 pounds, with a shaved or bald head. He was reportedly wearing all black, with a blue bandana covering his face and a dark-colored hiking backpack at the time of the attack.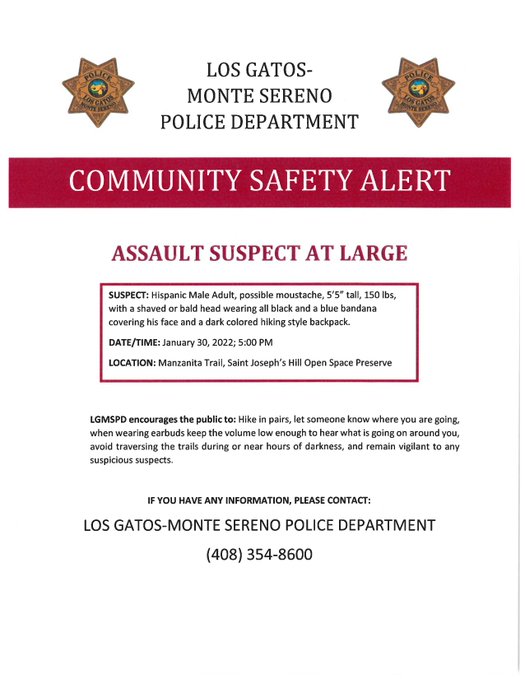 A woman reported that on Sunday evening, a man with this description and holding a knife came up to her from behind and tried to restrain her, per KRON4 and other outlets. The woman struggled and succeeded in getting away and calling for help from other people on the trail.
On the evening of Jan. 13, police responded to a report of a similar attempted assault on the Jones Trail in the preserve. In that case, a teen boy and girl said a man with a knife approached and threatened them, the Mercury News reports. The teens fled.
The victims in the Jan. 13 assault gave a description of their attacker that was nearly identical to that given in the more recent incident, minus the hiking backpack. Police told the Mercury News it's possible the same man was involved in both assaults, and that they're investigating whether there have been reports of any similar attacks in surrounding areas.
Police asked anyone with information about the incidents to contact the Los Gatos-Monte Sereno Police Department at 408-354-8600.