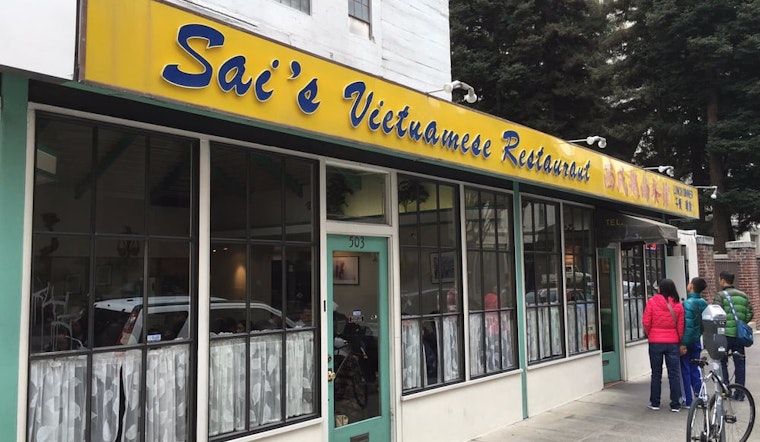 Published on February 01, 2022
Multinational real estate developer SHVO already has a bit of a reputation among restaurateurs, with the company's brash founder and CEO Michael Shvo being 86'd from high-profile restaurants in New York City owned by Keith McNally over allegedly boorish behavior. We bring this up because SHVO bought the TransAmerica Pyramid two years ago, and owns several of the surrounding buildings now, too.
One of those surrounding buildings is home to Sai's Vietnamese Restaurant at Washington and Sansome Streets. And according to KRON4, SHVO is not renewing Sai's lease at that location, and refusing to renew without explanation. The shop's lease expires on February 28, yet they have been at the location since 1985.
"They emailed us on Jan. 5 and asked if we wanted to renew the lease," Sai's owner Inmy Chi told SFGate. "We emailed them back on Jan. 20, but we didn't hear from them. We called and called and on Jan. 25, they answered and said they wanted us to leave. I still have to process this. I think it is unethical."
SFGate apparently "reached out to SHVO for comment, but the agency abruptly ended the call."
There is a GoFundMe to save Sai's Vietnamese Restaurant, which was just posted Sunday. As of press time, it has raised just short of $1,300, a far cry from its $100,000 goal.
"We at Sai's Vietnamese Restaurant are facing an issue where the landlord has decided to not renew our lease and has asked us to leave the premises next month by February 28 after 37 years serving this community," the GoFundMe campaign says. "This puts our business in jeopardy and employees not having a job because it is impossible to find, negotiate, and relocate to a new location in 30 days."
We know that SHVO has plans for three new restaurants in the Transamerica Pyramid, but it's not clear what's happening at this Washington Street property. SVHO says there is pending "redevelopment work on the property," and says that they will "provide resources" for Sai's to find somewhere to relocate to.
After initially publishing this story, a representative from SHVO reached out to Hoodline with a clarifying statement:
SHVO has been proud to work with Sai's Restaurant throughout the pandemic to help the restaurant remain open, amending the family's lease and forgiving rent on multiple occasions. While the lease is expiring and cannot be renewed for the long-term due to redevelopment work on the property, they were never evicted. We have been in touch with the family's representatives to let them know that the restaurant can continue to operate while we provide resources to help find a new permanent space. We regret the miscommunication that occurred and remain committed to helping ensure a seamless transition.