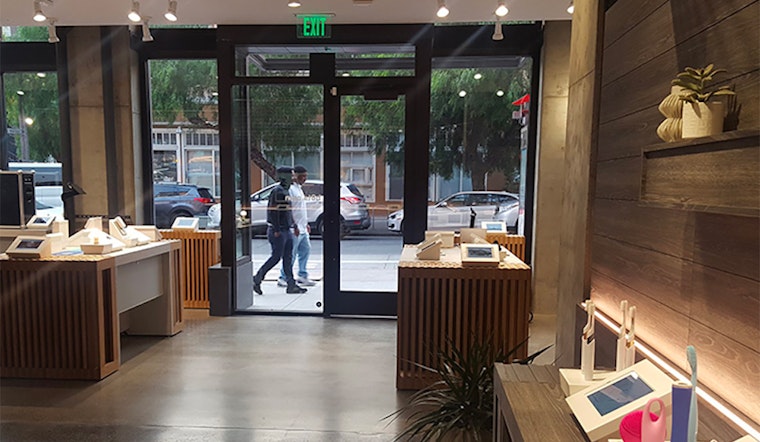 Published on March 31, 2022
Repeated break-ins, robberies, and attempts to protect against them drove an SF electronics retailer out of business, the company's CEO says.
B8ta permanently closed its doors at all its U.S.-based locations on February 18th.
"It was an amazing 7 years, and we are incredibly thankful to our employees, investors, partners, and shoppers. We had an amazing run," a note on the company's website says. "We hosted millions of shoppers, helped thousands of brands launch their products, and inspired people all over the globe about technology and the future. Thanks for everything."
Hoodline reported on B8ta's opening in Hayes Valley in 2017 and the excitement that came with it. The brand had major investors like Macy's that catapulted it to success.
The store sat at the corner of Hayes and Laguna streets, selling electronics that most people would only find online. Having the hardware on-site let customers test them while employees walked them through how to use the devices. The company's business model was unique, with brands paying a fee each month to display their products at B8ta's store and access the company's software that provided information on customer interests, Modern Retail reported.
"[The location is] once in a lifetime," the company's Chief Executive, Vibhu Norby, told Hoodline at the time.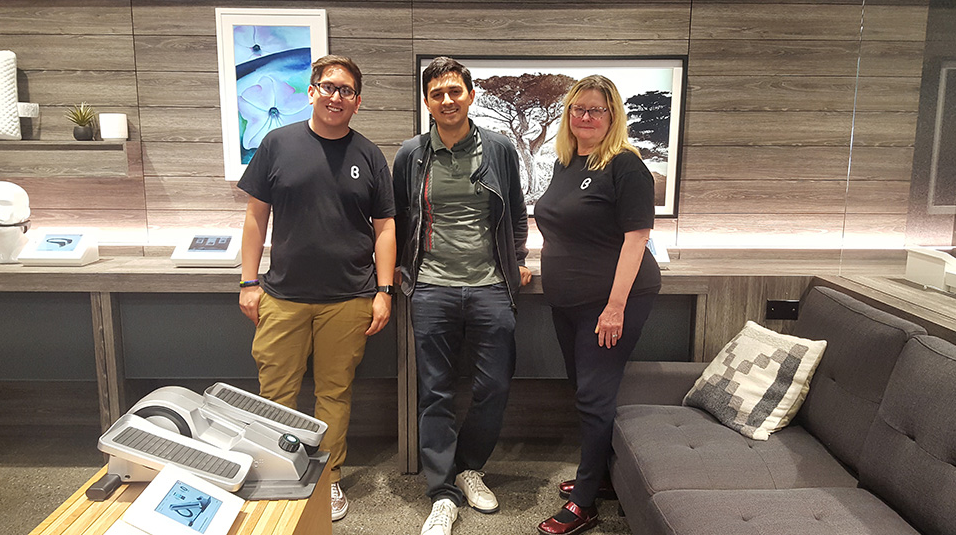 CEO Vibhu Norby (center) with Kevin Chu and Robin Murphy | Photo: Hoodline
Norby's delight with the location later faded.
In January of 2021, Hoodline reported on Norby's exasperation with the growing crime rates around its stores. At the time, it had locations in Hayes Valley, Union Square, Chase Center, Palo Alto, and San Jose.
"We have stores all over the country and crime/employee harassment in our San Francisco stores (mostly Hayes Valley but now Chase Center as well) is 10x the rest of our stores combined," Norby wrote on Twitter.
Norby said his employees were repeatedly subjected to harassment, while the stores themselves were vandalized and broken into, winding up with thousands of dollars' worth of stolen goods, plus hefty bills for broken windows. Other nearby shops in Hayes Valley had employees who were stabbed and mugged, Norby said.
My team sent me this from Jan 5th in Hayes Valley: Broad daylight theft of a $2200 Devialet speaker while our b8ta tester was engaged with a customer pic.twitter.com/lkLm4IT4Gl

— vibhu.sol (@vibhu) January 19, 2021
Both the Hayes Valley and Union Square stores temporarily closed following armed robberies in 2021 after an armed robbery. That meant would-be customers went right back to buying electronics online - the very thing b8ta had been providing a solution for. When it opened back up, the Hoodline reported that B8ta began paying a security company $30,000 a month to protect the store and its employees 24/7. That bill came on top of a massively shrunken customer base during the height of the pandemic, which never fully recovered.
Before the pandemic, B8ta had more than 20 brick-and-mortar stores across North America. In 2021, it shuttered 15 of those, according to Modern Retail.
"In March 2020, B8ta furloughed approximately 250 retail associates and laid off nearly half its corporate employees due to store closures. The remaining employees received pay cuts, though the retailer also provided a one-time relief check of $1,000 for remaining full-time employees and $500 for part-time employees," Retail Touch Points reported.
The Chronicle reports that B8ta also had some outstanding rent payments, which contributed to the final decision to close. The company was still on the hook for its leases at the stores it chose to temporarily close. Norby says he tried to make a deal with the landlords so that the business could stay operational, but had to dissolve operations when they couldn't reach a settlement.
TechCrunch Japan reports that the company's international affiliate, B8ta Japan, now holds the brand's licenses. B8ta Japan has three stores and hopes to expand. B8ta MENA is also operational in the United Arab Emirates.