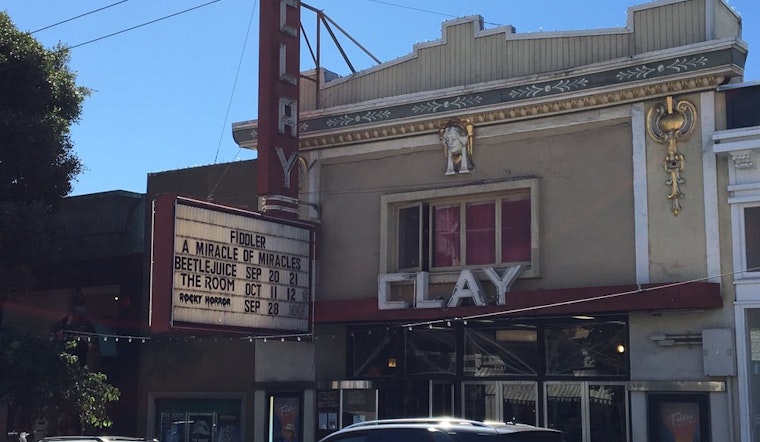 Published on April 20, 2022
Fillmore Street's Clay Theatre opened in 1913 as the Regent Theater, a nickelodeon-style cinema showing Mary Pickford flicks. Over the ensuing decades, it would go on to become The Avalon, The Clay International, and in our day, simply The Clay. But it was San Francisco's first dedicated foreign-film movie theater, one of the city's oldest single-screen movie houses, and has been deemed architecturally significant for its front façade's shaped parapets and plaster ornamentation.
View this post on Instagram
None of that helped the place stay open. As Fillmore District and Pacific Heights residents know, the Clay Theatre showed its last movie on January 26, 2020 (fittingly, a midnight screening of Rocky Horror Picture Show), and has been dark since.
View this post on Instagram
But there's a light ("over at the Frankenstein place," in Rocky Horror parlance). On Tuesday, the San Francisco Board of Supervisors voted unanimously to grant landmark status to the Clay Theatre, an effort that the district's supervisor Catherine Stefani initiated last July.
Getting that landmark designation required a rigorous historical review by the SF Historic Preservation Commission, which did debunk some of the long-standing local lore about The Clay. It did not open in 1910 as we had always believed, but instead in 1913. It did not show San Francisco's first-ever midnight movie screening with Pink Flamingos in 1972, as had been apocryphally believed — a claim that even director John Waters himself repeated. The commission found that the first SF midnight movies dated back to 1911, and moreover, Pink Flamingos had midnight screenings at several other local theaters before premiering at The Clay in 1974.
But the commission did verify "The Clay-International [opened] in 1935, is significant as the first dedicated foreign film theater in San Francisco and as an important exhibitor of foreign and independent art-house films through the late 1980s," and thus, landmark status was justified.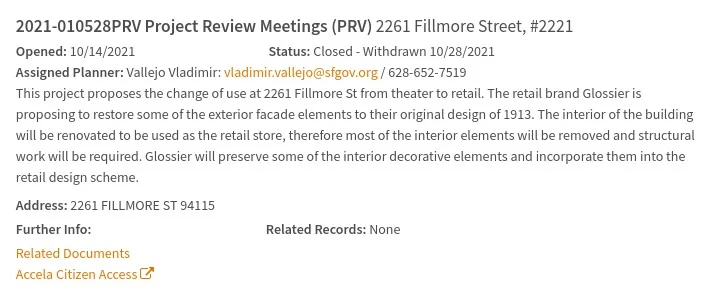 Screenshot: SF Planning Department
This does not mean The Clay will ever operate as a theater again. The building is still for sale, and the Chronicle reported in March 2020 that a $3.5 million offer for the building from the San Francisco Neighborhood Theater Foundation was rejected. As seen above, SF Planning Commission documents show that the cosmetics chain Glossier requested a permit to take it over in October 2021, but withdrew its request shortly after.
San Francisco's landmarking legislation intends "to protect, preserve, enhance and encourage continued utilization, rehabilitation and, where necessary, adaptive use of significant cultural resources." It cannot force the owner to keep it a movie theater, it can only provide incentives for the owner to keep it The Clay Theatre (or keep its distinctive architectural elements intact). That would require an owner that wants to keep it a theater, and that is not currently the case. But the property has been on the market for more than two years, so the possibility does remain.
So the Clay Theatre is now a San Francisco landmark. Which is ironic, because the place had been acquired by the Landmark Theatres chain in 1991, and was known as the Landmark Clay Theatre.
Landmark Theatres, which previously operated multiple movie-houses in SF, now solely operates the Opera Plaza cinema complex. The beloved Landmark Theatres Embarcadero Center Cinema closed for good in February.