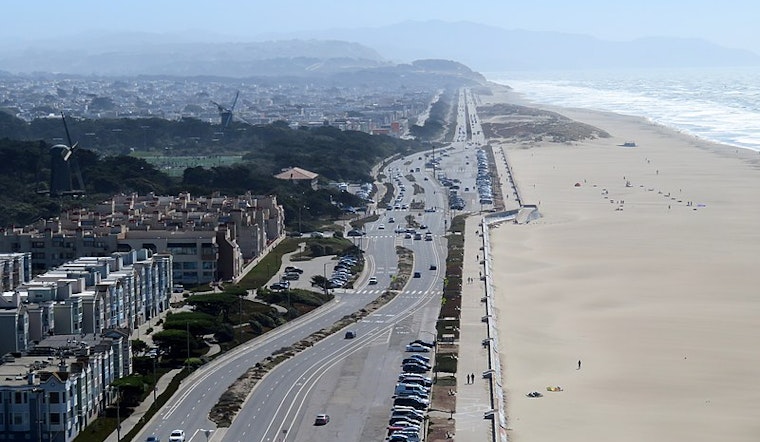 Published on April 04, 2022
You'd think that the Great Highway area would have some of the cleanest air in San Francisco. It's right next to the Pacific Ocean and the western end of Golden Gate Park, plus the highway was car-free for nearly a year and a half of the pandemic.
But the Chronicle did an analysis of air quality measurement readings all across town, and found the Great Highway, particularly the stretch between Noriega Street and Sloat Boulevard, consistently has by far the worst air quality readings anywhere in San Francisco. The readings measure particulate matter (PM) levels found in the air.
"The Chronicle's analysis shows that the PM 2.5 levels of six sensors in the Outer Sunset located within two blocks of the shore all exceeded the annual average daily exposure standard of 12 micrograms per cubic meter set by the Environmental Protection Agency," the Chronicle reports. "Average annual readings for most other sensors in the city fell well below that standard."
The discovery was spurred by Bay Area Air Quality Management District air quality scientist Michael Flagg, who also happens to surf there, and kept a careful eye on the pollution readings. "I had noticed high readings on PurpleAir monitors specifically in Outer Sunset during periods when there was really high surf in light wind and calm conditions," Flagg told the Chronicle.
But those PurpleAir monitors may be the issue. After all, this report was not a peer-reviewed scientific study, instead the Chronicle describes it as an "analysis of low-cost air sensor data."
So the PurpleAir monitors, while not necessarily unreliable, could be counting sand as particulate matter, or something else.
It could be that two nearby wastewater facilities are creating an exceptional amount of pollution. After all, most of the data showing high levels of pollution at the Great Highway was collected when the highway was closed to traffic, and the increased levels of pollution detected were consistent during wildfire season and non-wildfire months.
But according to the Chronicle, there were spikes in particulate matter detected in the air were "in tune with ocean and weather conditions." In other words, the levels of particulate matter seems to spike when the ocean was most active. On top of that, the increases were also seen in other coastal areas like Half Moon Bay and Pacifica.
Which leads some scientists to wonder if the air pollution detected there isn't air pollution at all, but instead matter in the air called "sea spray aerosol." More commonly called sea spray, that aerosol is more than just salt from the ocean's sea salt, but also other bacteria and other biological matter in the ocean water that makes its way into the air.
"That can really screw up the sensors' calibration," UC Berkeley air pollution researcher Joshua Apte told the Chronicle.