Fans of the widely-regarded Afro-Caribbean restaurant in the Old Oakland community, Miss Ollie's, will be happy to know that they will once again be able to get their hands on some of the eatery's most beloved dishes. Miss Ollie's at 901 Washington Street closed down at the end of March after 10 years in business, and garnered much fanfare during its final days. However, chef-owner Sarah Kirnon now says she is getting ready to open up a new to-go only location somewhere in Oakland's Uptown District.
KQED, which earlier reported on Miss Ollie's closing, now reports that "starting in June, the new takeout spot will serve a short, rotating menu of Miss Ollie's favorites on a to-go basis. The menu will be simple and concise, just a daily special plus one or two additional staples." Kirnon told KQED this week, "what we did for the last 10 years, these are the top dishes that worked for us, and we're going to showcase them on a daily basis."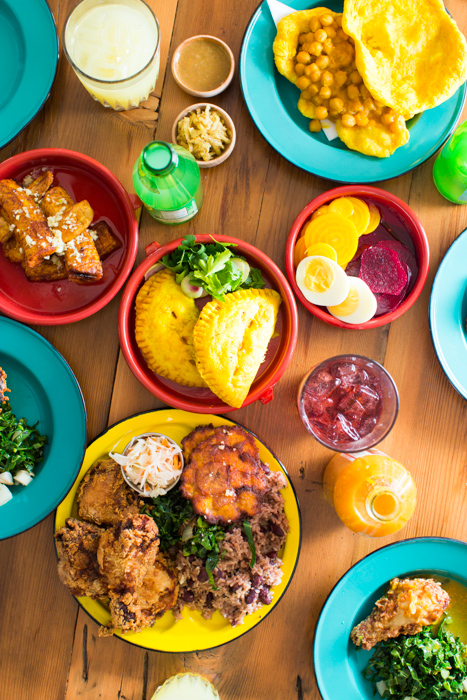 Photo Credit: @MissOlliesOakland/Instagram
Kirnon has not announced the exact location of the takeout window but she says it will be inside a commissary kitchen. She also says that the new location will not have the Miss Ollie's name attached — but the new name is still TBA. There will be no seating inside but she does plan to set up some tables outside the ordering area on weekends only. Expect to see some of Miss Ollie's most popular dishes like Kirnon's fried chicken, jerk chicken, oxtails, salted cod, and gumbo as part of the different daily offerings that will be served from 11 a.m. until the food is sold out.
Miss Ollie's was known for its community-oriented vibes and that will still be celebrated. Kirnon plans on hosting unique in-person dining events once a month at the new Uptown location. KQED reports "Kirnon will put together a tasting menu of, as she puts it, all the weird Caribbean food that she was never able to offer on a regular basis, dishes like the sea urchin and Dungeness crab porridge she used to serve when Miss Ollie's first opened."
On top of that, Kirnon also plans to open a separate coffee-shop style establishment in downtown Oakland months after she opens the to-go window location. She is being tight-lipped about the name and location of this spot as well but she says it will center around her popular Caribbean patties, Creole doughnuts, and other sweet baked goods. There will also be Haitian coffee along with an assortment of other Caribbean beverages. Stay tuned to Miss Ollie's Instagram page for updates on the locations of both new ventures along with timelines for opening dates.