The owner group of three popular downtown San Jose bars has just an inked a deal to expand on their already popular presence in the area. They've just signed on to lease a large space that is under construction inside the new development called Paseo, the former Camera 12 movie theater at 201 S. Second Street that is being transformed into a 100,000-square-foot mixed-use retail and office development previously reported on by Hoodline.
Dan Phan, Johnny Wang, and George Lahlouh are the owners of Original Gravity Public House, Paper Plane, and Miniboss, all three of which have a loyal following of customers. Unlike those locations which focus primarily on alcoholic beverages with food service on the side, the Mercury News reports that the trio has leased an almost 4,000-square-foot space where they intend to open a full-scale restaurant that has a side focus on cocktails. "We want this to be a restaurant that also has a nice bar. We will offer brunch and dinner service. Even though we will have cocktails, food will be center stage. It's a unique building and a great opportunity," Phan said. "The 20-foot-high ceilings will be awesome," Phan told the Mercury News.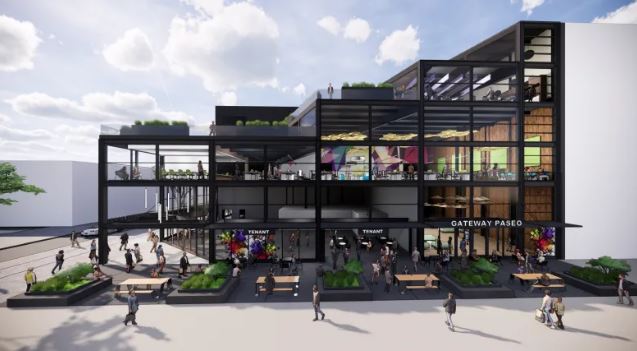 Rendering of Paseo Development. Credit: HGA Architecture
The yet-to-be-named restaurant marks the third business to sign a deal to set up shop at Paseo. More than 13,000 square feet have been leased to the miniature golf company Urban Putt which also sells food and drinks. An ax-throwing establishment with a restaurant and bar called Unofficial Logging is going to take up a 6,800-square-foot space. Another business has already signaled that they want the remaining 2,500 square foot space on the ground floor but the name has not yet been announced.
The next step for Paseo is to fill up the 75,000 square feet of office space on the second and third floors. "We wanted to get all of the retail and the restaurants done first," Joshua Burroughs with Urban Catalyst, Paseo's developer, told the Mercury News. Urban Catalyst has said that it hopes to be done with construction by July but there have been no exact dates announced for the opening.