North Beach has plenty of places to get your drink on. But until recently, if you were seeking a mellower high from a cannabis dispensary, you were out of luck. That's changed since North Beach Pipeline opened earlier this year. The store joins Pipeline's first location in the Sunset District.
"As far as cannabis is concerned, North Beach is an underserved neighborhood," says Jesse Henry, co-founder of Pipeline Dispensaries and COO of North Beach Pipeline. "We've had a lot of great feedback from the neighborhood. It's been a really positive experience to come into this historic community where people support each other."
☄ North Beach is among the most popular areas for libations in San Francisco, but it has been surprisingly underserved by marijuana stores until North Beach Pipeline recently opened. This new physical location is relatively uncontested, but for SF's best cannabis delivery companies. Many of these delivery services offer on-demand service in the North Beach - sometimes within a mere hour. ☄
Located at 1335 Grant Avenue, North Beach Pipeline is part of San Francisco's Cannabis Equity Program. The program gives people who've faced discrimination stemming from anti-drug laws equal access to the cannabis industry. Applicants must meet three of six conditions. Examples include being convicted for a marijuana-related offense or losing housing in the city after 1995 through eviction, foreclosure or subsidy cancellation.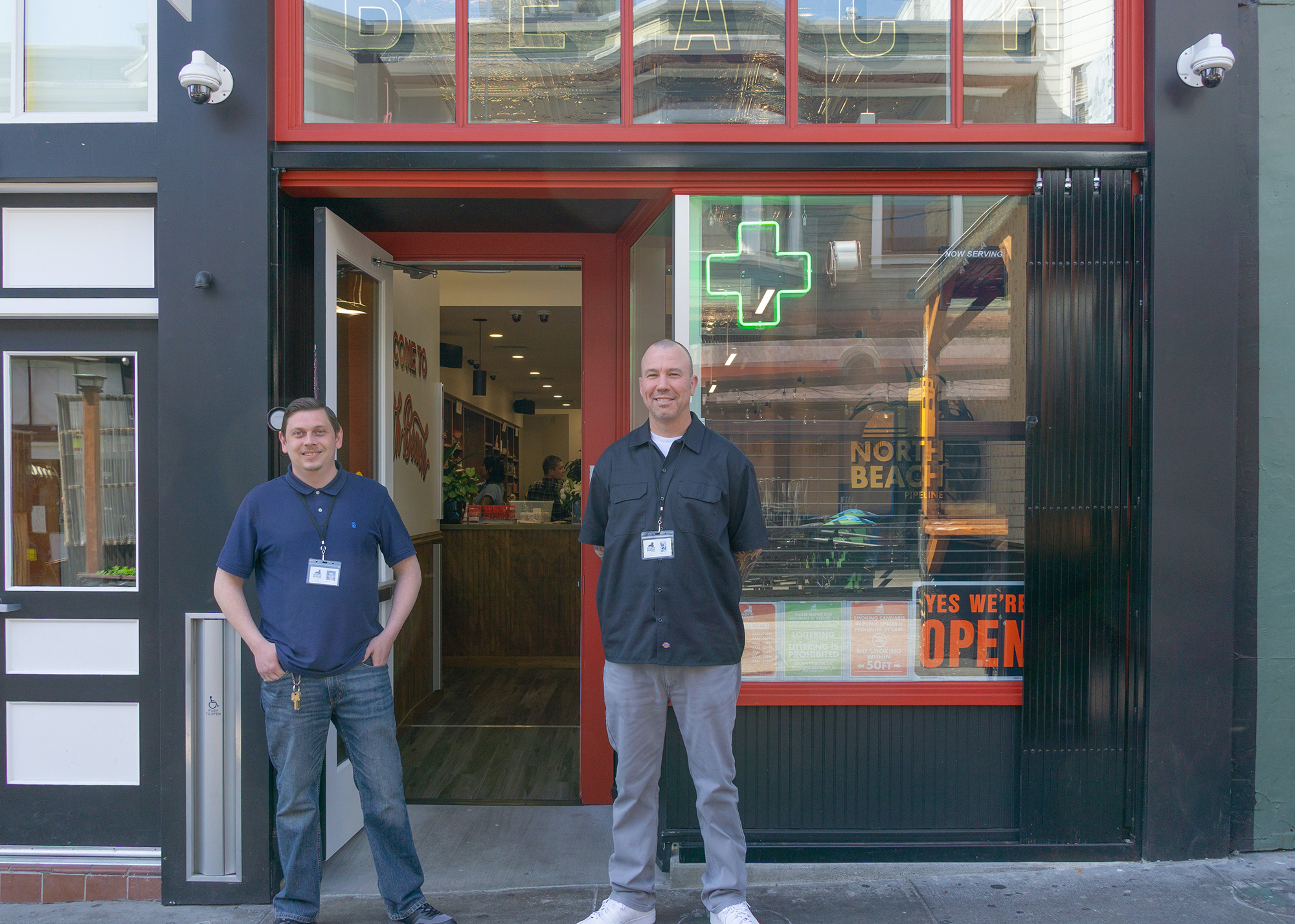 North Beach Pipeline CEO Elric Neumann (left) and COO Jesse Henry (right) in front of their new dispensary. | Photo by Dorothy O'Donnell/Hoodline


Elric Neumann, North Beach Pipeline's CEO, qualified for the equity program. According to Henry, Neumann's extensive knowledge of the industry has proved invaluable to the business. And he's glad to give Neumann the opportunity to have ownership in the company.

Henry notes that leveling the cannabis industry playing field isn't just about creating more equity-based dispensaries. It's also about the products you sell. Pipeline carries a variety of local minority-owned brands, such as Peakz and Gift of Doja.

"If we can support Black, women, and LGBTQ-owned businesses, I think that's the best way to be a positive influence, not only in this industry, but in our community," says Henry, a San Francisco native.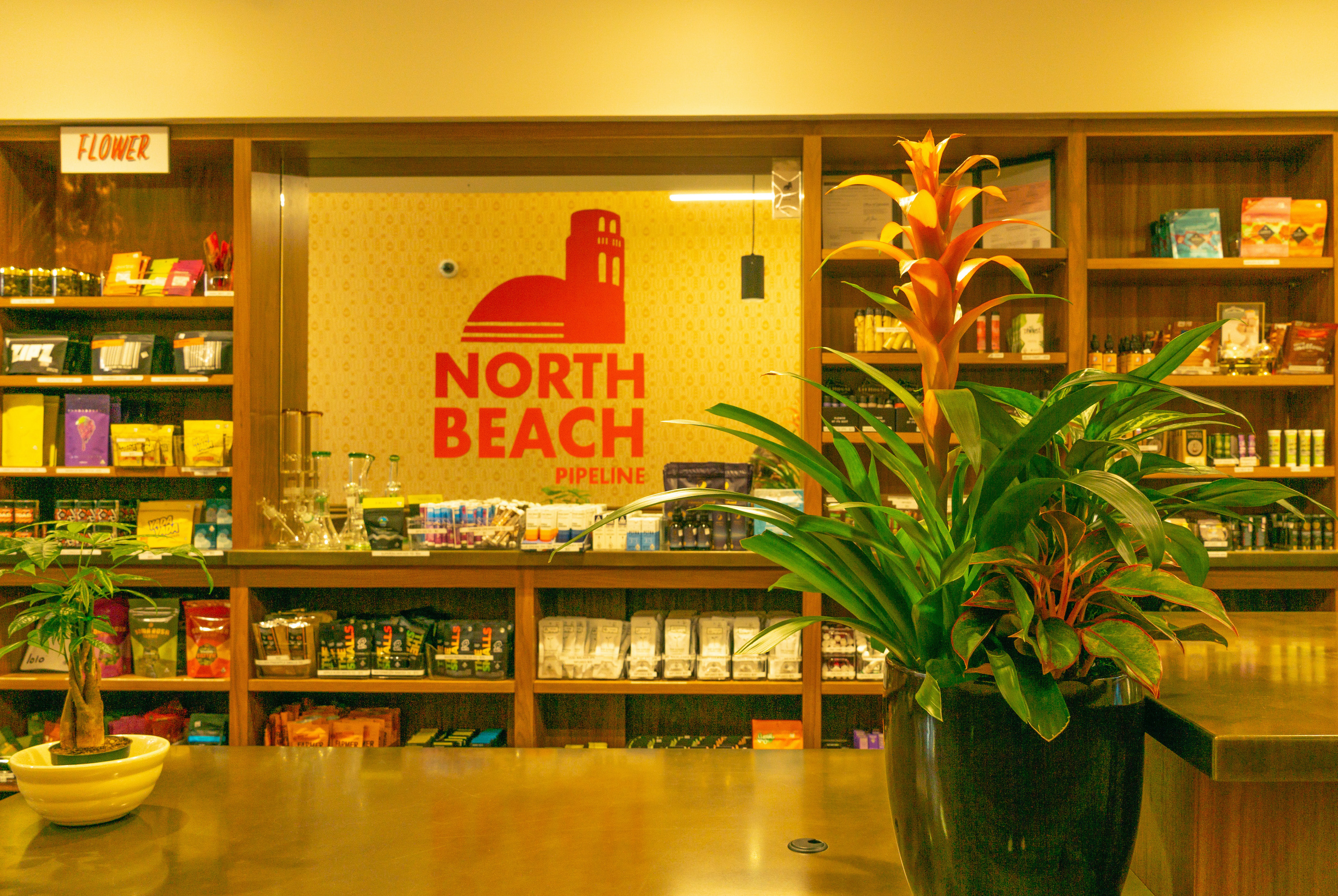 Photo: Dorothy O'Donnell/Hoodline

That focus on community permeates the work environment at Pipeline, too. Henry and his team strive to foster an upbeat culture where everyone works together to provide exceptional customer service.

"That's something that the guest who comes through the door, our customer, is going to feel," he says. "They're going to feel this great vibe and want to be a part of it. That experience is going to make them want to come back."

Pipeline's commitment to spreading good vibes in the neighborhood was also evident when the company gifted one of two retail spots in its building to artist and North Beach resident Jeremy Fish. As Hoodline previously reported, Fish's gallery, dubbed The Fish Tank, opened last month.

"When we first got this place, our intention was to merge the two units into one like it was originally, but over the years, they were split apart, and legally we weren't able to combine them into one space," explains Henry. "So we came up with the idea of having an art gallery next door to be able to activate both storefronts. Jeremy was obviously the perfect person for this neighborhood."

The arrangement has been a win-win for both parties. Fish — who designed the dispensary's San Francisco-inspired wallpaper — appreciates Pipeline's generosity and his new gallery.

In addition to great products and service, North Beach Pipeline has something you won't find at most dispensaries — a parklet where customers can hang out before or after shopping. The parklet also serves as a spot for staff members to educate folks on the benefits of specific products.

North Beach Pipeline is open daily from 8 a.m. to 10 p.m. You can also order your goodies online and pick them up at your convenience. Pick-up orders always receive a five percent discount, and today, for 4/20, the dispensary has a huge list of sale items and buy-one freebie deals.