Fans of the beloved Cambodian restaurant Nyum Bai in Oakland are now eagerly awaiting the next chapter of the eatery. Nyum Bai's location on E. 12th Street near the Fruitvale BART Station is now closed.
"Our lease is coming to an end after five years and we've quietly decided to move on from this space," Chef Nite Yun announced on Instagram. The wildly popular, and notoriously small space with limited seating seemed to always have a line and a long waiting list, especially after being named one of the 10 best new restaurants in the U.S. by Bon Appetit in 2018.
The closure in Oakland certainly does not mean Nyum Bai's legacy is over. "This is not the end of Nyum Bai, rather the closing of its first chapter, which has been something truly special," Yun writes. "We will reopen in the near future in a new location, so stay tuned! We will have a party in the coming weeks celebrating the closure and we'll make an announcement about that soon. We look forward to welcoming you to the next incarnation of Nyum Bai!"
View this post on Instagram
Yun first launched Nyum Bai as a pop-up business in 2014, and with help from Bay Area culinary incubator La Cocina she was able to start serving her food and fine-tuning her menu at the Emeryville Public Market. The popularity of the food from the start demanded more permanent digs. She leased her Fruitvale kitchen in late 2017 and opened it a few months later after garnering support from a very successful kickstarter campaign, as reported by Hoodline.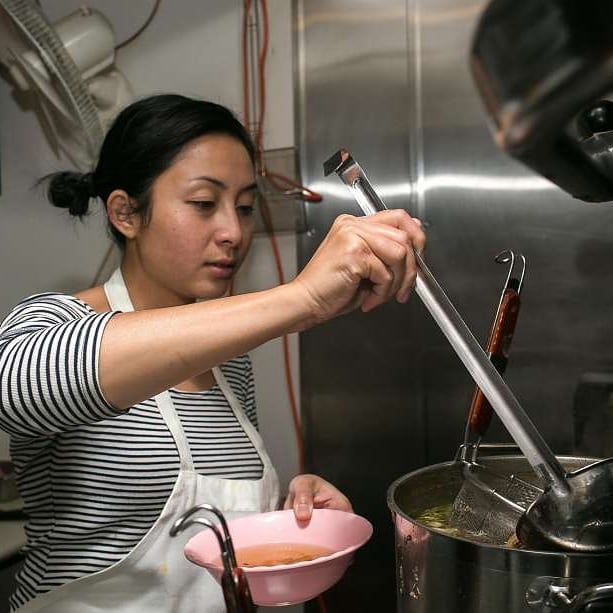 Nite Yun. Photo Credit: Nyum Bai/Facebook
Yun knew the vibe she wanted to create with Nyum Bai, which means "let's eat," when the restaurant was still just an idea. She wanted to honor her Cambodian roots while paying tribute to her parents who escaped the genocide of the Khmer Rouge regime and, after a few stops, eventually made it to California. "I'm so happy with how the restaurant came together. Both the food and the atmosphere are a tribute to the golden era of Cambodia, the '50s and '60s. That's when Cambodia was a happening country, with lots of art and music. Music is totally essential for me, a workplace requirement really. We start playing Cambodian artists as soon as we open the doors every day." Yun told Bon Appetit in 2018.
Chronicle critic Soleil Ho seized on the vibe and Yun's food immediately after starting work at the paper in 2019, writing, "The first time I walked in and heard the late Cambodian diva Ros Serey Sothea's unmistakable voice drifting through the dining room, I knew this was a place that I'd like."
We expect to see the same great traditional Cambodian dishes and vintage concept, like antique lighting and old Cambodian rock n' roll album covers on the walls, at the new location of Nyum Bai, but where that will be is still a mystery. Keep checking back on the Instagram page for location updates and timelines.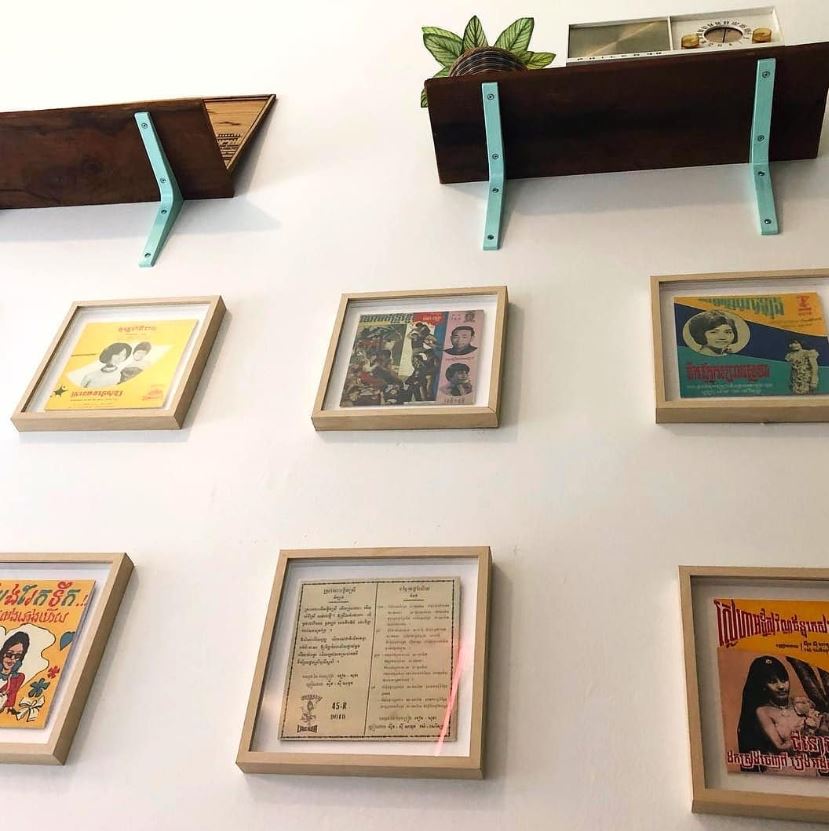 Cambodian rock n' roll Album covers. Photo Credit: Nyum Bai/Instagram