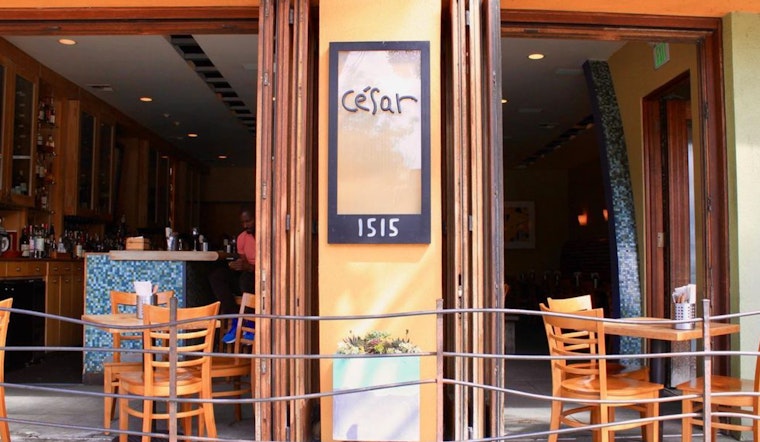 Published on July 06, 2022
César, the 24-year-old tapas bar next door to Chez Panisse, is closing in two weeks, on July 23. But this likely isn't the end of the North Berkeley neighborhood favorite — which had its own crew of regulars who only sometimes might patronize the more lauded restaurant next door.
News broke in January that the board of Chez Panisse, the company, had decided to end its sublease to César — which itself seems to have been a late-90s favor of a sort to owner Alice Waters' ex, Stephen Singer, one of three original partners in César when it opened in 1998. Chez Panisse hadn't yet reopened from its pandemic slumber, but the restaurant had designs on a new, street-facing bar and lounge where customers go after dinner, or whether they could wait for tables in the Cafe or downstairs restaurant, with a cocktail.
As the story goes, Chez Panisse (1517 Shattuck Avenue) has long had the long-term lease on the next-door storefront that has been home to César at 1515 Shattuck since 1998. As Berkeleyside reported earlier this year, either Waters herself or the restaurant management signed a lease for 1515 Shattuck perhaps in the mid-90s, or some time after a previous, non-restaurant business left the space — and this idea for a "welcoming bar" for Chez Panisse customers has apparently been in the cards for a while.
Chez Panisse reopened for indoor dining in March, just four months ago, but their opening night was greeted by a small protest from César regulars, who saw the eviction as an unfair power play by the bigger restaurant. And some have lamented about how these were always sibling businesses — the name César even comes from the same 1930s film trilogy by Marcel Pagnol that inspired the name Chez Panisse, with the characters of Panisse and César being friends. (The other main characters are Marius and Fanny, and Waters and Singer have a daughter together whom they named Fanny.)
Supporters even launched a website devoted to saving César, and a Change.org petition that gathered over 4,000 signatures in support of their not having to move.
The thing is, a successful concept with a following should be able to relocate and bring fans along with it, and that appears to be what is happening — César has also had a second, spinoff location, Bar César, on Piedmont Avenue in Oakland since 2006. As the Chronicle reports today, the owners of César say they are "in the process of finalizing our plans to move a new location." César now has a closing date of July 23, and employees there have apparently been offered work at Bar César until the new locations opens.
General manager Jim Mellgren tells the Chronicle that the last few months, with the restaurant's closing looming, have been "bittersweet," and some regulars worry that the team won't be able to recreate the magic of the restaurant in a new location. "It's almost like you can't go to a table or talk to somebody at the bar without them pouring out how they feel about César," Mellgren tells the paper. But, he adds, "everyone [is also] saying, 'Wherever you go, we'll be there.'"
There's no word yet on when Chez Panisse plans to have its new next-door bar ready for the public.