A new restaurant about to open in a prime location in Downtown Oakland is promising to bring great dishes, DJs until midnight, and a distinct list of natural wines. Slug will start serving food and wine on July 22nd at 102 Frank H. Ogawa Plaza (the former Tully's Coffee), which sits at the corner of Broadway and 14th Street. Slug is a spin-off of the highly popular restaurant Snail Bar on Shattuck Avenue in Temescal.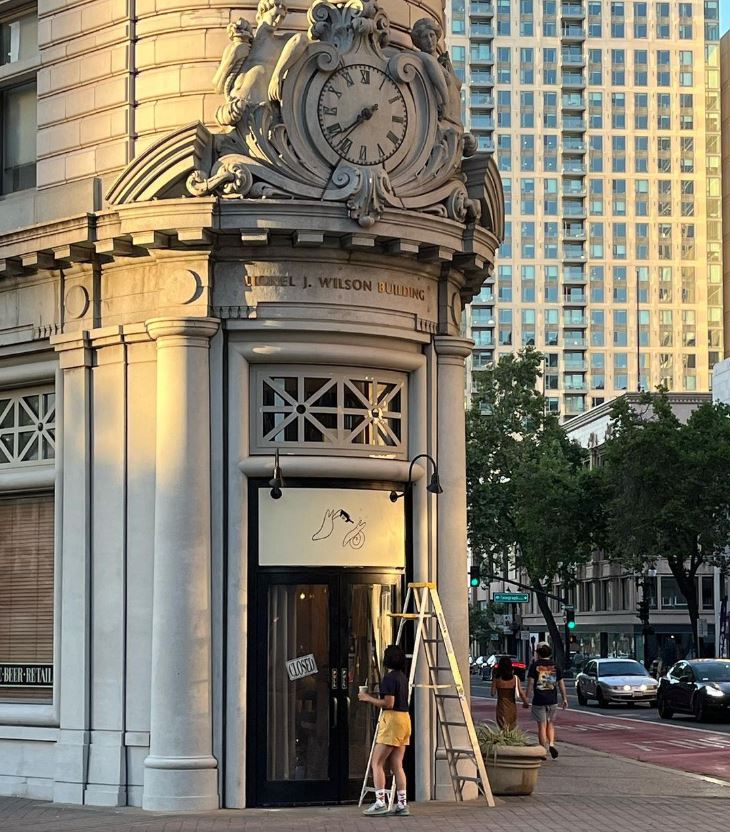 Photo Credit: @slugbaroak/Instagram
According to the SF Chronicle, Snail Bar's owner Andres Giraldo Florez is teaming up with chef Spencer Horovitz, who formerly cooked at Itria in San Francisco, and wine buyer Jake Michahelles to create a larger, more accessible version of Snail Bar. Florez told the Chronicle that "he hopes people will head to Slug if they can't get into the Temescal spot," where waiting for a table commonly lasts over an hour.
Between the bar area and the wine barrel tables in the standing area, Slug can hold around 45 people inside. There will also be outdoor tables for patrons. All the space will get filled up on a first-come, first-serve basis. Expect to hear DJs spinning tracks until midnight on the weekend. The Chronicle reports that "the owners hope Slug will be something to everyone, a place to grab a snack and a glass of wine, to eat a full meal, or to dance to music with a sausage in hand."
Boudin blanc and boudin noir sausages will be staples on the dinner menu. Florez apparently calls the sausages "slugs of the land," which lends to the namesake. Like Snail Bar, dishes using handmade miso from Shared Cultures in San Francisco will also be on the menu at Slug, along with the customer-favorite ham and cheese sandwich. There will also be about a dozen natural wines to choose from by the glass. The goal is to feature organic varieties from California and Europe that have as few additives, like sulfites, as possible.
Once the doors open on July 22nd, Slug will be open Thursday until Monday from 5 p.m. to midnight. Mondays at Slug will be meant for restaurant workers who typically have that day off each week. Snail Bar does the same thing on Mondays. "It's just like a dream industry venue. This is for the industry," Florez told the Chronicle.