One of Oakland's oldest Ethiopian restaurants is moving into a much bigger location next month, which will allow it to expand the menu and add unique cocktails. Cafe Colucci has spent the last 31 years operating on the ground floor of a residential building at 6427 Telegraph Avenue. It's now heading about two miles away to the Paradise Park neighborhood, where it will move into the former location of Soul Slice at 5849 San Pablo Avenue. The new Café Colucci space will have the same menu with a few brand new additions.
The new location is more than double the size of the old one, which means the founder, Fetlework Tefferi, will be able to move the headquarters of her spice company, Brundo, into the same building as the cafe."We're focused on continuing to serve really delicious food and meals to the community here, being spice-forward, introducing new ways to spice food, and to focus more on what I think is a natural evolution for us as food entrepreneurs, from a restaurant to packaged goods that really showcase Ethiopian and East African food," Cafe Colucci general manager Daniel Aderaw Yeshiwas told the East Bay Express.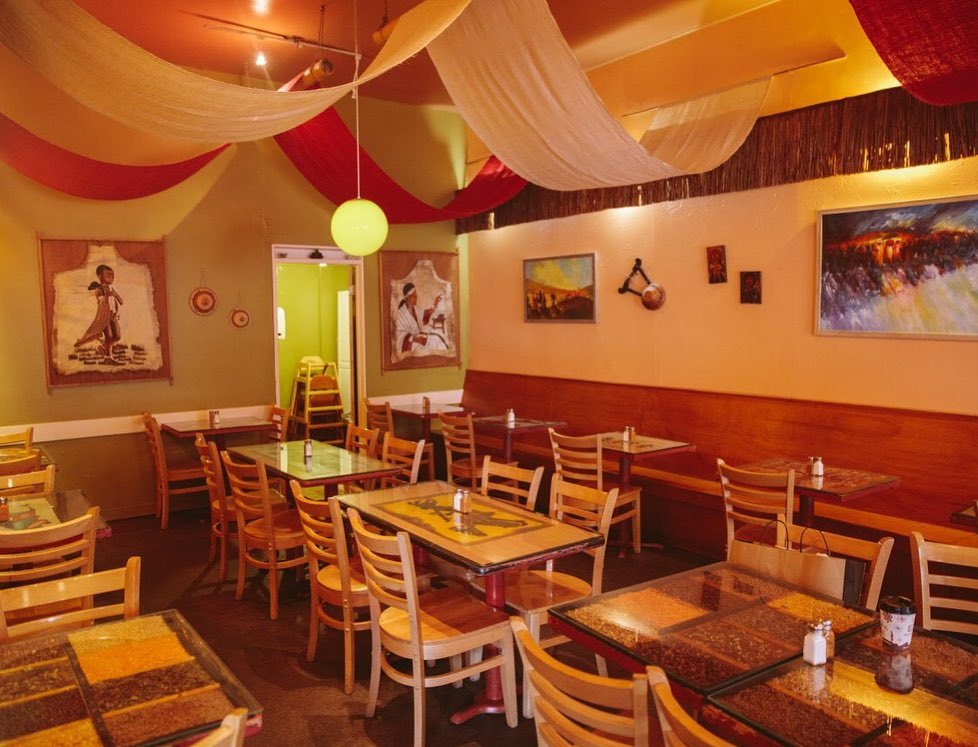 Photo Credit: Cafe Colucci/Facebook
There will also be an area where patrons can watch the cafe's workers make a spongy, Ethiopian flatbread called injera. A bar inside the space will feature "cocktails that incorporate traditional herbs and spices, such as fat belly bessobela, a sweet and spicy lemonade steeped with Ethiopian basil that has a mezcal kick," as reported by Oaklandside. There is also hope that Cafe Colucci will be able to make a wine made from honey called tej and a beer made from sorghum and teff called tella in-house in the next few months.
They also plan to offer breakfast and will keep making coffee drinks as part of their partnership with Blue Bottle. You'll be able to dine on the patio in the back of the building, and they plan to add parklet seating near the street. Thanks to the extra space, certain evenings will feature live music from solo artists or duos.
Yeshiwas has high hopes for the new location and Ethiopian food in general. "I think Ethiopian foods are trending. It's becoming more and more popular, especially around the vegan community. A lot of our diet is naturally vegan," Yeshiwas told East Bay Express. The new Cafe Cafe Colucci and Brundo spice shop location on San Pablo Avenue is expected to open for limited service starting September 6th.