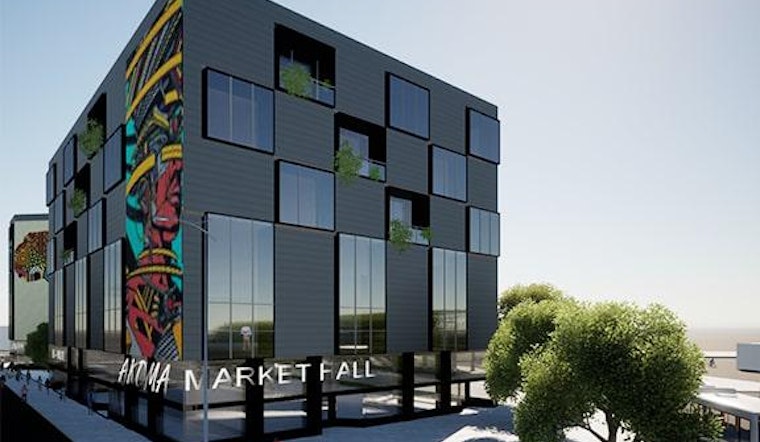 Published on August 08, 2022
An Oakland non-profit has plans underway to build an ambitious new food hall and event space that would also include other community amenities and affordable housing. Developers with the Black Cultural Zone Community Development Corp. are awaiting final approval from the city before they are able to break ground at the 1.2-acre Liberation Park, which sits at the intersection of 73rd Avenue, Foothill Boulevard, and MacArthur Boulevard in East Oakland. The Black Cultural Zone has been managing that city-owned plot of land for a couple of years now. The group distributes free meals, performs Covid testing, holds community engagements, hosts market events like the Akoma Market, and organizes weekly roller skating sessions.
The non-profit group's CEO, Carolyn Johnson, says the goal is to construct a three-story building that features much-needed community spaces. There will several food vendors, a coffee shop, and dining areas on the 10,000-square-foot ground floor. The group says that the vendors would predominantly be Black, Indigenous, and people of color. The Chronicle reports that "the ground floor will also include a community food pantry, a theater, and cultural performance space, farm stands, food carts, health and wellness service kiosk stations, a co-working space, a retail pavilion, and a roller-skating rink"
The plan is to have even more co-working space on the second floor, along with a hub where residents can get financial and technical help. The rooftop could include a courtyard, garden area, and a sizable space for both indoor and outdoor events. "We really don't have anything like this in East Oakland. A place where we can go for all these things in one space. It's going to be a place where you can come for four or five different types of food all in one space. We are looking to really reflect the community," Johnson told The Chronicle.
There's also expected to be a housing component to the project that will bring 120 affordable housing units, but it is unclear if the residences will be located inside the same building as the food hall. Council Member Loren Taylor represents District 6, where Liberation Park sits, and says that the space will fill a much-needed void in East Oakland. "We're not just talking about the food, we're talking about entertainment and places for people to congregate," Taylor told the Chronicle. Once the project is fully approved, construction is expected to start in late 2024. There's no word yet when the City Council could grant full approval.