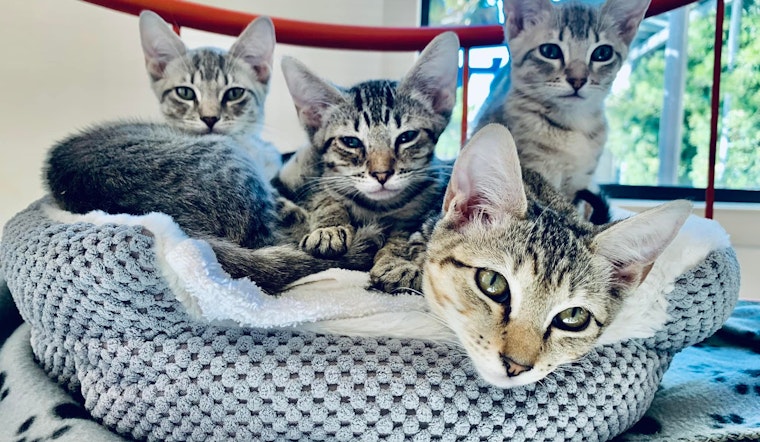 Published on August 23, 2022
The San Francisco SPCA currently has a good number of adult dogs and cats up for adoption. In order to help them find their forever homes, the animal rescue is participating in this year's Clear the Shelters nationwide campaign, which aims to help older pets get adopted.
As part of the animal shelter's Summer of Lovin' Adoption Special program, SF SPCA has waived adoption fees for dogs and cats over five months old since June. And on Saturday, August 27, the animal shelter will be hosting a large in-person adoption event as part of the Clear the Shelters movement.
Topaz heard about the "Monday Blues" and wanted to share her favorite new toy with everyone ☺️

Topaz is currently available to adopt: https://t.co/SMDv54Xrfe
All dogs & cats (5mo+) are free to adopt through 8/31 and join this Sat, 8/27 for #ClearTheShelters!#MondayMotivation 🐾 pic.twitter.com/YIpu1adS7K

— San Francisco SPCA (@sfspca) August 22, 2022
"We're participating in the 'Clear the Shelters' nationwide adoption and donation campaign in an effort to encourage aid for all animals in need," writes SF SPCA on its website.
Clear the Shelters is a month-long campaign drive — which SF SPCA has been participating in since August 1 — that began in 2015. Since then, the NBC Universal Local-affiliated campaign has helped more than a half million pets find new homes.
Donations are also being accepted as part of the drive to help the shelter both save animal lives and find homes for hundreds of big dogs and adult cats. A $25 donation will be enough to cover the cost needed to microchip an animal; a $75 contribution covers the cost of a lifesaving vaccine series to protect the health of shelter animals; a $150 offering will sufficiently cover the average cost to adopt an adult dog or cat through SF SPCA.
For those looking to adopt a new kitten or puppy, they'll still need to pay adoption fees. Presently, a $400 adoption fee, as well as a $27 San Francisco dog license fee, must be met in order to bring a dog younger than five months old home. Kittens in the same age bracket come with a $200 adoption fee — through adoption fees would be waived should the adopter want another kitten within 30 days of bringing the first one home.
A full list of SF SPCA's adoptable dogs and cats can be found at sfspca.org/adoptions.
The shelter's in-person Clear the Shelters event will be held at 250 Florida Street on Saturday, August 27, from 10 a.m. to 4 p.m.; SF SPCA's adoption center is open for visits from noon to 6 p.m. Monday to Thursday, and 10 a.m. to 6 p.m. Friday to Sunday.