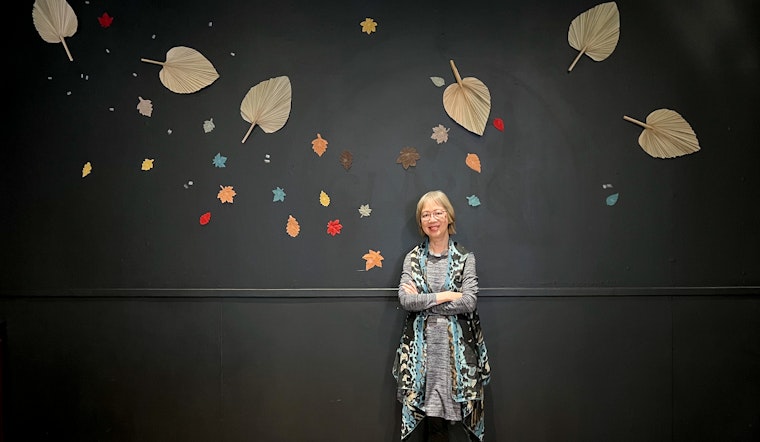 Published on September 29, 2022
Clara Hsu, owner and executive director of the Clarion Performing Arts Center in Chinatown, wears many hats. She runs a children's theater program. She's a writer whose work includes poetry and plays. She hosts open mic events, book talks, concerts, and film screenings. Hsu's also a member of the Grant Avenue Follies, a Chinatown cabaret troupe comprised of 11 energetic Asian American grandmas. Last year, the soft-spoken senior added yet another hat to her collection — rap star. And on October 8, she'll be helping to host a fundraiser for the arts center that will double as a fashion show for local designers.
Hsu, who was born in Hong Kong, started the Clarion with her father, James Ma, a piano maker, in 1982. Back then, it was a business that sold instruments and offered music lessons. Hsu sold the center to a couple of long-time employees in 2005. When they wanted out in 2016, she bought it back from them. She decided to turn the Clarion into a nonprofit to empower Asian Americans and other marginalized groups through the performing arts.
Hsu is especially passionate about her children's theater program. Originally, it was only offered in the summer. Today, it's a year-round program for young Chinese American kids from low-income families. Most of them live in Chinatown. Hsu focuses on teaching her students skits that incorporate Cantonese poetry, songs, and dances. They also learn Shakespeare and short poems by English poets.
"I write most of the skits and compose songs to Cantonese lyrics," she tells Hoodline. "It's important for me to teach the children Cantonese because schools are pushing it aside for Mandarin. But I think it can survive in the arts, especially theater."
In addition to the theater program, the Clarion features a weekly Saturday concert and film series. Canadian pianists Duo Fortin-Poirier (Piano Four Hands) will perform this Saturday, followed by a screening of Jack Has a Plan, a humorous — yes, humorous — documentary about assisted suicide. Filmmaker Jeff Giordano curates the movies shown at the Clarion, which range from documentaries on diverse topics to rom-coms and action flicks.
"Jeff is bringing really incredible films here that people wouldn't otherwise know about or get to see," says Hsu.
The Clarion is also home to the Showgirl Magic Museum. The brainchild of Follies founder Cynthia Yee, the small museum is a treasure trove of costumes, photos, and memorabilia from Chinatown's vibrant night club scene in the 50s and 60s.
Hsu stresses that Clarion events are open to everyone, even those who can't afford the small fee she charges for some of them. "If people can pay, that's great. If they can't, it's okay. This is a charitable organization and the programs are meant for the public."
While she's proud of the quality of events she puts on, she admits that getting enough people into the Clarion to see them is sometimes challenging. So is securing funding to keep the Clarion afloat. The nonprofit relies on grants and donations to help cover its operating costs. On Saturday, Oct. 8, the Clarion will hold its main fundraiser of the year, a luncheon at the Far East Café. Tickets start at $125 and include a fashion show featuring creations by four Asian American designers.
The fundraiser is a collaboration with the Grant Avenue Follies. Ranging in age from 67 to 87, the Follies perform at special events and senior facilities throughout the Bay Area.
Last year, in response to the alarming spike in hate crimes targeting elderly Asians, the Follies rallied to create their Gai Mou Sou Rap. Hsu wrote the rap's cheeky but powerful lyrics. Her inspiration? The traditional Chinese chicken feather duster (gai mou sou) she and other members of the Follies grew up with. Disrespecting your elders could earn you a swat from a duster's thin wooden handle. Brandishing their gai mou sous, the Follies performed the rap at anti-Asian hate protests around the Bay Area. Numerous local and national media outlets ran stories about them. And the official video of their rap went viral on YouTube — it's received more than 87,000 views to date— and won several awards.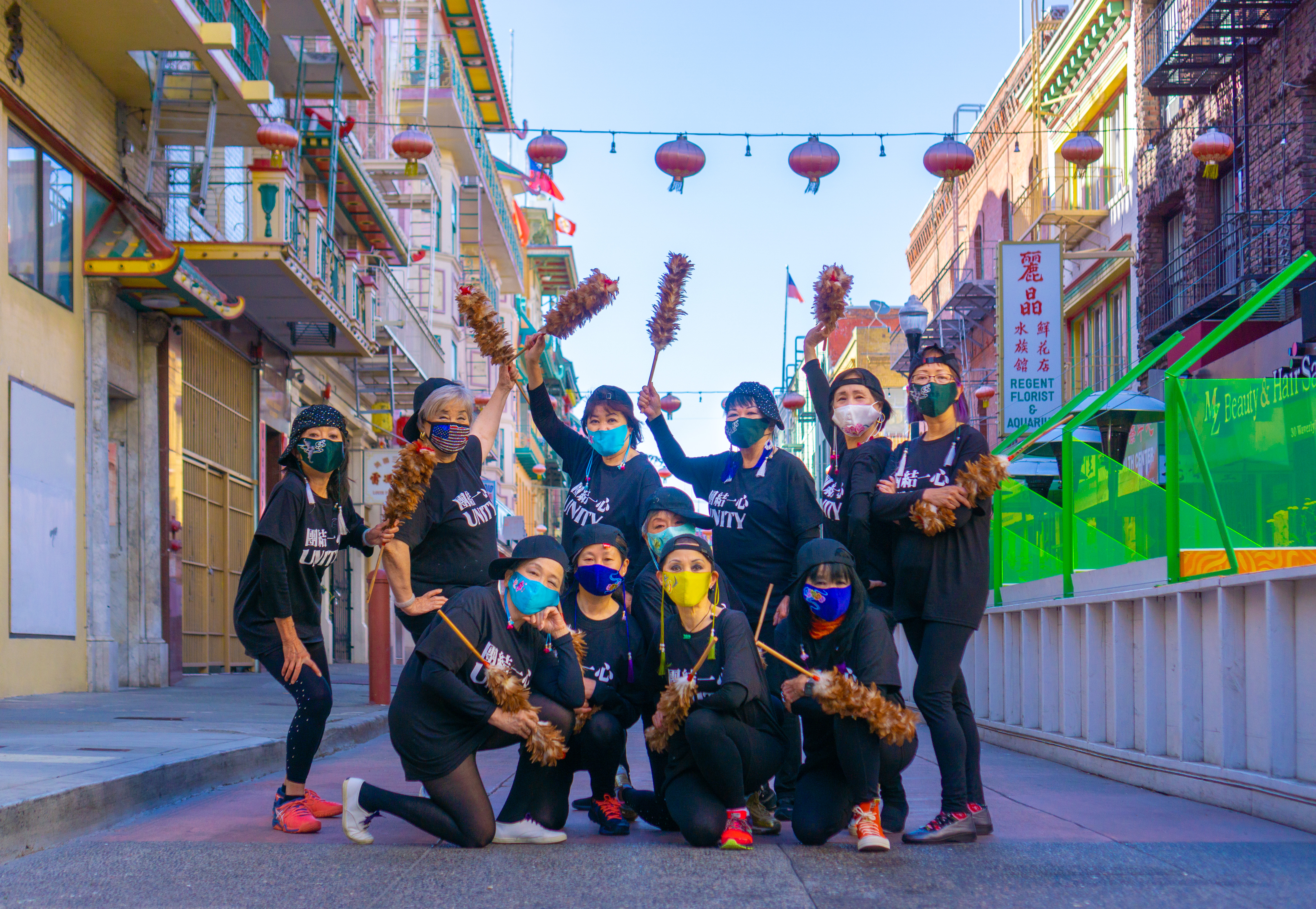 The Grant Avenue Follies, aka the Gai Mou Sou Rappers, strike a pose in Chinatown. | Photo credit: Dorothy O'Donnell
After the success of their first rap, the Follies begged Hsu to write them another one. She was happy to oblige. Her latest creation—Glammas Wrap—honors the special friendship she shares with these women.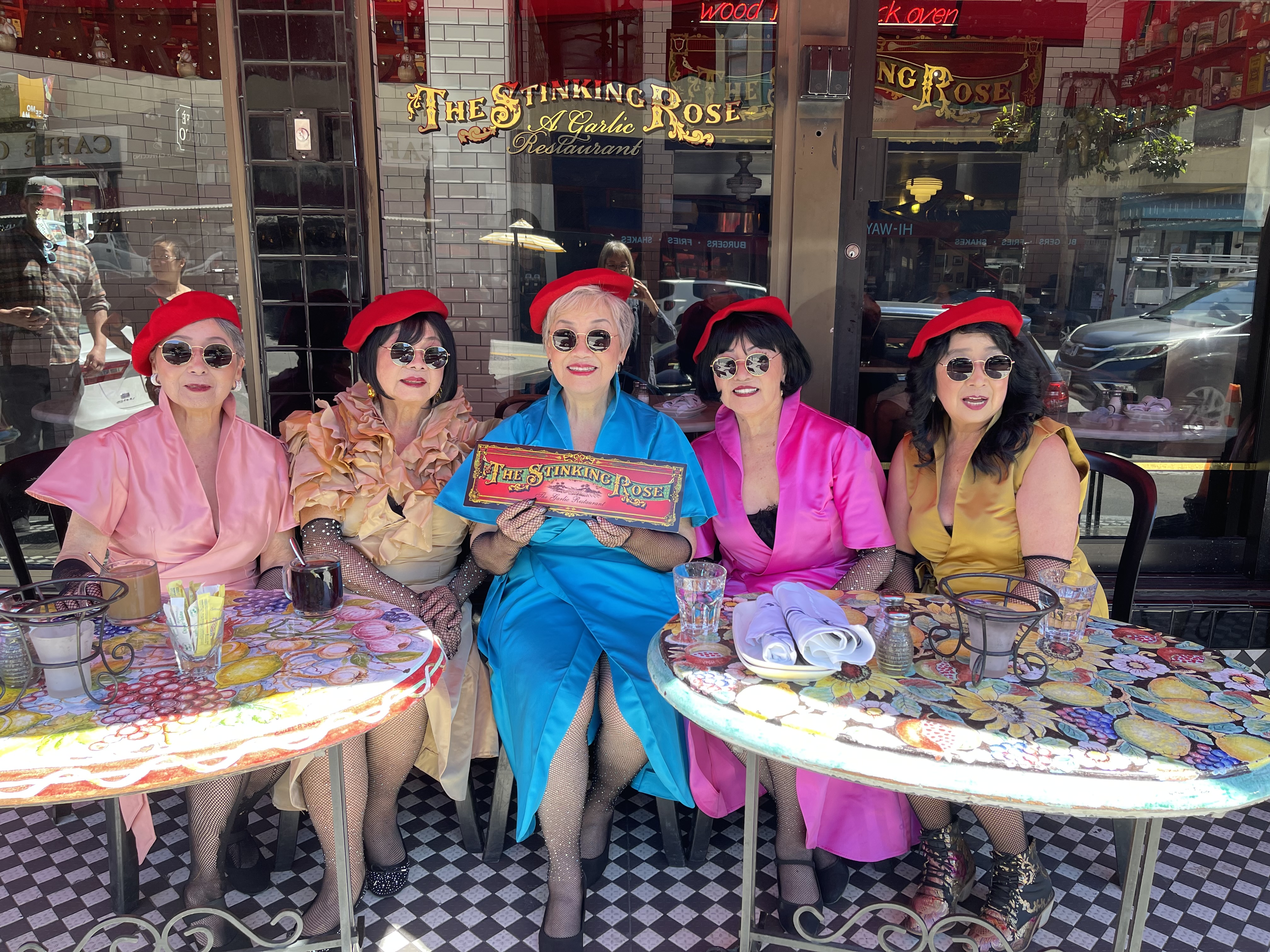 Members of the Grant Avenue Follies take a breather while filming their new Glammas Wrap music video. | Photo credit: Clara Hsu
"It's one thing to have a group of friends, but these friends are different," she explains. "They're adventurous and always willing to try new things. They're glamorous. They love to go out. And they love people."
The Follies will debut their Glammas Wrap video at the October 8 fundraiser. (The "wrap" in the title refers to the wrap dresses the women wear in the video. Couturier Colleen Quen, one of the designers participating in the fashion show, created the dresses.)
To help cover production costs of the new video, the Follies have set up a Gofundme. The Clarion Performing Arts Center is located at 2 Waverly Place. Learn more about upcoming events here.