A hotel project in downtown San Jose now appears to have the green light to proceed after years of delays because of lawsuits from a preservation group against the city of San Jose. The proposed 19-story high-rise hotel with 272 rooms could be built right next door to Hotel De Anza at 8 North Almaden Boulevard near the intersection of West Santa Clara Street. After the San Jose City Council approved the project two years, the Preservationist Action Council of San Jose (PAC SJ) had been trying to block plans for the hotel from moving forward. Their attempts have been shut down first by Santa Clara County judges and most recently, by the state Court of Appeal, which sided with an earlier ruling by county courts that favored the city's approval of the project allowing the project to proceed.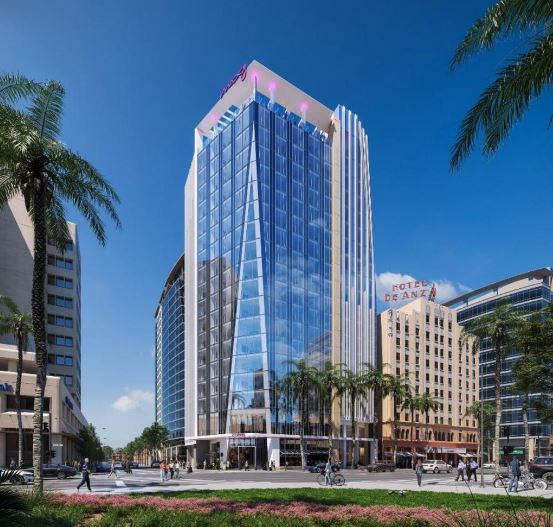 Rendering Credit: C2K Architecture
The latest ruling appears to be the final nail in the coffin for PAC SJ's attempt to halt the project. According to the Mercury News, "on Aug. 30, the state appellate court upheld the county court decision and rejected the appeal by the Preservationist Action Council of San Jose (PAC SJ). On Sept. 14, the preservationists requested that the state court rehear the case. On Sept. 22, the panel denied the rehearing request. That appears to end the case in the state Court of Appeal."
PAC SJ made three main claims about why the hotel project should not go forward. The Mercury News reports that the group claimed the environmental impact report was invalid because it didn't properly analyze the "visual and aesthetic impacts of the proposed hotel tower." The group also complained that the city's final review comments were inadequate and that it was possible for developers to build a smaller hotel and "yet still meet the project's objectives." Judges found no merit in any of the claims and said the City Council was correct in its action to approve the project.
There is a slight chance that the case could still be stalled. PAC SJ has about two and a half weeks to submit a request to have the state Supreme Court review the case. Reviews by the California Supreme Court are only granted about three percent of the time, so the chances are slim. At this point, the hotel project does not have a name, and there's no word yet on when final city approval could be granted on the project.