The 14-year-run of Outer Sunset organic restaurant Outerlands (4001 Judah Street) under the ownership of Dave Muller and Lana Porcello has come to an end, as their last day running the place was Monday, and Outerlands is now temporarily closed. But the restaurant's lengthy run has not necessarily come to an end, and the popular sit-down outpost at Judah Street and 45th Avenue will reportedly reopen under new, undisclosed ownership.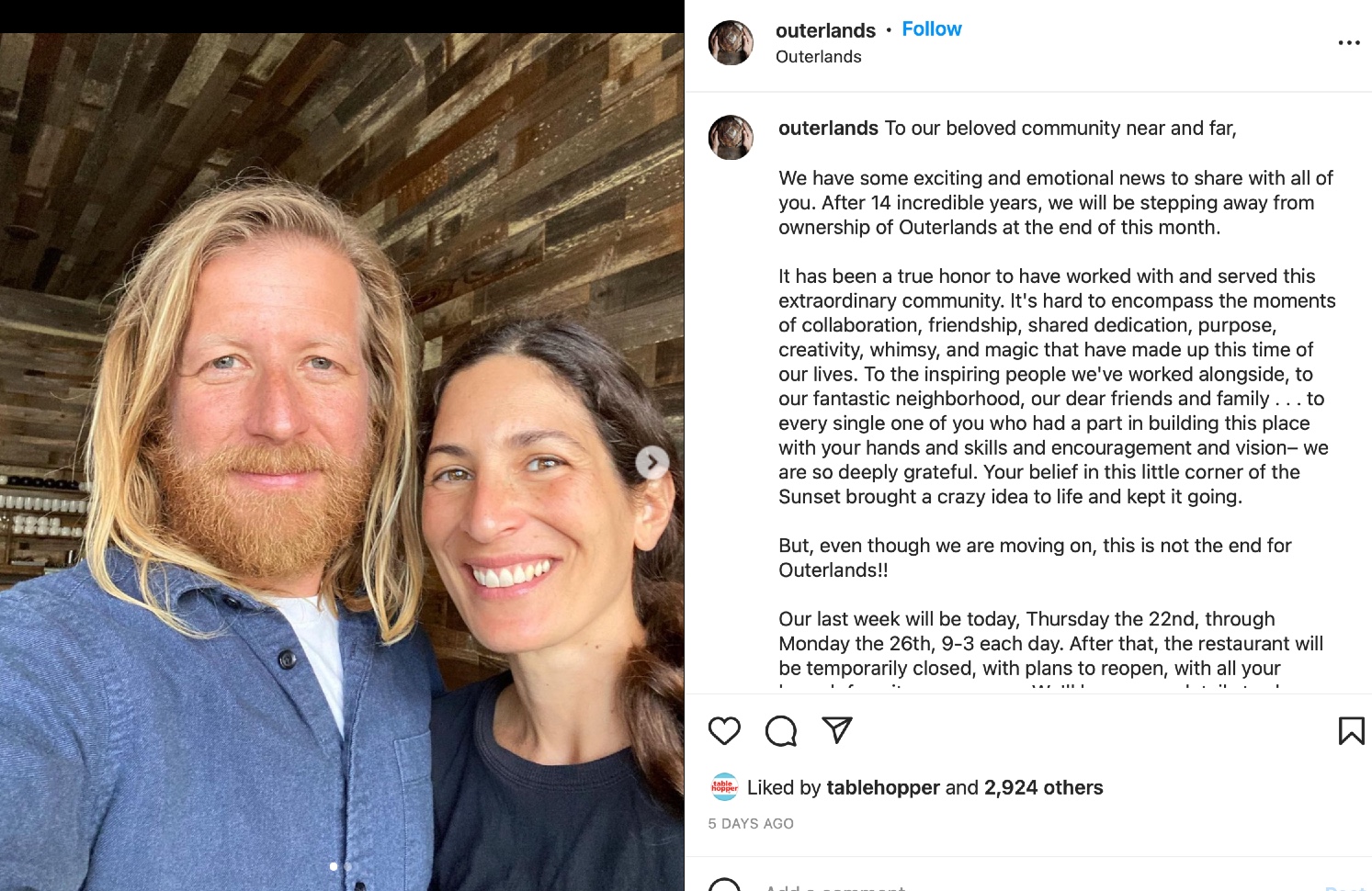 Image: Outerlands via Instagram
"After 14 incredible years, we will be stepping away from ownership of Outerlands at the end of September," Muller and Porcello say on Outerlands' current website. "After September 26, the restaurant will be temporarily closed, with plans to reopen, with all your brunch favorites, very soon. We'll have more details to share shortly about what's next, but for now we're posting a very excited Stay Tuned!".
SFGate spoke to the outgoing Outerlands owners, who indicate that fans won't be disappointed in the next chapter, though they're not disclosing who the next owners will be. "We're here to help the transition feel as natural as possible and make sure that things continue the same," Porcello told SFGate. "One exciting thing is that dinner will be on the horizon soon. We're excited to bring that back."
Fresh bread made twice daily established Outerlands as a simple soup-and-salad hot spot over a decade ago among the organic food set. A succession of notable chefs handling dinner service brought the place national attention early in the last decade — including Brett Cooper who went on to open the Michelin-starred Aster — and brunch became a major draw with notoriously long waits. The small shop expanded in 2014 into an adjacent storefront, adding a full liquor licensee, and adding more pastry baking capabilities.
Tablehopper recounts the other great chefs who have come through Outerlands over the years, like Yoni Levy and Greg Kuzia-Carmel, and how the place "highlighted so many local makers." That means big shoes to fill for the next iteration of Outerlands, just four blocks' walking distance from the Great Highway.
Tablehopper also notes that the new ownership is considering bringing back dinner service, which hasn't been offered in several years.