After a 10-year stint in the Outer Richmond, beloved restaurant Cassava has chic new digs in North Beach (401 Columbus Ave.). Known for creative, California-centric, three-course prix-fixe dinners, the eatery — owned by husband-and-wife team Yuka Ioroi and Kristoffer Toliao — reopened earlier this month in its new space. Toliao is Cassava's executive chef; Ioroi is the general manager and curates the restaurant's extensive beverage selection.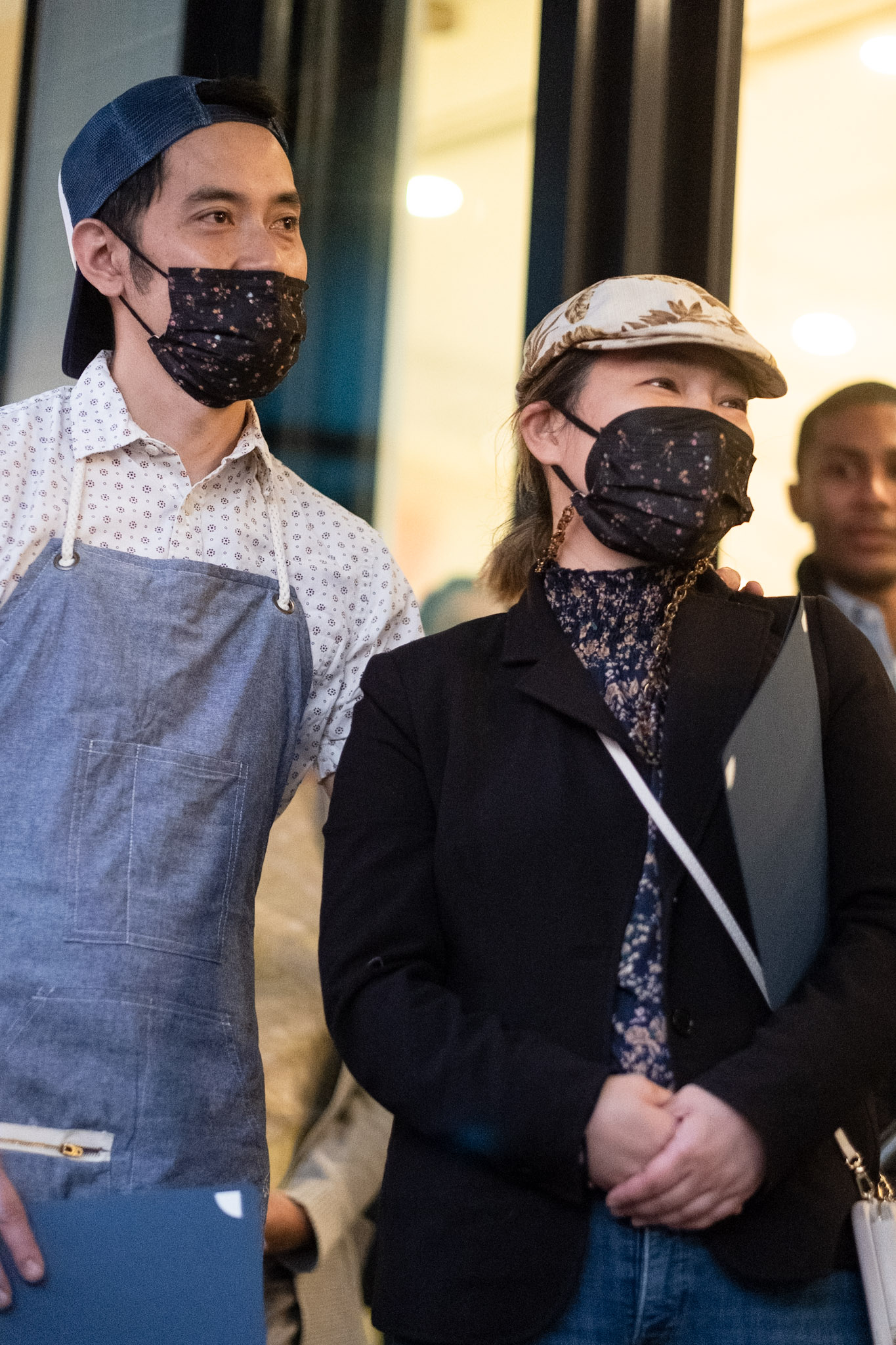 Cassava owners Kristoffer Toliao and Yuka Ioroi. | Photo credit: Cameron Lee
Cassava's airy, modern interior features colorful abstract murals, streamlined furnishings, and a sleek white bar. European-style sidewalk dining is also available. And your pup is welcome to join you for an outdoor meal.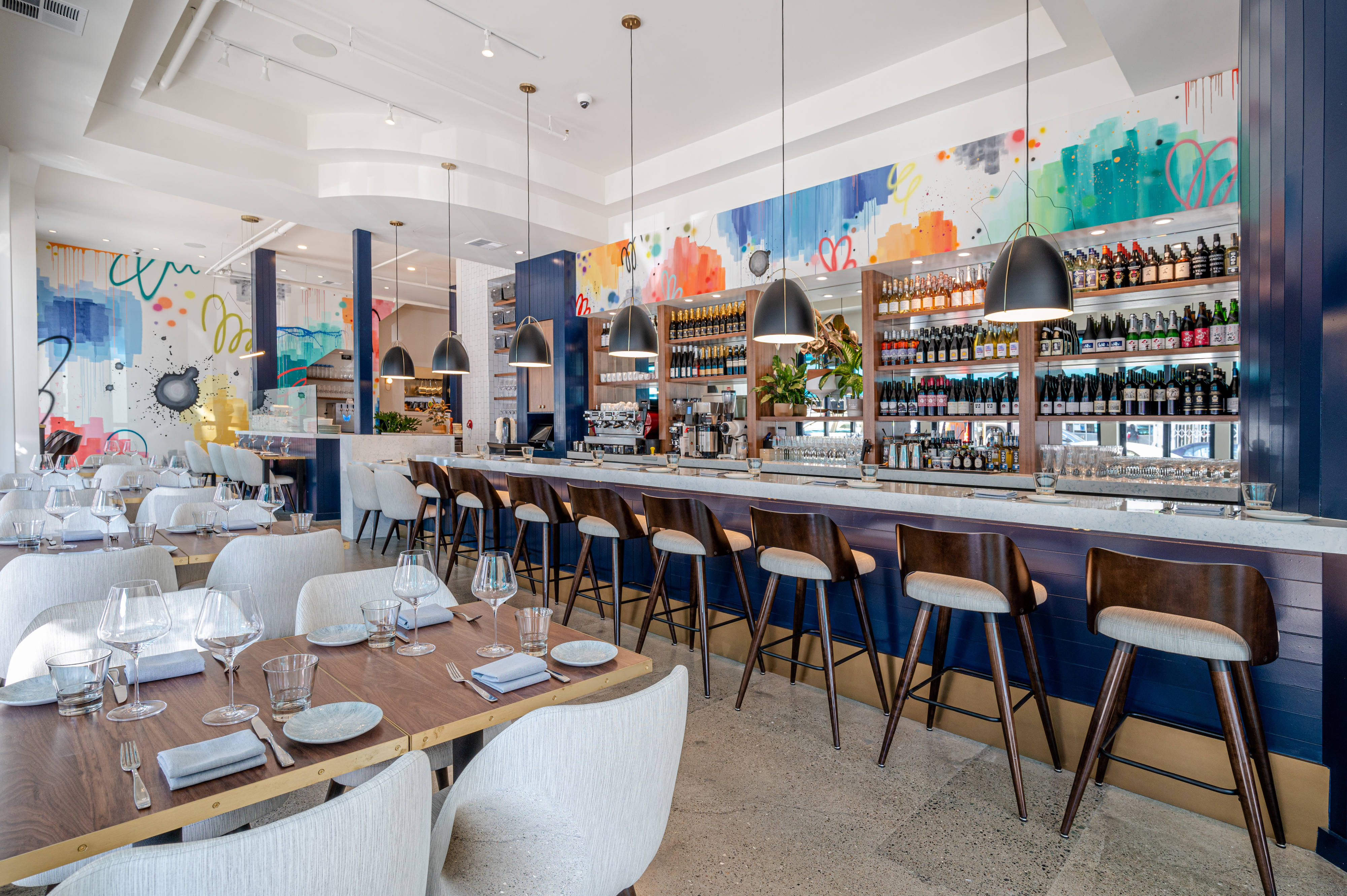 Cassava's new interior sports a fresh, contemporary design. | Photo credit: Albert Law
According to Ioroi, the move to North Beach was spurred partly by the city's stricter requirements for restaurant parklets. Meeting some of the new codes would leave Cassava's Outer Richmond parklet too exposed to the area's often chilly weather for pleasant al fresco dining.
"One of the codes that came out says that parklet walls have to be open and can't be covered," she explains. "The Outer Richmond is experiencing colder and colder weather, and the wind is getting stronger due to climate change. I knew we couldn't stay here anymore."
She and Toliao began to hunt for a new space in a warmer neighborhood. After a few options fell through, they decided to look in North Beach. That decision proved serendipitous.
When Ioroi first saw the listing for Cassava's current location, she thought it looked familiar. Upon checking it out in person with Toliao, the couple confirmed that it was the same place (Trattoria Pinocchio) where they'd enjoyed a romantic dinner in 2007. Not yet married, they were visiting the city from Los Angeles, their home at the time.
"I was like 'Oh my God, this is that same place,'" Ioroi tells Hoodline. "We also liked the big windows that open and this prime corner location—it was unbelievable. I emailed the realtor right away, and they got back to us very fast."
The new location came with an added bonus: more space than Cassava's former location. For now, the restaurant is just open for dinner. In addition to the prix-fixe menu ($48-$52), a la carte options are available for walk-ins and those dining at one of the sidewalk tables on Columbus. If you want to reserve a table, you need to order from the prix-fixe menu.
"On top of the three-course menu, we also have our snack and supplement sections, so there are things that you can add on to your meal or share with the table," explains Ioroi. "And even the prix-fixe is designed with mix and match options that are fun to share."
Signature dishes that have helped Cassava build a loyal following over the years include the fried chicken, which is brined and dipped in a buttermilk batter. Duck confit and slow-braised lamb belly are also favorites.
"You see pork belly a lot and lamb chops a lot at other restaurants, but you hardly ever see lamb belly," notes Ioroi. "So that's really cool for people."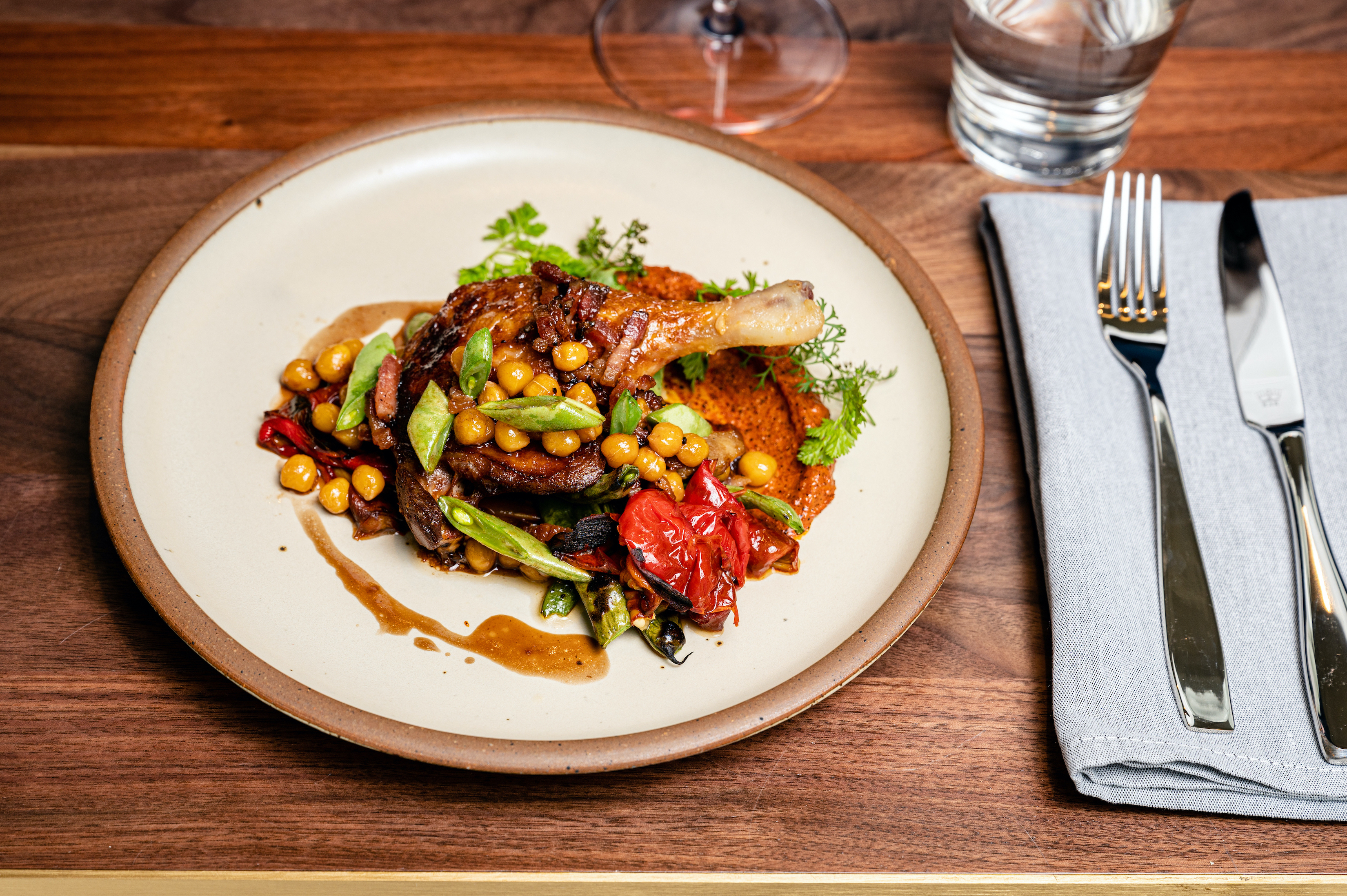 Duck confit, one of Cassava's signature entrees. | Photo credit: Albert Law
There are also a number of sustainable seafood options, such as pan-seared scallops and black cod. And fans of the original Cassava's popular Japanese breakfast needn't fret. It and other morning fare will be on the menu when the restaurant begins brunch service in the next month or so.
Ioroi and Toliao are just as passionate about providing their staff with an inclusive, equitable work environment as they are about the quality of their food. There's zero tolerance for racism, toxic masculinity, homophobia or transphobia at Cassava. And all employees earn the same hourly rate, whether they work in the front of the house serving customers or prepping and cooking food in the kitchen. Tips are pooled and divvied up among staff members based on the number of hours they work, not their position.
"Everyone is working for the same company, selling the same product, so everyone should get paid the same," Ioroi says.
Within the next couple of weeks, Cassava will start taking orders for a special Thanksgiving feast. Designed to feed four, the to-go meals will include turkey and all the fixings.

Cassava is located at 401 Columbus Ave., Cassava is open for dinner Wednesday through Sunday, from 5 to 9 p.m.