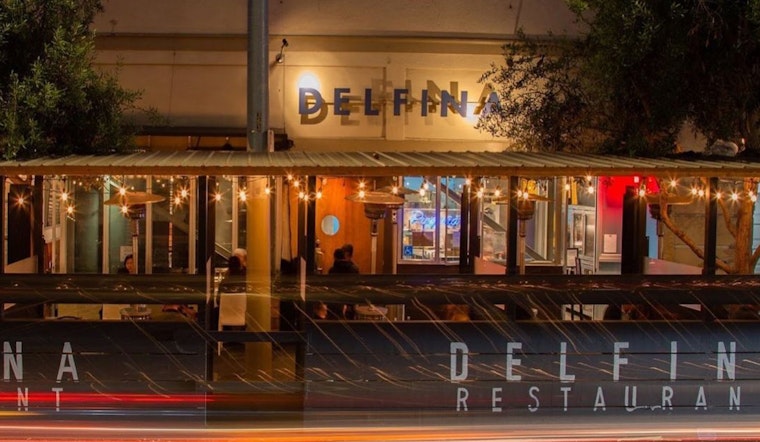 Published on October 05, 2022
Mission mainstay Delfina (3621 18th St.), which has been one of the neighborhood's great success stories and go-to restaurants for all of its 24 years, is finally reopening this month after a planned four-month renovation has turned into a nearly year-long wait.
As SFist reported in November 2021, Delfina shut down its parklet and was doing takeout only with pizza and a limited menu in preparation for a major renovation that would combine the previously separate Pizzeria Delfina and Delfina spaces into one, and add a new full bar. (The closure of Locanda in the early pandemic was sad, but it meant that owners Craig and Annie Stoll had an extra liquor license to use elsewhere.) The plan was to reopen in March, expanding the existing Delfina menu to include pizza as well as cocktails. But here it is October and the restaurant is just now prepping to reopen.
A help-wanted notice on Tablehopper last week lets us know that the restaurant is preparing for a relaunch "at the end of October."
While there has been outdoor service with a limited menu at the restaurant over the last two years, including all this summer, Delfina proper has been shuttered indoors, and this is being billed as a full relaunch of the business after a two-and-a-half-year hiatus.
The team has been hiring for a couple of weeks now, and hosted a "job fair" outside the restaurant two weeks ago — and a post on Instagram today shows us that staff training is already underway.
View this post on Instagram
The new Delfina 2.0 will take a cue from Locanda with an Italian-inspired, amaro-driven cocktail list. And the restaurant also features a new, 30-seat private dining room for your event-planning needs.
Delfina opened in 1998 on a block of 18th Street that was not yet the foodinista magnet it is today, with neighbors Tartine and Bi-Rite still to become the star players they are. Chef Craig Stoll went on to win the James Beard Award for Best Chef in the Pacific region, and he was named a Food & Wine Best New Chef in 2001. The restaurant, originally just a narrow storefront, expanded once previously and doubled in size.
Pizzeria Delfina arrived later, opening in 2005 after the Stolls annexed another next-door space. More locations would follow, with a total of four now — the others are in Pacific Heights, Burlingame, and Palo Alto.
A fifth Pizzeria Delfina downtown on Mission Street closed along with their Roman-inspired offshoot Locanda in the early pandemic.
Chef Stoll was inspired to open Delfina after doing an externship in Tuscany at the similarly named, Michelin-starred Da Delfina, in Artimino, Italy. As he told Food & Wine 20 years ago, Italy taught him that a chef has to know and understand their ingredients intimately. "If we served sheep's milk ricotta at night, I had spent the day with the cheesemaker. I'd met the sheep," Stoll said, adding, "If I buy fava beans, I want to know which row they were picked from."