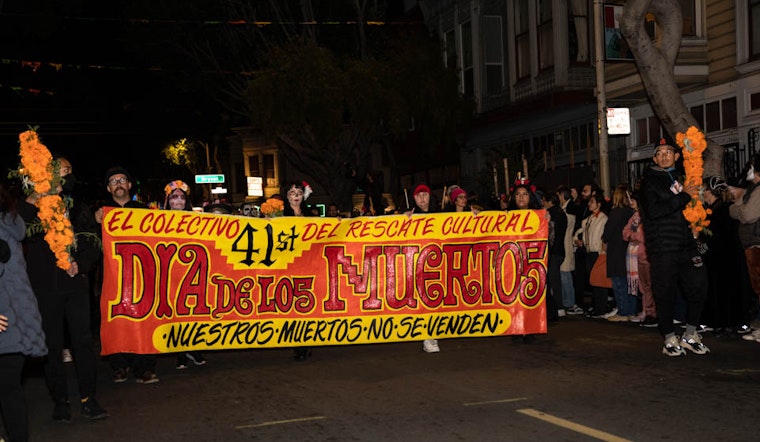 Published on November 03, 2022
Hundreds gathered in the Mission District Wednesday night for the annual Día de los Muertos, or Day of the Dead, celebration. The event, which takes place on November 2nd each year — but it had taken the past two years off — included the 30th annual Festival of Altars and a community procession.
Day of the dead is a Mesoamerican tradition celebrated throughout Mexico and other parts of the world as a way of honoring loved ones who have passed away. The multi-day event is not so much about mourning the loss of loved ones, but about celebrating their lives. Ofrendas, or altars, are set up and decorated with photos, marigold flowers, and even food and drink.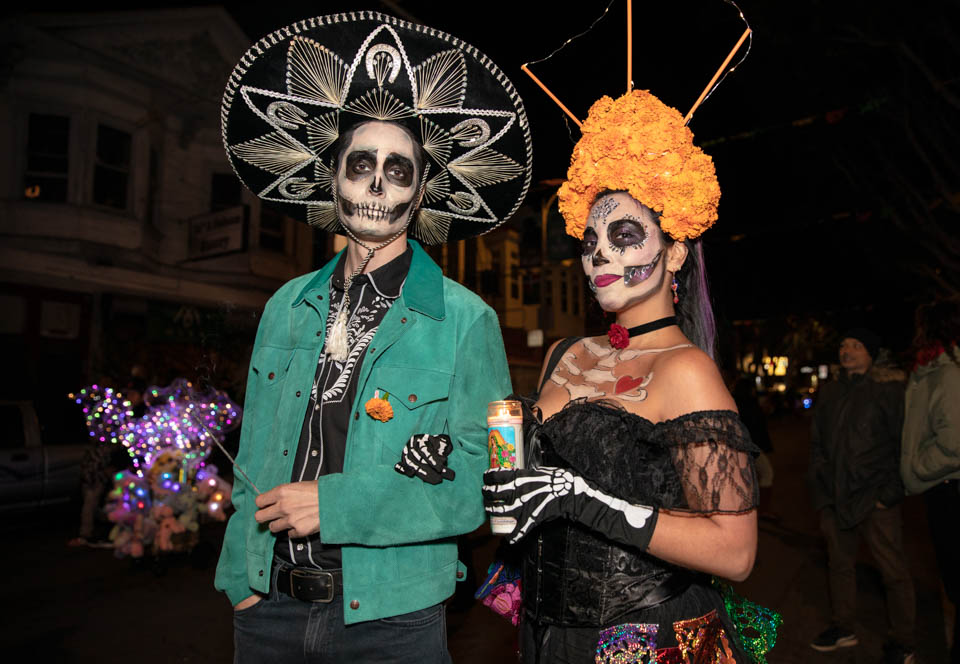 Benjamin Alvers of Oakland (l) and Daniela Zurita of Mexico City (r) joined the annual procession to honor her mother who she lost last year to COVID. | Photo: Cheryl Guerrero/Hoodline
The Festival of the Altars takes place each year at Potrero del Sol Park, and is produced by the Marigold Project. The project invites the community to participate and create their own altars through a sign-up page each year. This year's altars included a "Fire Hummingbird" dedicated to the lives of young people who were lost, and a Uvalde shooting remembrance, along with others dedicated to loved ones in the community.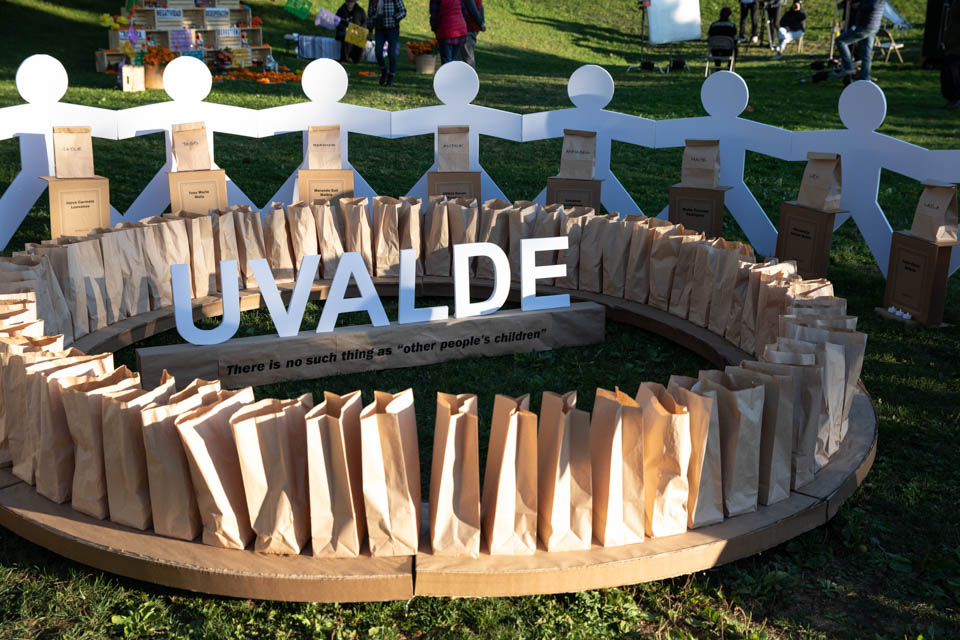 An ofrenda, or altar, created in honor of those lost in the Uvalde shooting. | Photo: Cheryl Guerrero/Hoodline
The park also hosted a Ritual Circle ceremony, which was focused on community connection and "created to take time and space to honor our environment and connection to earth and each other". The ceremony included music, dancers, and poetry and was live-streamed for those who couldn't make it in-person this year.
This was the 41st annual procession, but the first in-person one since 2019. It wound its way through the Mission and anyone was able to join. Many participants carried photos and memories of loved ones. Some also dressed in colorful Catrín or Catrina (skeleton) costumes, which is a tradition. The procession is produced by El Colectivo del Rescate Cultural and this year was to honor its founder, Juan Pablo Gútierrez, who passed away last year.
Here are more scenes from last night's celebration: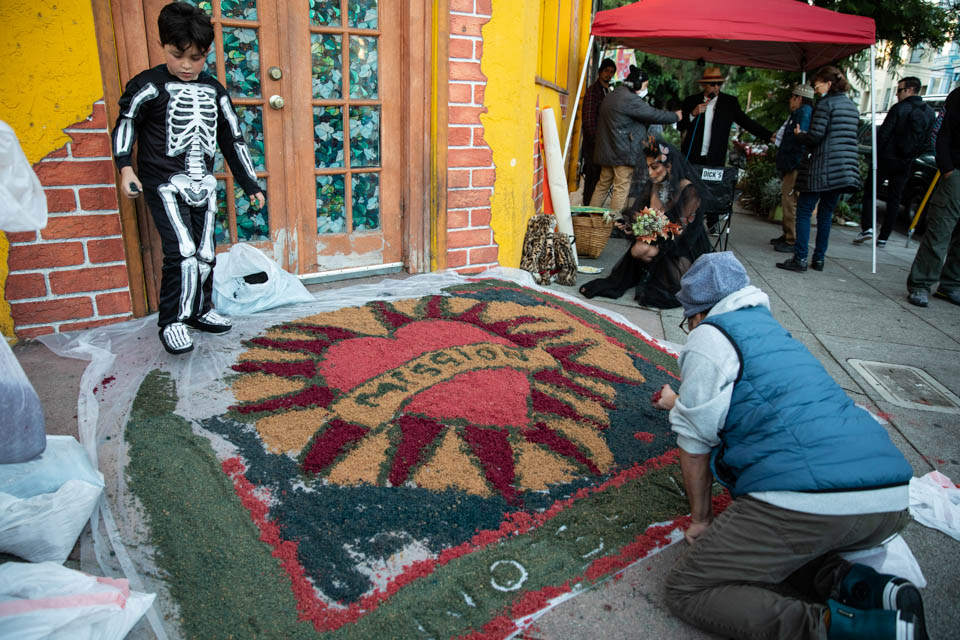 Residents create a flower petal carpet design on Bryant Street.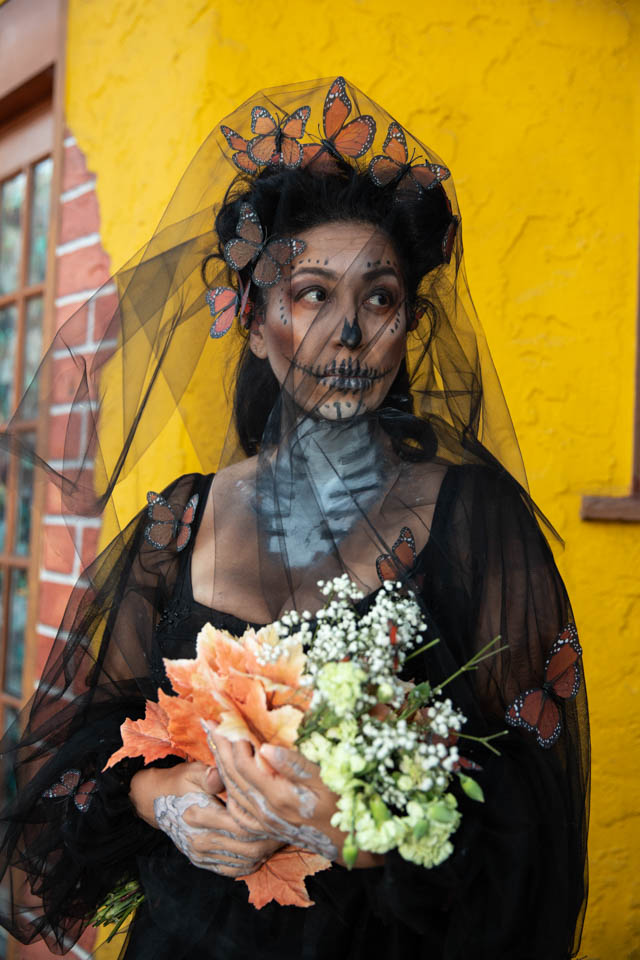 Butterflies adorn the outfit of a woman dressed as a Catrina (skeleton).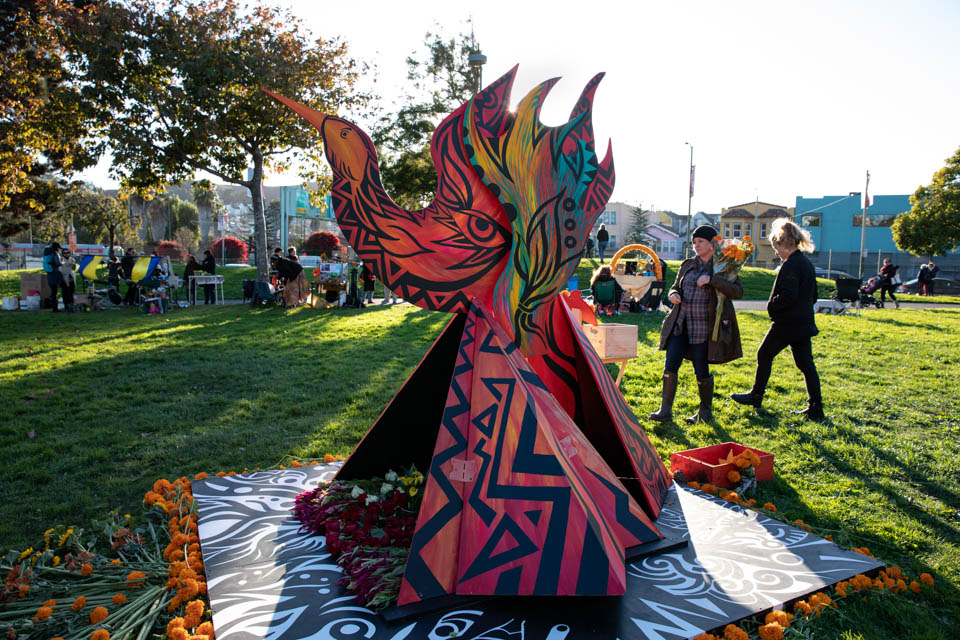 The Colibrí de Fuego (Fire Hummingbird) altar at Potrero del Sol Park.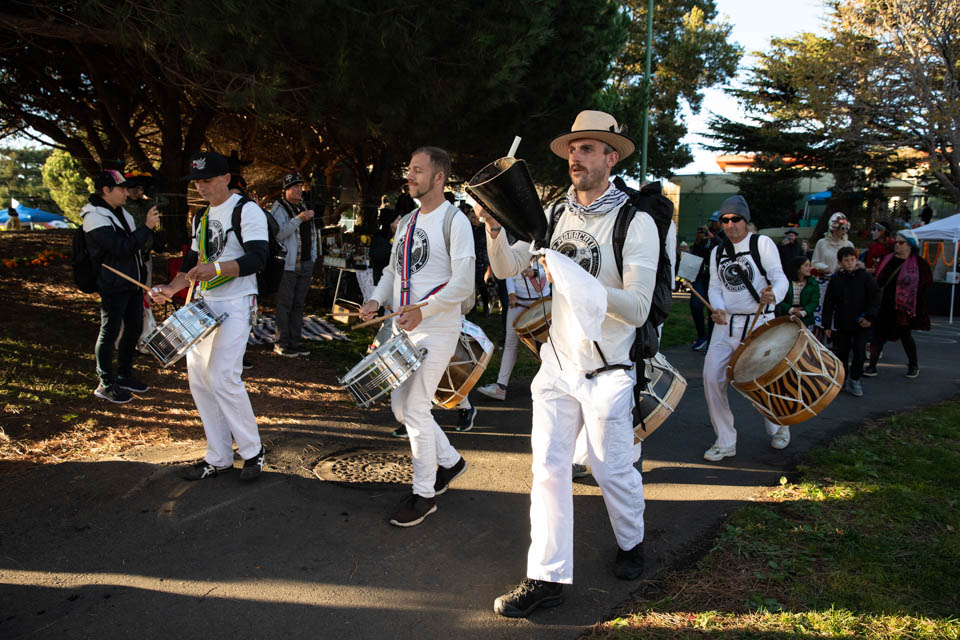 Members of Maracatu Pacifico enter Potrero del Sol Park to start the Ritual Ceremony.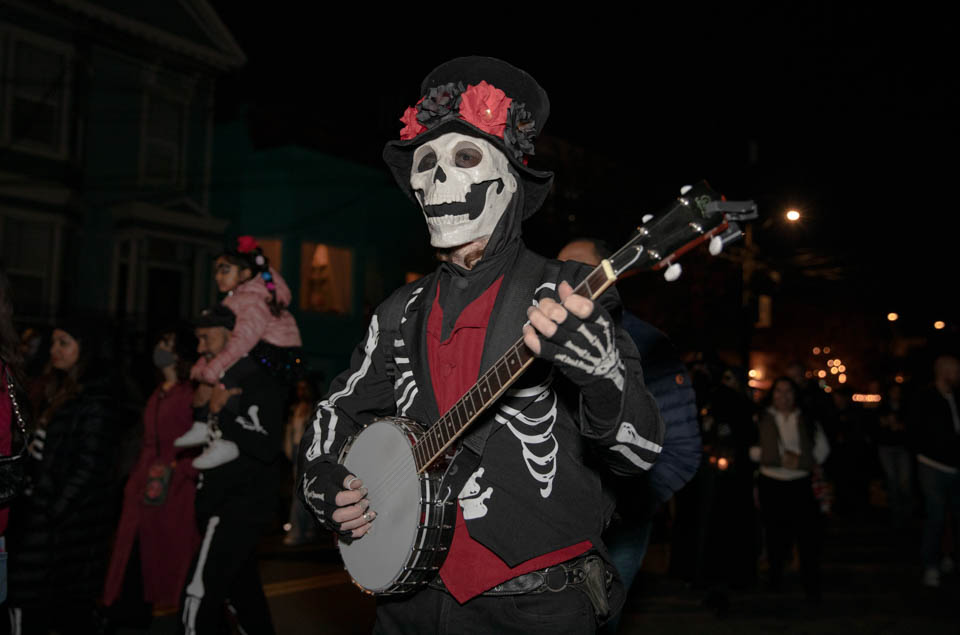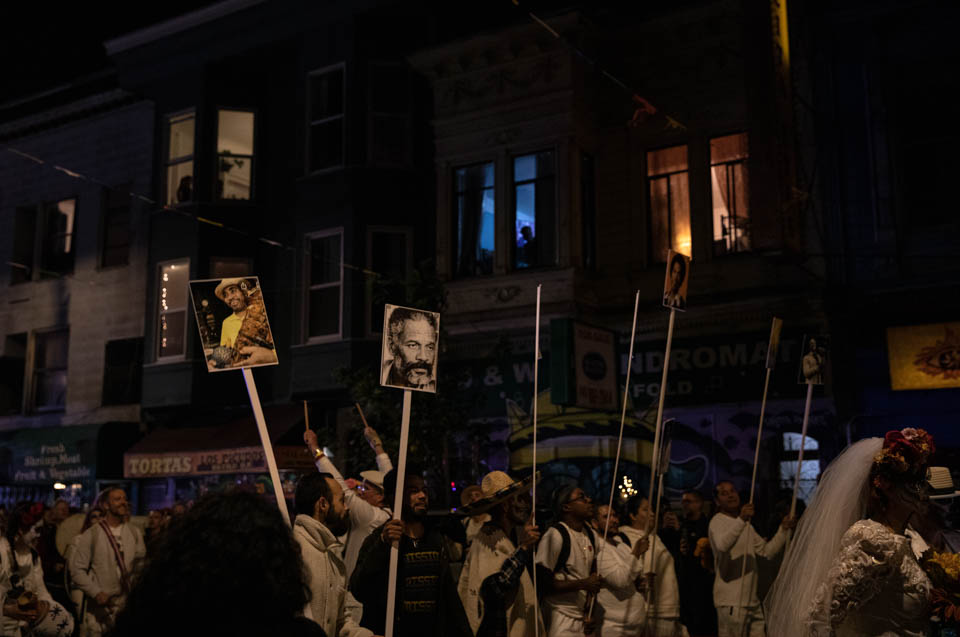 The procession makes its way down 24th Street.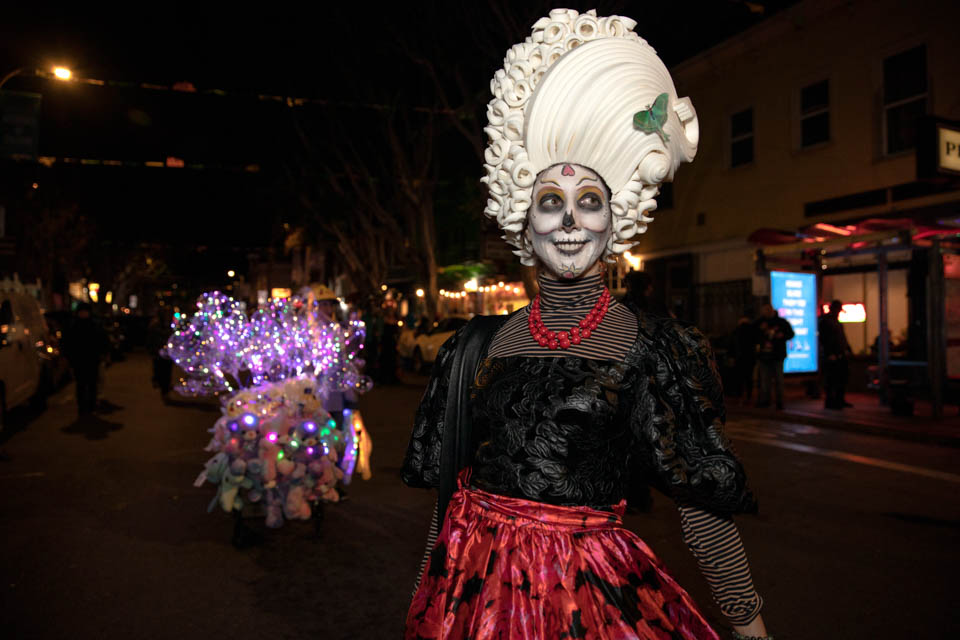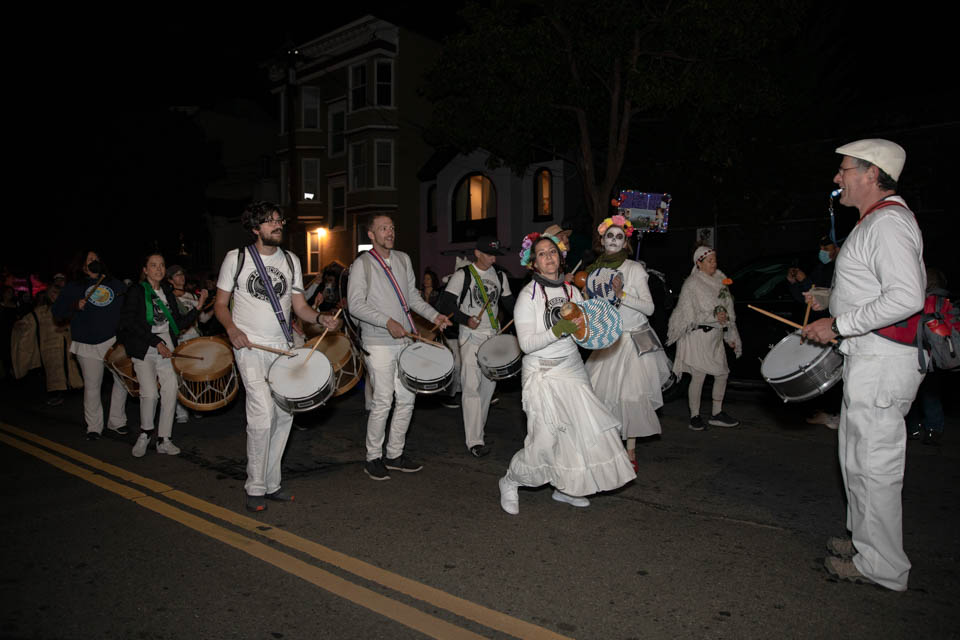 Members of Maracatu Pacifico along Bryant Street.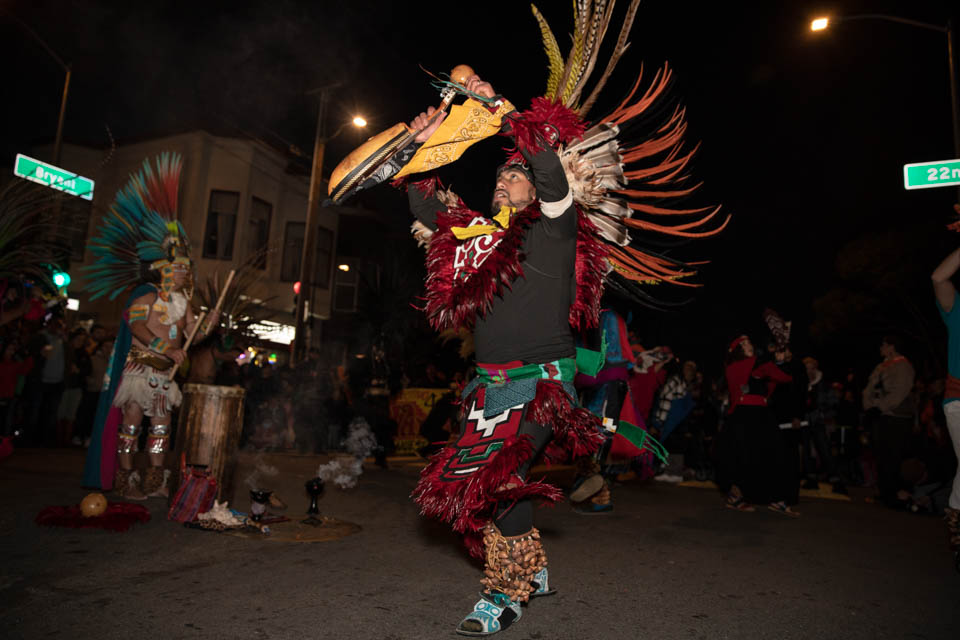 Dancers open the procession on the corner of Bryant and 24th Streets.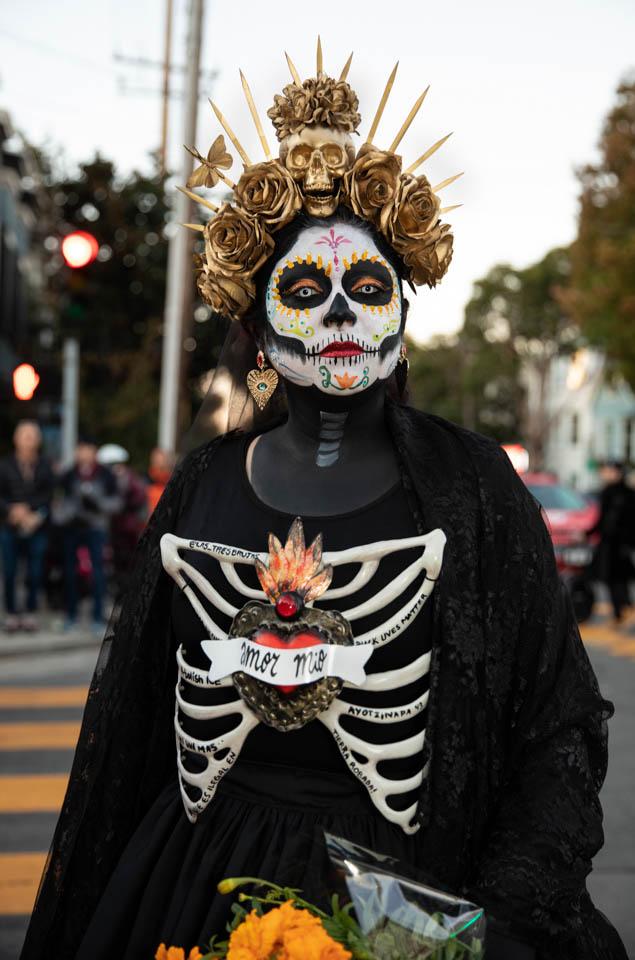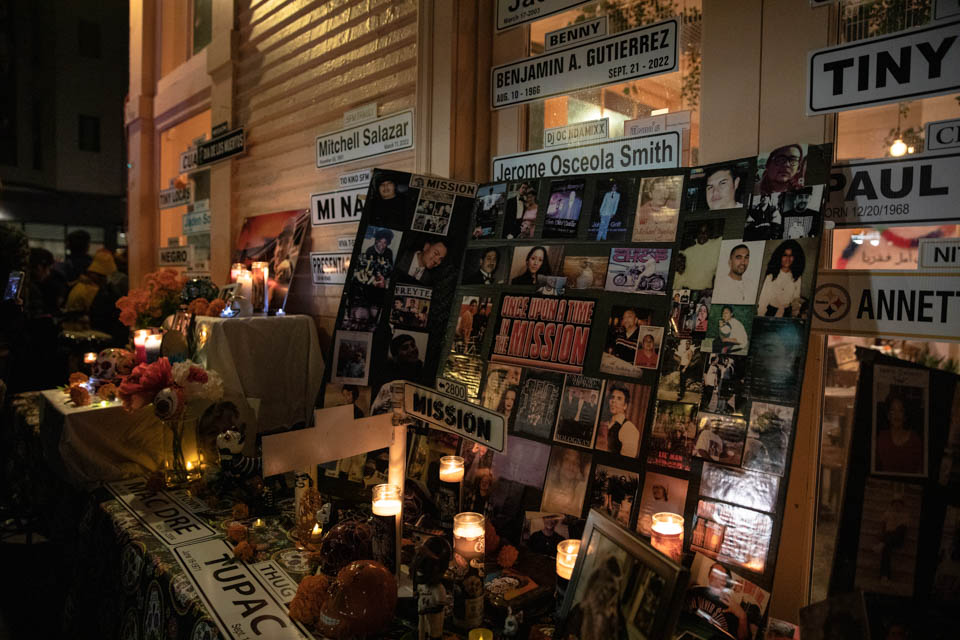 An altar set up as a remembrance of lost loved ones from the Mission District.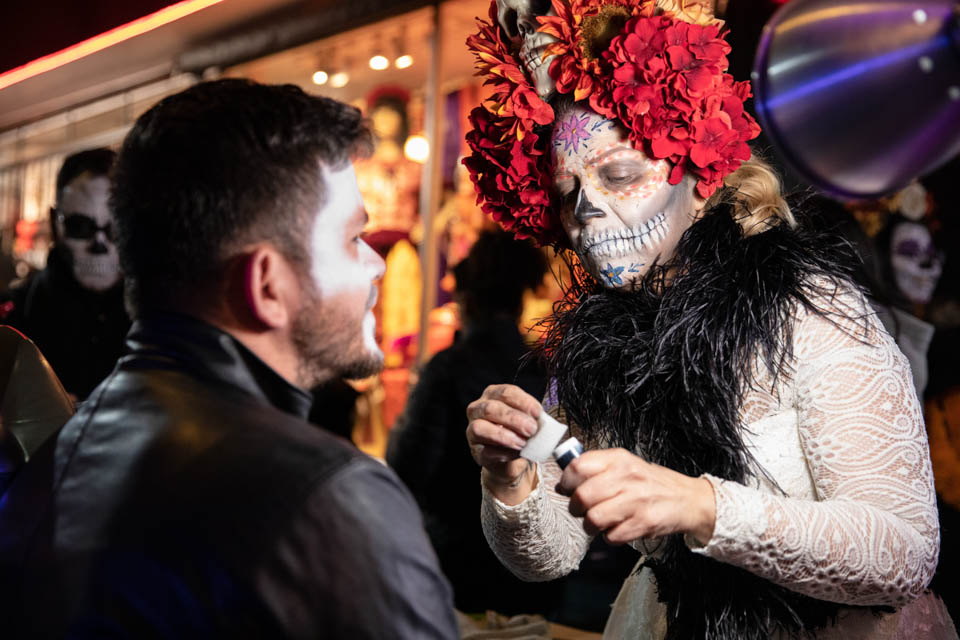 An artist applies make-up to someone during the event.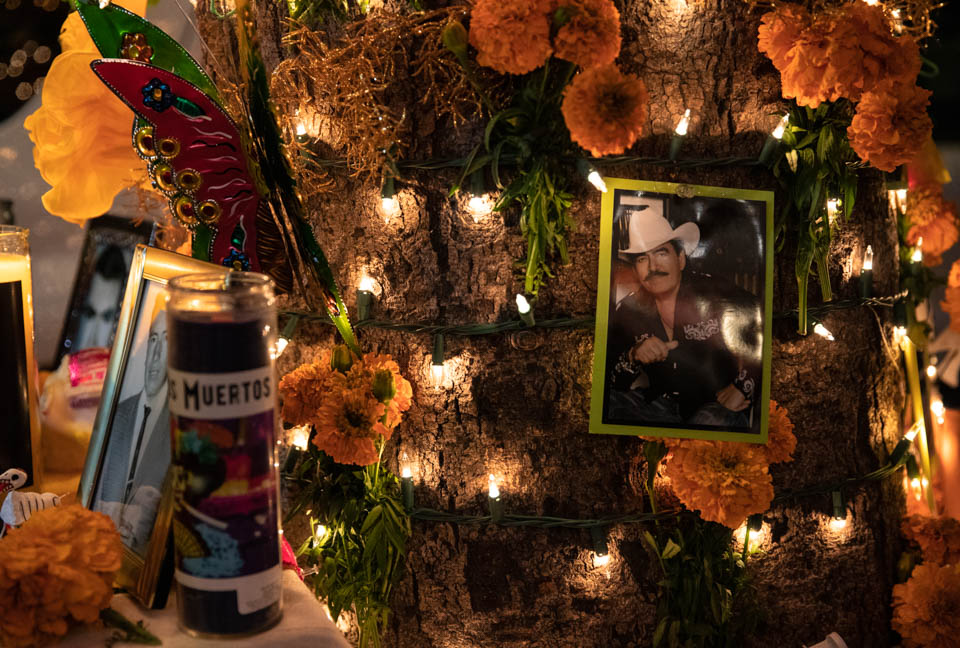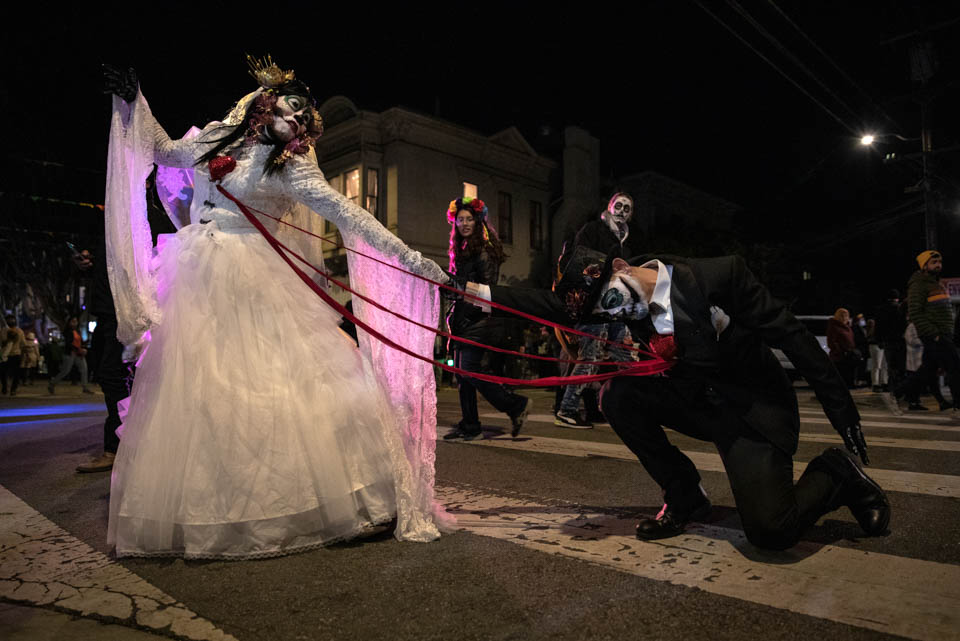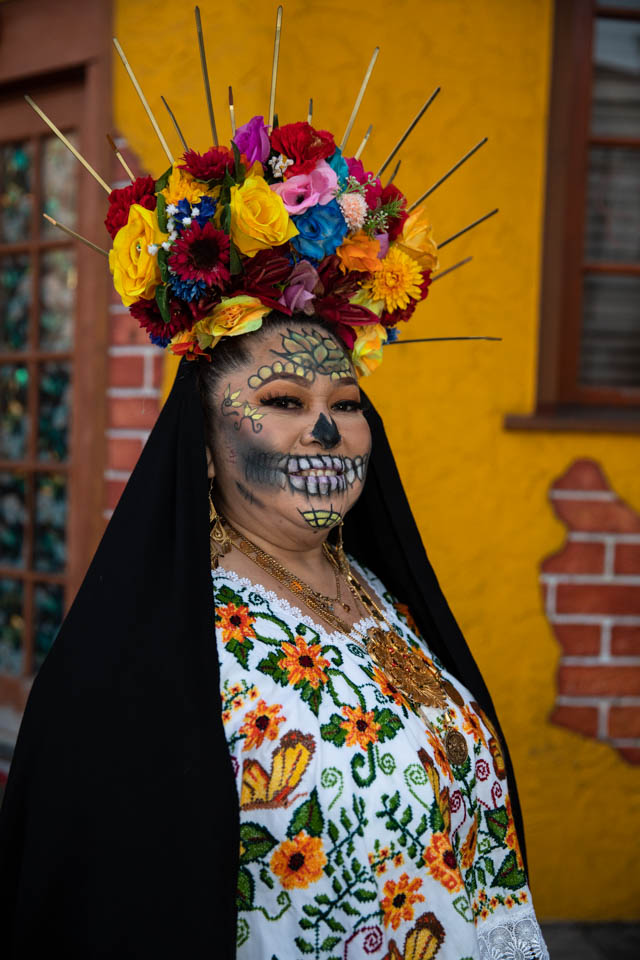 Lucy Góngora from San Francisco dressed as a Catrina.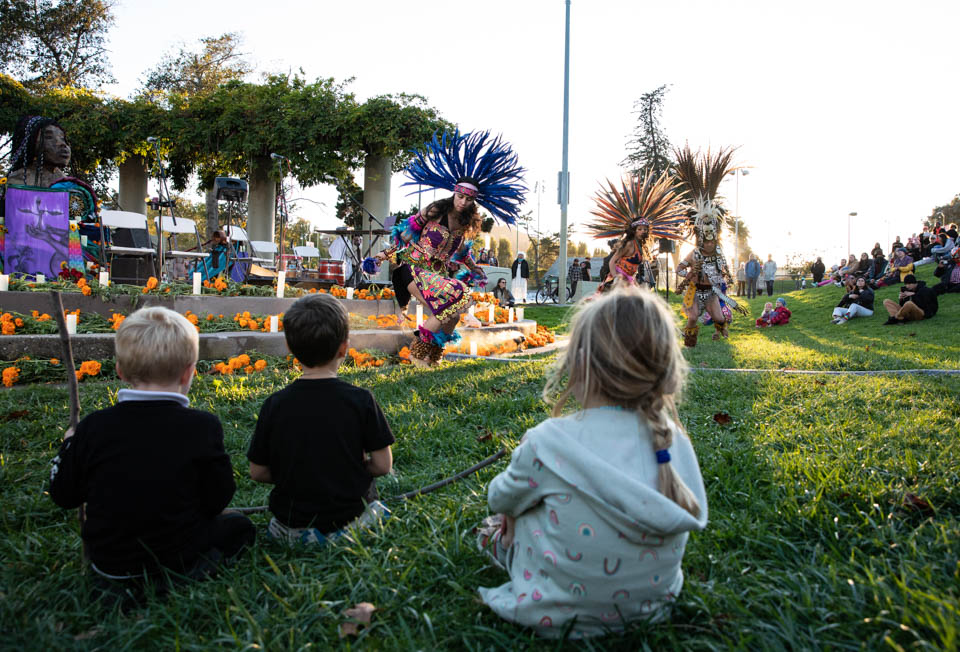 Children watch dancers in Portrero del Sol Park.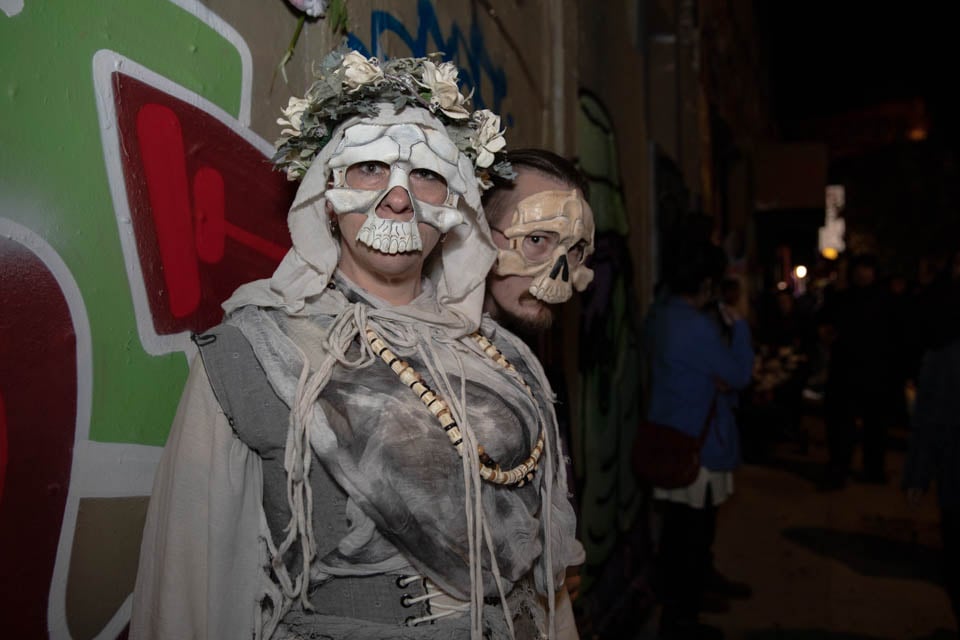 Lotus from Las Vegas (l) and Ryan from Benicia (r) take part in the procession.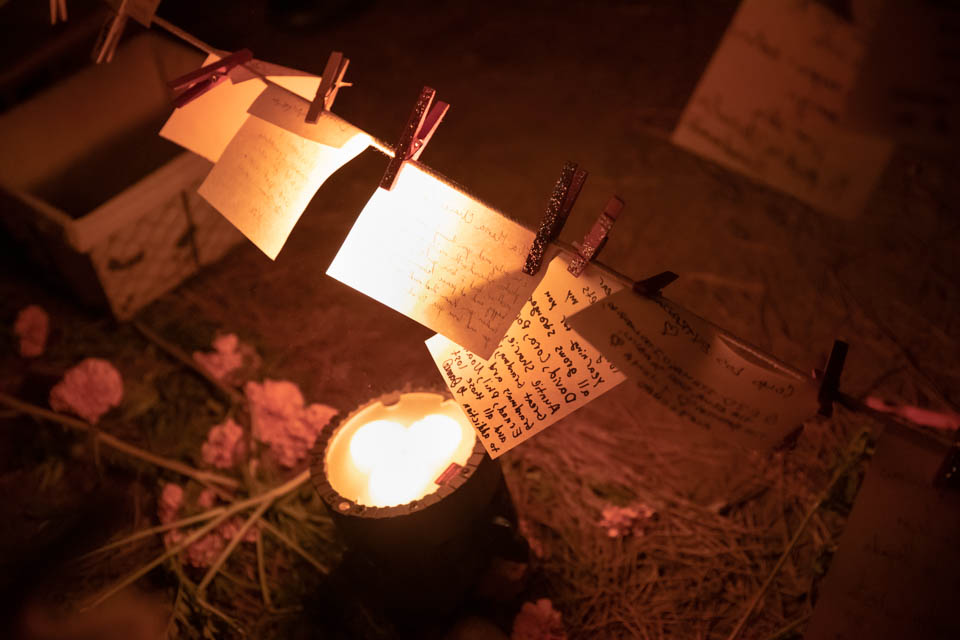 Notes to loved ones hang in the park.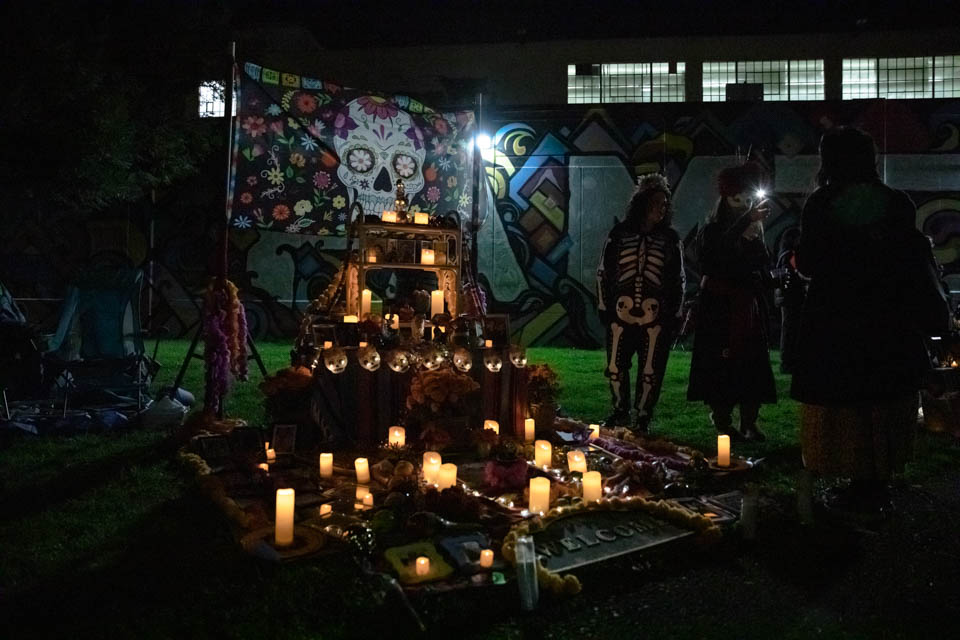 An altar set up in Portrero del Sol park.